Dr Brown's Natural Flow Wide Neck Bottles Review
|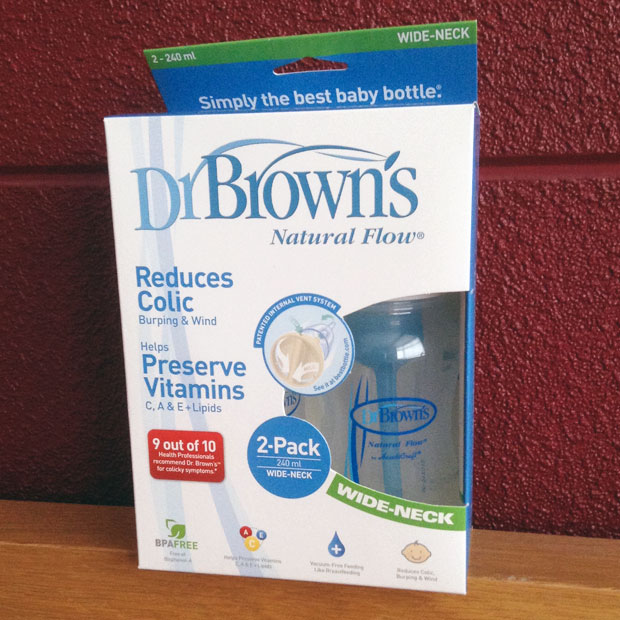 Dr Brown's Natural Flow Wide Neck Bottles Review
Recently I got the chance to try out some Dr Brown's bottles. I was very happy to do this because I keep seeing people using them everywhere so I thought they must be good!
Dr Brown's bottles are known to reduce colic and to help preserve vitamins. The bottles do this thanks to the internal vent system. You can see and read more about how that works on Dr Brown's website.
My baby is breastfed and has only had breast milk in bottles occasionally until quite recently when we started giving her a bottle of formula in the evenings to gradually wean her off the breast. She's never had colic but does get burpy after her bottle and sometimes seems to suffer from belly ache the following morning. That's why I was interested in trying Dr Brown's bottles.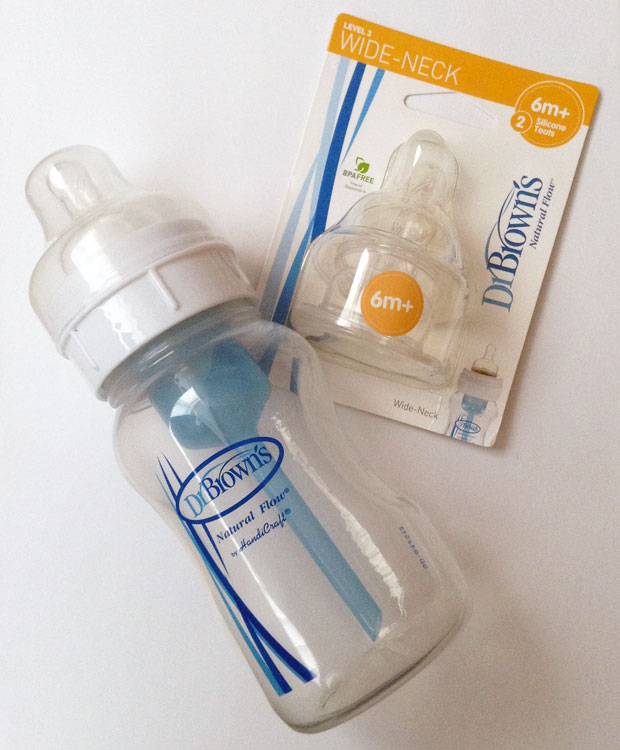 I'm a bit torn about these bottles! The vent system is a really clever idea for reducing wind and so is the way that the vitamins are preserved. The quality of the bottles seems really good too, they are very sturdy! The nipples are a bit like actual nipples which is good when you have a breastfed baby. But…
Unfortunately I had some problems during this trial. When I unpacked the bottles and took them apart to clean them I noticed a very strong chemical smell straight away. I located that the smell was coming from the beige vent inserts and I washed these over and over trying to get the smell to go away. It was so strong I would not even consider using them anywhere near my baby. After washing them and sterilising them once, nothing had changed so I soaked them in a 50-50 washing up liquid/water mix for 4 days, then put them in the dishwasher, then soaked them again. Finally the smell was gone!
During this time I had been in contact with a member of the customer support team who was very helpful. She advised me that there must have been something wrong with the inserts that I received and that she would send me a packet of replacement bottles.
They arrived quickly and sure enough, the vents for those bottles were different! They were white instead of beige and still had that chemical smell but only about 5% as strong but this time the smell disappeared after washing the vent inserts a few times with plenty of washing up liquid.
I don't know what could have been wrong with the first set or why both sets had different levels of this chemical scent. I've checked Dr Brown's website and the material they are made of is Santoprene – Thermoplastic Rubber which, according to Wikipedia, is chemical and oil resistant if it's the FDA approved version (I don't know if it is but since it is a baby product, I hope it is).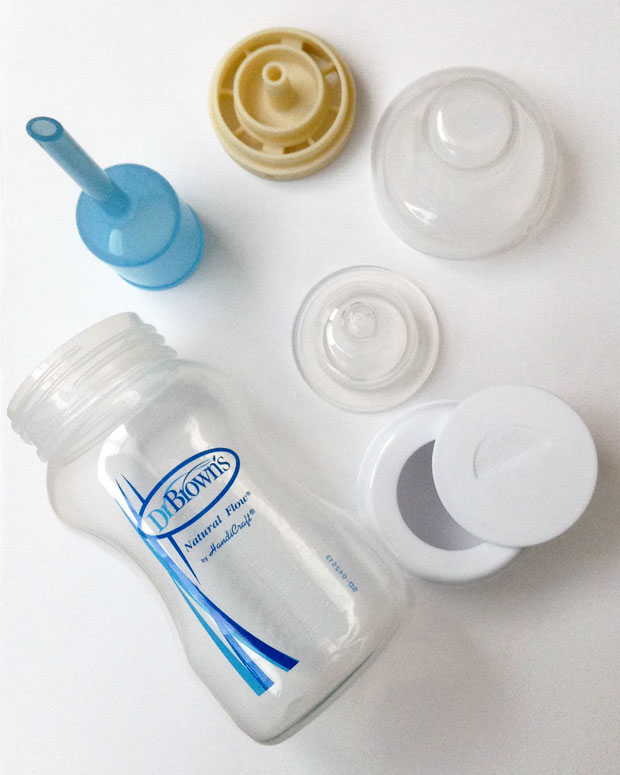 So, the bottles are lovely, the ventilation system very smart, the nipples great for all babies, even breastfed, but they vent inserts let the bottles down. Even if they are made of a safe material, I would want them to be made of a material that does not smell like paint remover even if it washes off eventually. Surely there are other materials that would work, too? I have tried many brands of baby products and have never experienced one with a smell that seems unsafe.
I wish that you could use the bottles without the ventilation system in them, but you can't. The bottles leak if you do. Not just because of the problems I have had with the smell but also because most babies do not stay colicky for their entire bottle drinking time so it would save parents a lot of washing up and sterilising time if you could use the bottles without the vent system, too.
The bottles are very big because the vent system takes up some room and you are not supposed to fill the bottle up completely. This makes the bottle a good size for adult hands but not for babies to hold themselves. That's OK for me when feeding a sleepy baby, but my 10 month old now like to hold her bottle herself and drink without any assistance. This she can't do with these Dr Brown's bottles. The nipples are not spill-proof which again is fine when you are feeding your baby but not great when your baby is drinking on her own. My daughter turns bottles around so they need to be non-spill when she holds a bottle herself. For babies like mine, our MAM bottles are better because she can hold them easily and they are truly non spill with the right kind of nipples.
Dr Brown's bottles and accessories can be bought from Amazon.co.uk and most shops that sell baby products.
That was a bit of a mixed review from me about these Dr Brown's bottles.
I was sent these bottles in exchange for my review. My reviews are always 100% honest and all opinions and thoughts are my own.
---
Below are parts of the email response I have had from Dr Brown's after submitting my review:
Thank you for submitting your review of the Dr Brown's Natural Flow Baby Bottle.  I was rather surprised to read your comments relating to experiencing a smell originating from the beige bottle collar.  This was the first issue of this nature we have encountered.  Dr Brown's sold over 700,000 bottles in the UK last year and the high manufacturing standards synonymous with Dr Brown's means that we receive a below average complaint/returns rate. 
We do take all complaints extremely seriously and to this end I would be grateful if you could please return the bottle to us for investigation. 
Please accept our reassurance that all the components of a Dr Brown's Natural Flow baby bottle have been fully tested and adhere to the required European standards.
As for the slight variance in the colour of the collar inserts, they recently changed from a light beige to white, purely for cosmetic purposes.  The materials are exactly the same.
Once we are in receipt of the bottle in question we will be in contact again.