Using MAM Fast Flow Non Spill Teats with MAM Trainer Bottle with Non Spill Option – Review
|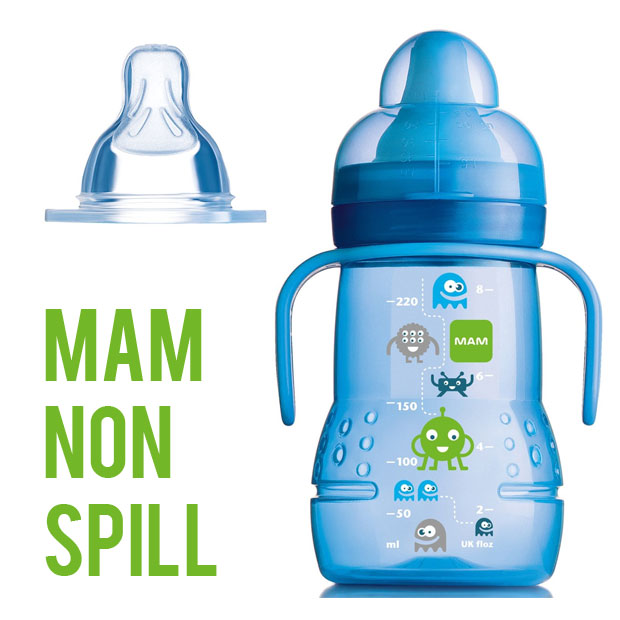 We have just started to introduce a bottle in the evenings now that our girl is nearly 9 months old and I gradually want to phase out breastfeeding. Over the weekend we have tried MAM Fast Flow Non Spill Teats with MAM Trainer Bottle with Non Spill Option.
I chose the MAM Trainer Bottle with Non Spill Option because I like that it has handles that makes it easy for my baby to hold the bottle herself. It is also a good bottle for transitioning from bottle to cup since it's somewhere in-between. At the moment we use sippy cups at the dinner table but water usually goes everywhere… We have only tried this trainer bottle with the MAM Fast Flow Non Spill Teats (that you can buy separately) and not with the spout and the spill-proof plug that comes with the bottle.
I can happily say that the MAM Fast Flow Non Spill Teats make bottles completely spill-proof! My daughter loved playing with the bottle during her feed and was turning it upside down, holding it the wrong way for a long time, shaking it and throwing it around and not a single drop came out. Yet, it was easy for her to drink quickly through the teat!
She accepted the teat straight away which I wasn't sure if it was going to happen, since it was our very first MAM teat and she's been vary of new bottle brands before. The teat is soft and a nice shape so it looks like she would like it — and she does!
I bought the trainer bottle from Boots. I wanted the green one but they only had blue in stock, but it's cute too! It's also available in Pink.
I love that the MAM teats fit normal bottles and trainer bottles! Very convenient!
We were sent the spouts for free for review via facebook. The trainer bottle was purchased with my own money from Boots. As always, my reviews are 100% honest and all opinions are my own.