Engenius Contraptions Perpetual Marble Run – Gift of The Year Winner
|
Engenius Contraptions Perpetual Marble Run Review – Gift of The Year Winner
Christmas is less than a week away but there's still time to order presents online. Wicked Uncle's shopping deadline for Christmas is Saturday 21st of December, 4pm. If you're still looking for ideas for what to get, definitely check out the 'best Christmas presents to buy for children' article on the Wicked Uncle for some brilliant ideas.
I think we're all done with the Christmas shopping now after adding a few bits this week. Two of the recent arrivals are a Engenius Contraptions Perpetual Marble Run and some Infinity Loop Flow Rings — the latter makes a great stocking filler that keeps kids and adults entertained for ages! Ideal for Christmas morning when you're trying to get your Christmas lunch cooked!
The Engenius Contraption is an award-winning flat-pack marble run that you assemble yourself. It's won the Gift of the Year 2019 award which is quite special. I didn't have the kids in mind when I chose this as my own children are too young to build this. I chose it for my husband. It's recommended from 10 years + (or 8 years + with adult help) but both my husband and I agree that it's better suited for adults to build it. He's great at building anything whether it's very advanced Lego creations, new walls in the house, a new bathroom or furniture — with or without instructions — but this was quite a complicated build due to the instructions not being very clear at times and not being well laid out unfortunately.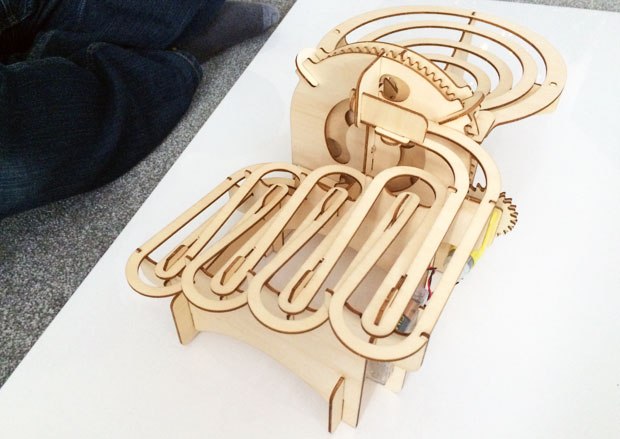 It's a beautiful marble run and I love the whole idea. It's  a really cool idea to have a flat packed marble run with a motor. The Engenius Contraptions Perpetual Marble Run is made of plywood with all the parts coming laser-cut in sheets. You then follow the instructions to push fit the parts together. The build takes a couple of hours to complete. At the end, you add the electric motor (requires 2 AA batteries, not included) and try it out.
You get 8 black and white marbles with the set and these are supposed to be raised to the top of the lift, descending down the spiral then down the zig-zag track, then back up to the spiral to start again, in perpetual motion. Very mesmerising when it works well…
Below you can see a video from Wicked Uncle of one working well:
But unfortunately, our one doesn't work properly. Marbles get stuck and fall of their courses and off the marble run, making it not very perpetual at all. We have checked the instructions over and over, looked at the online videos and information, made sure the marble run is on a flat smooth surface and my husband even sanded one of the pieces to help the marbles go down the spiral correctly which helped but didn't solve everything.
In the picture below, you can see the marbles getting stuck:
Though it was a fun build project, we are disappointed with the end result. The price tag is nearly £30 for something that doesn't do what it's supposed to do and that you can only build once. That money would be better spent on a Lego set that you can use over and over or if you want a marble run, I'd recommend this one from Wicked Uncle instead (though it is for younger children). The engine is very noisy too. We feel like this product could have been better made and have better instructions and a price tag of around £15 would be much more suitable.
I do love Wicked Uncle and think that the shop is absolutely brilliant as it helps you find gifts for children of any ages. You can read more about how it all works in my previous Wicked Uncle posts. So do head over to Wicked Uncle if you're looking to buy some Christmas presents for children and need some ideas. The Infinity Loop Flow Rings come highly recommended!
We were sent a voucher to try out this service and buy a few products from Wicked Uncle. As always, all my reviews are 100% honest and all thoughts and opinions are my own.