Essential Cuisine Stocks + Cheese Feast, Spinach & Lemon Lasagna
|
Essential Cuisine Stocks + Cheese Feast, Spinach & Lemon Lasagna Recipe
When it comes to cooking, I like to keep it simple but full of flavour. Adding stock to dishes is a great way to quickly give meals more depth and to enhance flavours but stock cubes are one of my pet peeves. If you put them in as they are, they sometimes don't dissolve properly and the alternative is to dissolve them separately in some boiling water which is not fun either and could water down your dish.
I have now got the solution which is a range of concentrated liquid stocks from Essential Cuisine. This brand is a bit of a chef's favourite that has won lots of awards for its home-made taste.
The range consists of four stocks — Vegetable, Lamb, Beef and Chicken. I'm a vegetarian myself so the Vegetable one is great for the meals that I cook, whilst my husband uses the other ones in the stews he likes to make for lunches to take to work.
Whether the meal you're cooking is a stir fry, a quick slow cooker meal prep, a soup, a risotto, a stew, a pasta sauce or gravy, the addition of a liquid stock can make all the difference.
Lasagna is one of the favourites in our household and to test Essential Cuisine stocks, I've played around a bit with one of our go to meals, the spinach lasagna.
Cheese Feast, Spinach & Lemon Lasagna Recipe (Serves 4 generously!)
6 dried lasagna sheets
2 courgettes
350ml of milk
2 Tbsp of butter
2 Tbsp of flour
300g of cottage cheese
500g of frozen spinach
1-2 cloves of garlic
2 tsp of Essential Cuisine Concentrated Vegetable Stock
300g of mixed grated cheese (Cheddar, Red Leicester and Mozzarella for us)
Tomatoes and/or salad to serve
Fresh lemon to squeeze over when serving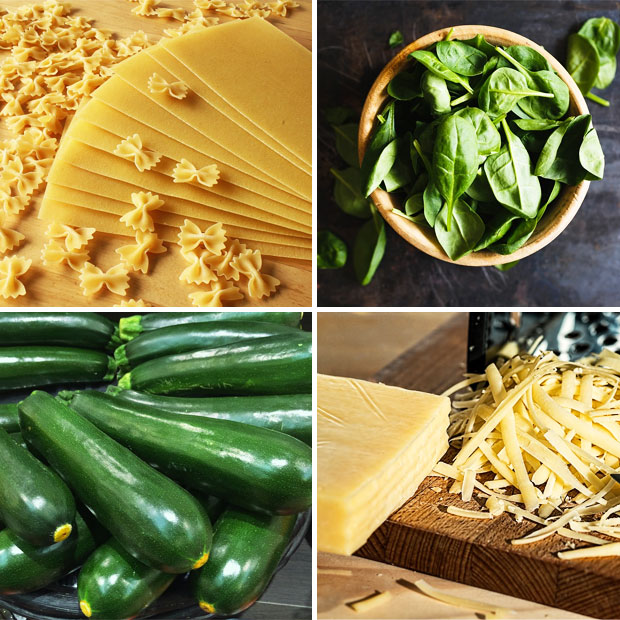 Method:
Make a thin white sauce by melting the butter in a medium saucepan, working in the flour with a whisk and adding the milk little by little.
Add the cottage cheese and heat through, add the spinach and let it defrost in the sauce. If you're short on time, defrost the spinach first by taking it out of the freezer a few hours before you plan to cook.
Add the garlic, the vegetable stock and season with a bit of pepper if you wish.
Once everything is heated through, the sauce is done. Turn the heat off. If you want a smoother sauce, use a hand blender to mix it.
Wash the courgettes and slice them into 5mm round slices.
Now the layering begins! Add a small amount of vegetable oil to the bottom of a glass oven dish. Layer courgette slices, sauce, lasagne sheets and cheese until you run out. The top layer should be sauce and lots of cheese, other than that the order doesn't really matter.
Cook in the oven on 175 degrees for about 45-60 minutes or until the pasta is soft, the lasagna has firmed up and the cheese looks golden.
Lasagna is best when it has set for a bit so I recommend taking it out of the oven, covering with foil and waiting an hour before eating. I love mini tomatoes with this dish and a squeeze of fresh lemon on top. Sometimes, I add more cheese in the form of Parmesan as well… You can never have too much cheese!
Samples of the stock range were provided to me for this post, along with a voucher to cover the costs of the ingredients. As always, all my posts are 100% honest and all thoughts and opinions are my own.