Everything You Should Know About Runner Rugs
|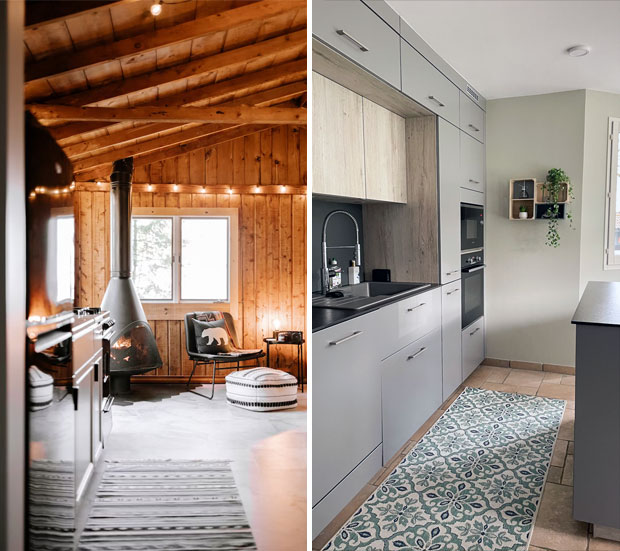 Everything You Should Know About Runner Rugs
Are you tired of your bare floors and searching for the perfect way to add both style and functionality? Look no further than runner rugs! These versatile floor coverings are more than just a pretty accessory – they can protect your floors, define spaces, and even reduce sound. But with so many options available, it can be overwhelming to choose the right one. Fear not!
In this blog post, we'll cover everything you should know about runner rugs – from types of materials to placement tips – so you can confidently select the perfect rug for your home.
What Are Runner Rugs?
Runner rugs are one of the most versatile types of rugs on the market. They can be used in a variety of settings, from entryways and hallways to kitchens and bathrooms. Runner rugs come in a wide range of styles, colors, and materials, which means there's sure to be a runner rug that's perfect for your home.
When shopping for a runner rug, keep in mind the intended use for the rug. For example, if you're looking for a rug to place in an entryway or hallway, you'll want to choose a style that is durable and easy to clean. Kitchen runner rugs should also be easy to clean, as well as slip-resistant. Bathroom runner rugs need to be water-resistant or even waterproof.
Once you've determined the intended uses of a runner rug, you can start shopping around for the perfect style. If you have a modern décor, you might opt for a sleek and simple runner rug. For a more traditional space, try a oriental-style or floral-patterned rug. There are also many abstract and geometric-patterned runner rugs available if you're looking for something unique.
As far as materials go, wool is always a popular choice for runner rugs because it is durable and has a luxurious feel. However, wool can be pricey so if you're on a budget, consider synthetic
Different Types Of Runner Rugs
There are a variety of different types of runner rugs available on the market, each with their own unique benefits. Here is a quick breakdown of some of the most popular types of runner rugs:
Wool Runner Rugs: Wool is a durable and long lasting material that can add a touch of luxury to any space. It is also naturally stain resistant, making it a great option for high traffic areas.
Cotton Runner Rugs: Cotton is a soft and absorbent material that is perfect for areas where you want a bit of extra padding. It is also very easy to clean and maintain.
Jute Runner Rugs: Jute is a strong and durable natural fiber that has a beautiful earthy look. It is perfect for country or rustic style homes.
Synthetic Runner Rugs: Synthetic runner rugs are made from man-made materials like polypropylene or nylon. They are often less expensive than natural fiber options and can be very durable.
Pros And Cons Of Runner Rugs
When it comes to runner rugs, there are both pros and cons that you should be aware of before making a purchase.
On the plus side, runner rugs can add a touch of style and sophistication to any space. They also help to protect your floor from wear and tear, and can keep your feet warm in cold weather.
On the downside, runner rugs can be tricky to clean and care for, and they may not always fit perfectly in your space. Before making a decision, weigh the pros and cons carefully to see if a runner rug is right for you.
Where To Buy Runner Rugs?
If you're in the market for a runner rug, there are a few things to keep in mind.
First, decide what size rug you need. Runner rugs come in a variety of sizes, so it's important to measure the space where you'll be placing the rug. Once you have an idea of the size you need, it's time to start shopping! To cover a large space or an area, an oversized outdoor rug would be of proper use. 
When shopping for runner rugs, it's also important to pay attention to the material. Wool and cotton are two popular choices for runner rugs, but there are also synthetic options available if you're looking for something more affordable.
Once you've decided on the perfect runner rug for your home, it's time to enjoy its beauty and functionality!
How To Clean Runner Rugs?
Cleaning your runner rug may seem like a daunting task, but it doesn't have to be! There are a few simple steps you can follow to keep your rug looking its best.
First, vacuum your rug regularly to prevent dirt and dust from building up. Be sure to use a vacuum with good suction, as this will help to remove more dirt and debris. If you have any areas of your rug that seem particularly dirty, you can spot clean them with a mild detergent and a damp cloth.
Once every week or two, give your rug a deeper cleaning by using a carpet shampooer. You may also want to hire a professional carpet cleaner every few months to really get your rug looking its best.
Conclusion
We hope this article has given you an insight into all the things you should know about runner rugs. From knowing how to pick out the right size and style of rug for your space, to understanding what materials work best, there's a lot that goes into making sure your runner rug looks its best. With our tips in mind, you can easily find a great looking runner rug that will instantly elevate any room in your home.
Guest Article.