Facetheory – Skincare That's Personal – Introduction & Reviews
|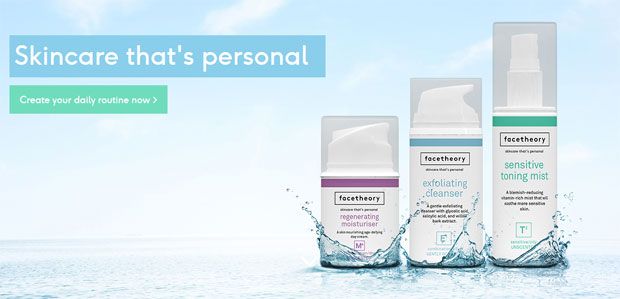 facetheory – Skincare That's Personal
I'm part of the the beauty panel of the new innovative skincare brand facetheory that makes wonderful products and lets you create a skincare routine that suited just for you and your needs.
How does it work?
"We help you build a uniquely personal skincare routine from formulations which are designed and crafted to work beautifully together. Just take our questionnaire, customize your cleanser, face mist, and moisturiser, and experience the difference that personal skincare can make to your skin."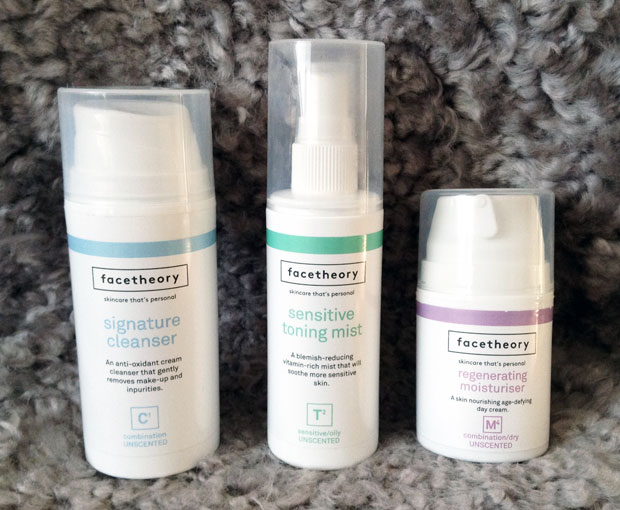 Easy! After taking the questionnaire the products recommended for me were: C1 Signature Cleanser, T2 Sensitive Toning Mist and M4 Regenerating Moisturiser. You can choose whether you want scented or unscented products. I went for unscented.

The Signature Cleanser is described like this:
"A cleanser that's strong yet sensitive. Available scented or unscented, Cleanser C1 removes the impurities, make-up, and surface oils from your skin – leaving you refreshed, renewed, and ready to go. But what makes this can-do cleanser so special is its formulation, made up of the most gentle ingredients available. So whatever your skin type, you can give it the care and nourishment it deserves."
It's suitable for combination skin and dry skin and contains:
Avocado oil which is very hydrating and full of antioxidants, Vitamin C and E and is very soothing and anti-aging, too.
Aloe Vera which is antibacterial and anti-inflammatory and soothing for sore skin and spots.
Coconut oil which reduces inflammation and the risk of infection and keeps your skin soft, healthy and moisturised.
Silk protein that leaves skin so soft and helps your skin hold on to moisture.
This cleanser is a real pleasure to use! It feels so gentle yet it cleans my skin so thoroughly. I'm left with clean, supple and soft skin.

The Sensitive Toning Mist is described like this:
"A toner that's tailored for sensitive skin. Specially formulated for fussy skin, Sensitive Toner T2 gives you complete treatment and protection for your skin – without the irritation and redness. And while we've created a light formulation, we haven't compromised on care. With aloe vera and grapefruit oil, it's an antiseptic, decongestant and impressive anti-ager all in one."
It's suitable for sensitive, oily and combination skin and contains anti-inflammatory Aloe Vera and Grapefruit Oil that helps eliminate excess oil, is an antiseptic and an antioxidant that calms breakouts. The natural Vitamin C also slows signs of aging.
It's a refreshing toner that feels good on my skin and I'm glad it's suitable for sensitive skin yet is powerful enough to help reduce breakouts. The natural scent of the product is a bit strong but it's all natural so that's fine with me.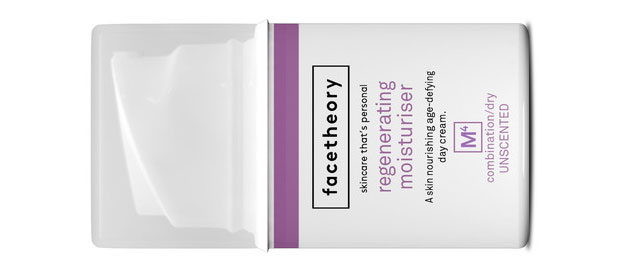 The Regenerating Moisturiser is described like this:
"A moisturiser packed with proven anti-agers. Keep your skin healthy and hydrated while fighting off the signs of ageing. We've formulated Anti-Ageing Moisturiser M4 to give you super-soft skin and a strong defence against lines and wrinkles. It's a creamy, rich moisturiser that leaves you feeling hydrated and healthy, with the added advantage of vitamin C, vitamin E, retinol and hyaluronic acid. And with useful UVA and UVB filters, it protects against future damage too."
It's suitable for non-oily skin types that need protecting from the signs of ageing and contains lots of caring active ingredients: Aloe Vera, Argan Oil, Ferulic Acid, Hyaluronic Acid, Oatmeal, Retinol, Shea Butter, Vitamin C, Vitamin E and Zinc Oxide that together create a powerful anti-aging formula that keeps skin soft, soothed and hydrated. It also helps repair you skin and protects your skin from the sun.
It's a rich and luxurious cream that feels good on my skin and leaves it soft and moisturised for a very long time. It takes a while to absorb fully so for me it's best used at night or on days where I'm not in a rush.
I'm very happy with my skincare routine and think the questionnaire works well to find the right products.
A bit more about facetheory:
All facetheory products have free UK delivery, are natural paraben-free formulations and come with a 100% 30-day money back guarantee. The fragranced products are fragranced with mandarin extract so that's very natural and even suitable for sensitive skin. The products are not tested on animals and do not contain any potentially toxic ingredients. The UVA/UVB protection is physically occlusive sunscreens like zinc and titanium dioxide – no chemical films. The packaging is environmentally friendly and airless for freshness.
Click this link to get to my discount code and enjoy 20% off all products! Expires on the 7th of June 2015. Go to facetheory.com to create your very own personlised skincare routine to suit your needs precisely.
I was sent my skincare routine for testing as part of the facetheory beauty panel. As always, all my reviews are 100% honest and all thoughts and opinions are my own.