Festive Elegance: The Best Champagne Cocktails for a Stylish Christmas at Home
|
Festive Elegance: The Best Champagne Cocktails for a Stylish Christmas at Home
It won't be long now before the festive season arrives. Many people are already looking forward to finally spending a relaxing and contemplative time with their loved ones.
Nevertheless, the Christmas holidays always bring a touch of glitz and glamor. There is hardly any other drink better suited to celebrating the holidays in style than a high-quality champagne.
However, it can be enjoyed not only on its own – it can be served particularly elegantly when used to create unusual cocktails. The following article contains the best recipes for this.
Classic elegance – French 75
The French 75 is a timeless classic that adds a touch of special sophistication to Christmas Eve.
For this cocktail, start with 1 cl of gin, then add 0.5 cl of lemon juice and 0.5 cl of sugar syrup. The whole thing is then shaken well and poured into a champagne flute. Top the mixture with a good champagne. A lemon zest is recommended as a garnish.
The French 75 offers a perfect balance between sparkling freshness and the elegance of champagne to get the party going. Ideally, quality champagnes should be used for all cocktails so that the drinks really do justice to the festive occasion.
The exotic temptation – hibiscus champagne cocktail
For an exotic touch to Christmas, we recommend the hibiscus champagne cocktail.
It starts with a teaspoon of hibiscus flowers in syrup. These are poured into a champagne glass. Then add 0.5 cl of vodka. A well-chilled champagne is of course used to top up the glass. The hibiscus flowers not only give the drink a stunning color, but also a subtle floral taste.
This cocktail is an inviting change of pace and brings a tropical touch to the Christmas party.
Sweet sin – cranberry champagne cocktail
For those who like it sweeter, the cranberry champagne cocktail is the perfect choice.
To make it, mix 1 cl cranberry juice, 0.5 cl orange liqueur and 0.5 cl lime juice in a shaker with ice. Strain the mixture into a champagne glass and top up with champagne.
Fresh cranberries or an orange wheel make this cocktail not only a tasty but also a visual highlight. The festive aromas of berries and citrus fruits are combined with the sparkling elegance of champagne.
The fruity freshness – peach and basil champagne cocktail
For a refreshing and fruity variation, we recommend a peach and basil champagne cocktail.
This consists of 1 cl of peach puree to which a few fresh basil leaves are added. Ideally, these should be crushed to release the aromas. The mixture is then poured into a champagne glass, which is then filled with chilled champagne.
The sweet note of the peach harmonizes perfectly with the slight spiciness of the basil, making this cocktail a delicious and refreshing choice for the celebration of love.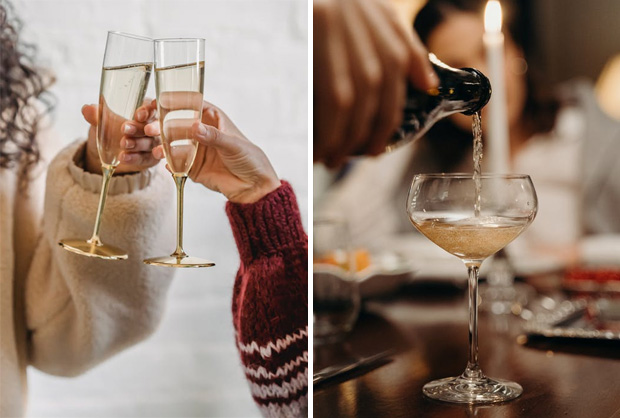 Enjoy perfect festive moments with champagne cocktails at home
These creative champagne cocktails for Christmas not only add a touch of luxury to the home, but also a personal touch to the celebrations.
Whether classic, exotic or sweet – the recipes allow you to celebrate the festive season in style. So you can already look forward to raising a glass and toasting Christmas with family and friends. And with that: cheers.
Guest Article.