Free Apps For Pregnancy & Early Parenthood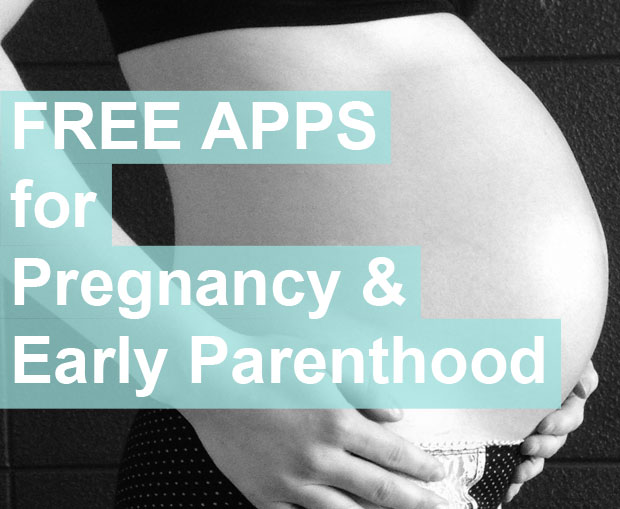 Free Apps For Pregnancy & Early Parenthood
Apps are a big part of our everyday life now and here are some that I've used lately that are helpful if you're trying to get pregnant, are expecting a baby or are a new parent. I've been working on my list of must-have apps for months now and have finally finalised it. The apps in this list are all free but some have paid for upgrades for extra features too. The links under each app description go to iTunes but the apps are available for Android devices too.

Getting Pregnant – MyDays
If you're planning to get pregnant a simple period tracking app can be very helpful so that you can learn your cycle and predict your ovulation. If you have a regular cycle this might be all you need and in that case there's no need for ovulation sticks and other fancy kits. I always track my period so that I know when to expect it next and I use a free app called MyDays which is very easy to use. It predicts your period and your ovulation and you write in when your period starts each month so that the app can adjust if it's wrong. You can add notes, photos, a heart for "intimate", track your temperature, weight, mood, symptoms, etc. and there's a pregnancy mode too that I've not tried.

Pregnancy – BabyBump Pro
Once you're pregnant, it's nice to track your days and weeks. When I was pregnant with my daughter, I used a free app called BabyBump Pro that tracks your days and gives you some information about the stage of pregnancy you're in each week. This includes the baby's size and weight and which fruit or vegetable it's the size of. You can add photos for each week, connect with friends and message each other.
There are some other features too:
a journal to track weight and measurements, appointments, feelings and just general notes or questions to remember
a baby name search function that includes favourites, origins, popularity and a random search
a kick counter
a contraction counter
a birth planning section with tick boxes for things you want or don't want during your birth, a tick box list with newborn essentials to help you prepare for your baby and a birth announcement feature

Baby Budgeting – Everyday Loans Baby Cost Calculator
This is a free online app that lets you estimate what you think different baby items will cost and then it compares your budget/estimates to average costs. Don't let this scare you though because the numbers are really high and having a baby doesn't have to cost much at all.
When I tried the app, it suggested that babies can cost over £44,000 in the first three years but that completely depends on how savvy you are, your lifestyle, your childcare options and how you choose to shop. For example the app says the average toy spend for the first three years is £748. My daughter is nearly two now and I can tell you that that's not true for us at all. The app is a fun way for savvy parents like myself to see just how well they're doing not spending crazy amounts of money on things though. I have written a thorough post about having a baby on a budget where I share my tips and tricks.
Try the Everyday Loans Baby Cost Calculator.

Baby Names – Baby Name Together
Thinking of baby names you like and agreeing on one with your partner can be really difficult. Actually, it was the most difficult thing about having a baby for us the first time around. It took months of discussing and reading of baby name books. Now there's a free app that helps with this issue!
Baby Name Together is the very first app that lets each parent create a list of their favourite baby names on their phone or tablet by liking or not liking names in the app. The baby names that have been selected on one parent's list are automatically compared to the other parent's list. The app makes this comparison in real-time and then produces a joint list that only contains the names that have been mutually selected by both parents. If you have several, then you need to narrow it down together but it makes the discussion process much easier!
In the search settings you can choose boy or girl names and categories which include a bunch of different origin countries, religious and mythological names. I'm happy to see Sweden included in the list of countries! You can choose to display the names in a list or one by one.
A couple of times I got a girl's name in the boy's list and vice versa but that's not a big deal for me.
When you look at the each name you also see the meaning, the origin, main worldwide usage and popularity statistics.
You can also see Top 20 Names lists for different countries for this week, this month or this year.
Download Baby Name Together.


Emergencies – British Red Cross First Aid
I think that everybody should be educated in first aid, especially parents. I've taken two first aid courses recently and some when I was younger too. The latest one I took was when I was pregnant with my daughter and it was at the maternity unit at the hospital and one specialising in baby and children's first aid. I hope to refresh my skills every few years so that I'm as prepared as possible for an emergency situation.
The free British Red Cross first aid app features simple, easy advice on 18 everyday first aid scenarios and also includes tips on how to prepare for emergencies like severe winter weather or road traffic accidents.
The app contains helpful videos, step-by-step instructions and interactive quizzes to check your knowledge. It makes it really easy to learn first aid from anywhere. You don't even need an internet connection as all the information is hosted in the app itself. This is perfect for an emergency as you don't always have access to the internet. I only have Wi-Fi on my devices so am never online when I'm out and about but I can use this app anytime.
It's a great app to use to learn about first aid before anything happens and also to use for quick advice in a case of emergency if you don't know what to do.
Download British Red Cross First Aid.

Illness – Meningitis Now
Meningitis is the inflammation of the membranes that surround and protect the brain and spinal cord. It can be caused by many different organisms, including bacteria and viruses and is most common in babies and children under the age of five. It's a very dangerous disease and spotting the symptoms early can mean the difference between life and death and help to reduce the long-term impact of the disease.
Meningitis Now is a free app that works like a mini version of the website with the same name. The app contains everything you need to know about meningitis right there in your phone or tablet. The app includes a full list of the signs and symptoms of meningitis and septicaemia and information on the after-effects of the disease. It also includes details of Meningitis Now's free services and links to help you find your nearest A&E or GP in case of an emergency.
Like infant first aid, every parent should take the time to learn about meningitis and the symptoms to be prepared for an emergency. Being well informed saves lives!

Baby Sleep – Sleepy Sounds
My daughter has never been a good sleeper but one thing that has helped her fall asleep many times is a free app called Sleepy Sounds. It can be used to help settle babies and children but can also help adults suffering with sleep disorders like insomnia.
The app includes four different options: Lullabies, White Noise, Nature Sounds or Own Music. You can choose to play the music indefinitely (until you stop it) or set a timer to make the sounds stop after a certain amount of time.
As the music or sounds play, the screen also shows a soothing animation which can also act like a night light while your child falls asleep. The app continues to play in the background too so you can do other things on your phone or tablet at the same time without interrupting the sounds.
When my daughter was younger, I mainly played her the lullabies but now that she's a toddler I use the nature sounds more. They really help get her into bedtime mode! Once when we were out on a shopping trip, she refused to nap in her pushchair even though she was exhausted so I played the sounds and put my tablet in the pocket of the pram so only she could hear the app playing and shortly afterwards she was finally asleep. Sleepy Sounds really saved that afternoon!
What are you favourite pregnancy and baby apps? Let me know in the comments below.