How To Pick The Perfect Attire For Your Hubby & You For Your Special Day
|
How To Pick The Perfect Attire For Your Hubby & You For Your Special Day
The most important day of your life is approaching, and you undoubtedly want to make it unforgettable. The wedding day will undoubtedly have its ups and downs, and preparing for it may be rather difficult owing to all the concerns and stress you may experience as a result of the enormous hope that everything goes as smoothly as possible. Then, when the smallest obstacle arises, such as being unable to find the perfect wedding gown in which you can imagine yourself, you begin to fret and worry about everything. However, have a positive attitude since we will provide you with some simple suggestions on how to find the best attire for both of you on your wedding day.
Magazines and social media pages are brimming with wonderful ideas to help you find inspiration for your bridal gown. You can go through many possibilities and select something that appears to have always been your fantasy to wear on your most precious day. You may attempt to visualize how the dress would appear on you and even use Photoshop to get a picture of yourself wearing it. If you like the concept, you may go ahead and buy the dress at the store or search for some of the top designers to make the dress, especially for you.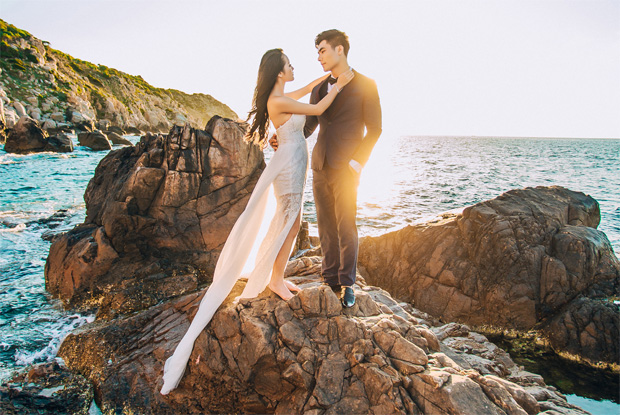 Consider the Setting and the Season
When selecting the appropriate attire for both of you, keep the season and location of your wedding in mind. For example, you don't want to wear anything bulky to a beach wedding since it will make you feel quite uncomfortable. If this is the case, you might go for a beach wedding dress that is appropriate for a sunny sand backdrop. Go with something lightweight and comfortable, allowing you to move freely, complementing the beach theme of your wedding, and yet making you appear like a stunning bride.
When it comes to the groom, a suit, tie, belt, and some comfortable shoes will suffice. The traditional groom wears a blue or gray suit, although bright hues can look wonderful! This is a simple look that will make you feel at ease on your most significant day.
If you want a more formal look, for example, if your wedding will be held in a beautiful palace somewhere in the city, you can choose a more elegant, elaborate, and shinier wedding gown, while your groom should be complemented with a dark suit or tuxedo, black tie, leather shoes, cufflinks, a handkerchief, and a formal white shirt.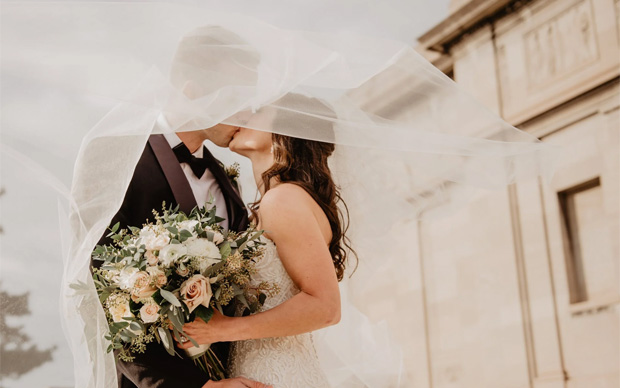 Your wedding will be a substantial financial investment for you, beginning with reserving the venue, catering, welcoming your guests, planning your honeymoon, and many other tiny details that will add up to a large sum once you sit down and calculate how much you have spent. Your wedding dress is undoubtedly one of the most significant changes you will pay at the end of the day; thus, you must budget properly and ensure that the cost of the wedding garment falls within your financial constraints. This is also crucial since you don't want to wind up with the cheapest outfit that doesn't look stunning on you, but rather you want to pay more upfront and choose quality over possible cost. Making a separate budget for each item on your list will allow you to look for something beautiful and reasonably priced at the same time.
Almost every wedding store will provide you with free appointments to try on several wedding gowns that you have selected as the most beautiful. Nothing beats really trying them on and viewing yourself in the mirror, so go to the store, bring your sister, mother, or best friend, and let them give you their opinion as well, because someone with a different viewpoint may see something you don't see in the mirror. Grooms should do the same; trying on several outfits with the assistance of a close friend or family member may be a fantastic approach to determine which option best suits you and will make the entire occasion more gorgeous and unforgettable.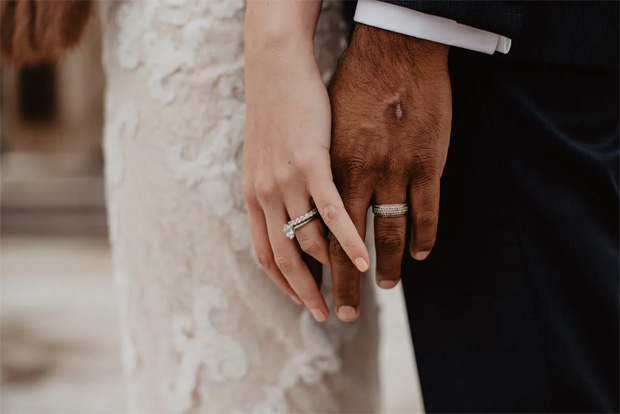 Fabric is a key factor when it comes to finding the right wedding gown because it has a major impact on how a gown looks on you. A thicker, more structured fabric, such as silk, taffeta, or lace, will retain its form and smooth your contour. If your wedding is in the summer or at a tropical location, though, you may want to go with something lighter and looser. Because of its light and airy construction, chiffon is an excellent choice for spring and summer weddings. Moreover, batiste is a lightweight and delicate translucent fabric constructed of plain fabric that is typically used as a veil.
We hope this guide has helped you decide on the perfect wedding clothing for both of you. All you have to do is find something that feels comfortable and easy on you and allows you to walk around freely while enjoying the happiest day of your life.
Author: Allen Brown.