Indigo Herbs Pregnancy Care and Wellbeing Gift Set Review
|
Indigo Herbs Pregnancy Care and Wellbeing Gift Set Review
This is a kit that makes a wonderful gift for a pregnant lady. It's packed with items for use in the 2nd and 3rd trimester of pregnancy and includes:
Raspberry Leaf Tea
A beautiful strawberry shaped silicon tea infuser
Pregnancy Care Essential Oil Blend (10ml)
Pregnancy Care Massage Oil Blend (100ml)
Raspberry Leaf can help prepare the uterus for labour and should only be used towards the end of your pregnancy. The Indigo Herbs Raspberry Leaf Tea is a high quality loose tea that tastes lovely. Just add 1-2 teaspoons of leaves to your strainer and let it infuse a cup of water for 5-15 minutes, then drink. I love the strawberry silicon tea infuser — it's so cute!
The 100% pure essential oil can be ingested via the respiratory system or through your skin. You can diffuse it in an oil burner or disperse it into the room via a room spray. You can also add the oil to body creams/oils or put some in your bath. Some areas of the body are more permeable and are more effective for absorption (for example temples and wrists). This blend is for creating a mood of calm, serenity and wellbeing and contains a lovely mix of lavender, geranium and mandarin. It's a nourishing and balancing blend for use during pregnancy. I love the scent and use it by adding it to other products (body lotion) and in the bath. The essential oil is handcrafted and made from 100% pure botanical ingredients. The aroma is described as green, warm and fruity.
The massage oil is a blend of carrier oils (Almond oil, Wheatgrem oil and Marigold oil) and the Pregnancy Care essential oil mix. The oils are great for your skin and can help prevent stretch marks. Use it as a massage oil or body oil to nourish your skin. To let the oils absorb properly, leave 12 hours before washing the area again. It's a perfect bump oil to use after your evening shower or bath to help keep your skin supple and nourished. The essential oils smell lovely and calming.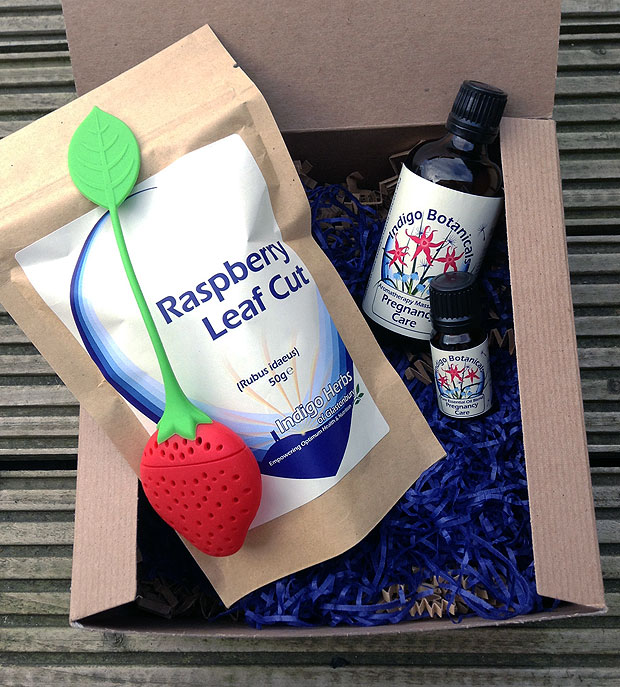 During my pregnancy I secretively wished that someone would gift me a lovely pampering kit designed for pregnancy. It's just what you need when you are heavily pregnant — some treats to enjoy that help you look after yourself. The Indigo Herbs Pregnancy Care and Wellbeing Gift Set makes a wonderful gift that I'm sure all pregnant ladies would appreciate! It's available to buy from the Indigo Herbs website for £19.99. It's an ideal gift to give to a pregnant wife/partner/friend/sister/daughter to let her know you're thinking of her.
I was sent a gift set for this review. As always, all my reviews are 100% honest and all thoughts and opinions are my own.