Mama Mio Gorgeous Glow 3-Step Set Review
|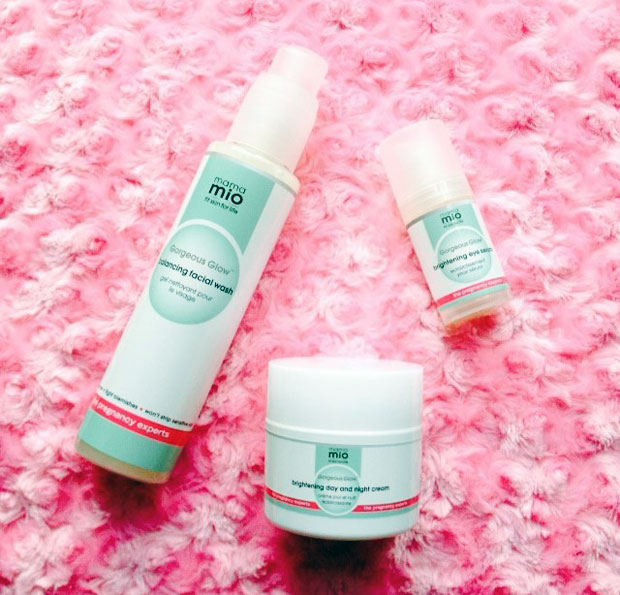 Mama Mio Gorgeous Glow 3-Step Set Review
Last month I reviewed the Mama Mio Gorgeous Glow Facial Wash which I absolutely love and this month I've been lucky to try the full Mama Mio Gorgeous Glow 3-Step routine with the facial wash, eye serum and day/night cream.
The safe and effective system covers all your facial needs and is suitable for sensitive skin. It's designed to be used in pregnancy but of course you can use it whether you're pregnant or not. The products fight acne with Lactic Acid which is very safe, brightens dark circles and relieves puffy and tired eyes and moisturises, balances and brightens skin.
Pregnancy means a lot of changes to your body and the hormonal fluctuations can cause skin conditions like acne, dryness and excess pigmentation. Often, skin is left sensitive and stressed and in need for a bit of TLC to get its balance back. Water retention and lack of sleep can leave eyes puffy, too.
Mama Mio are award-winning experts in pregnancy skincare and their products are completely safe to use when pregnant and breastfeeding. They have a no nasties promise that ensure safe products and formulas made with organic ingredients.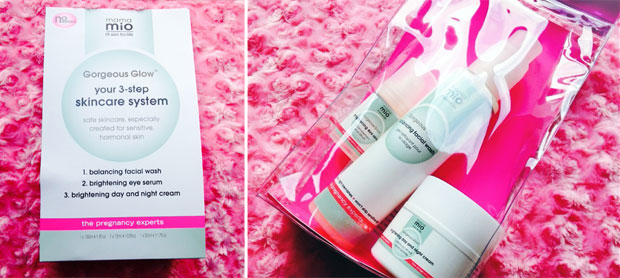 This kit from Mama Mio contains:
Gorgeous Glow balancing facial wash 150 ml / 5 fl oz
Gorgeous Glow brightening eye serum 15 ml / 0.5 fl oz
Gorgeous Glow brightening day and night cream 50 g / 1.7 fl oz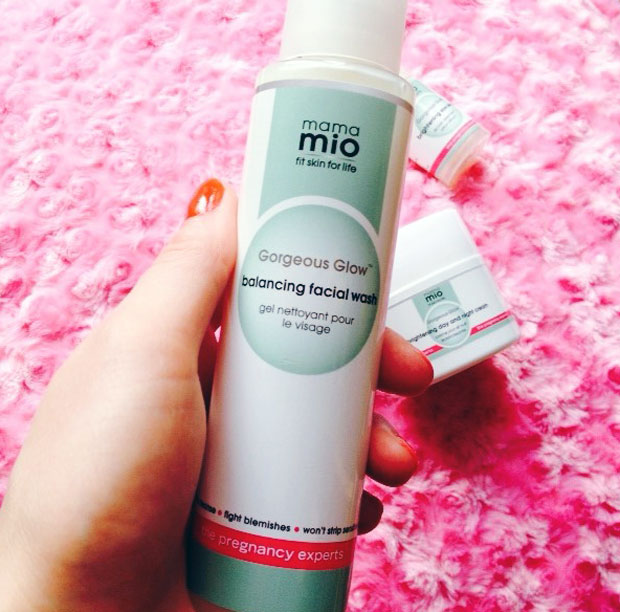 The first of the three steps is washing your face with the brilliant Gorgeous Glow balancing facial wash, which you can read all about in my review here.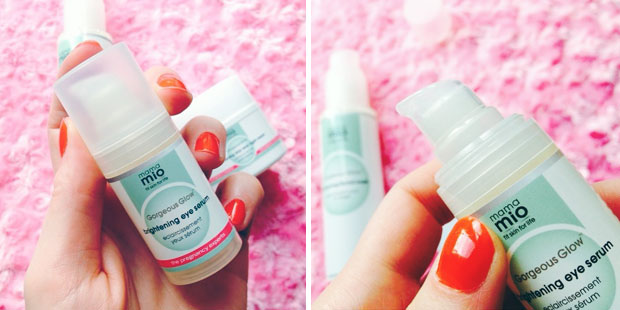 Then it's time for the Gorgeous Glow brightening eye serum which is a lovely formula designed to hydrate the eye area with peptides and natural moisturisers. It contains calming organic aloe vera and 8 powerful actives that help zap dark circles and make puffiness a thing of the past.
Ingredients include Eye Pro 3x which is a natural active blend that targets fine lines, puffiness, dry skin and dark circles. It's a powerful anti-aging blend that energises and hydrates tired skin and gives a young appearance of smoother, firmer and more awake looking eyes. The three key ingredients in Eye Pro 3x are yeast extract, herbal extract Rhodiola Rosea and betaine.
Together with Eyeliss (a blend of Dipeptide-2, Tretrapeptide-7 and Hesperidin) this makes a powerful formula that is very effective at reducing puffiness and dark circles. The serum also contains hyaluronic acid which is one of nature's most intense humectant moisturisers. It hydrates deeply, plumps up and fortifies dehydrated skin. It's great in skincare in general but especially suitable for the eye area.
You use the serum by applying a drop onto each ring finger then gently smoothing it under and around the eyes with feather light circles. 10 circles clockwise and 10 anti-clockwise is suggested.
This gel serum is lovely and very refreshing yet calming at the same time. It brightens up and hydrates the area around my eyes and makes my eyes feel fresh and more awake. My eye area is very sensitive but this formula is so gentle and works perfectly for me.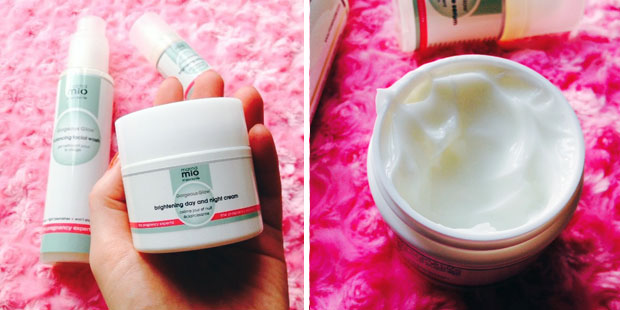 The last step is the Gorgeous Glow brightening day and night cream which is a duo cream for daytime and night-time use. It's rich in omegas and hyaluronic acids to moisturise and fortify the skin and antioxidants to strengthen it. It contains probiotics and lactic acid to keep skin clear and bright and to tackle any hormonal breakouts. Lactic acid is a brilliant enzyme exfoliator that helps keep skin free of dead skin cell build-up which is often the cause of acne. It's also mildly astringent and anti-inflammatory which makes it a great spot fighter.
The omegas used are organic evening primrose oil and sweet almond, avocado and olive oils — all packed with vitamin D and E and very moisturising to make and keep skin plump and firm.
A natural botantical blend called Multifruit BCS gently exfoliates to brighten skin and even skin tone.
The cream also contains tea tree oil which has amazing healing powers and is naturally antibacterial and therefore also a great acne fighter. Another important ingredient is algae extract which is rich in omega 3 and naturally anti-inflammatory and antiseptic to help keep skin clear.
You use the cream morning and evening on clean, damp skin. You only need a tiny bit since a little goes a long way with this high quality cream. Follow with SPF to protect your skin. SPF 30 or above is recommended during pregnancy when your skin is more sensitive and prone to melasma.
This cream is rich and luxurious and makes my skin feel so looked after. The formula is like a gel cream and is easy to massage into your skin. My skin looks brighter and more even and my breakouts are fewer. I'm so happy to say it's got the same amazing scent as the facial wash. It's so natural and absolutely gorgeous! I'm a bit addicted to this scent!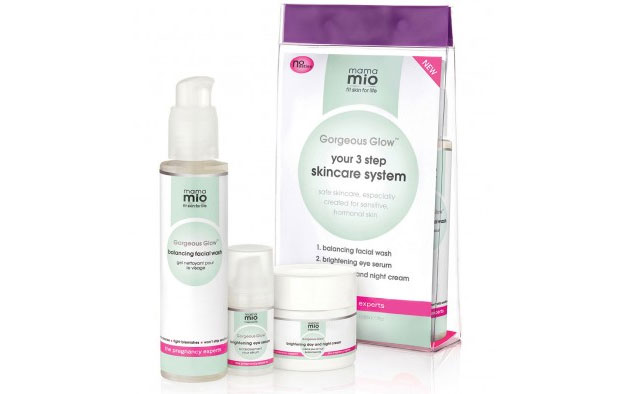 I love that there's a full range of products available that are clearly suitable for use during pregnancy and breastfeeding. It's so difficult to find products that are, especially ones that help fight breakouts. This is a great range and the products work so well! I highly recommend to pregnant and not pregnant women who are looking for natural skincare products to help balance sensitive and hormonal skin.
This set would make a lovely gift for a pregnant partner/wife/sister/friend/daughter or yourself. It's amazing value at only £42. You get £69 worth of products so you save £27. Read more and buy here.
I received this set as a gift. As always, all my reviews are 100% honest and all thoughts and opinions are my own.