Vital Touch Natalia Pregnancy Relaxation Box Review
|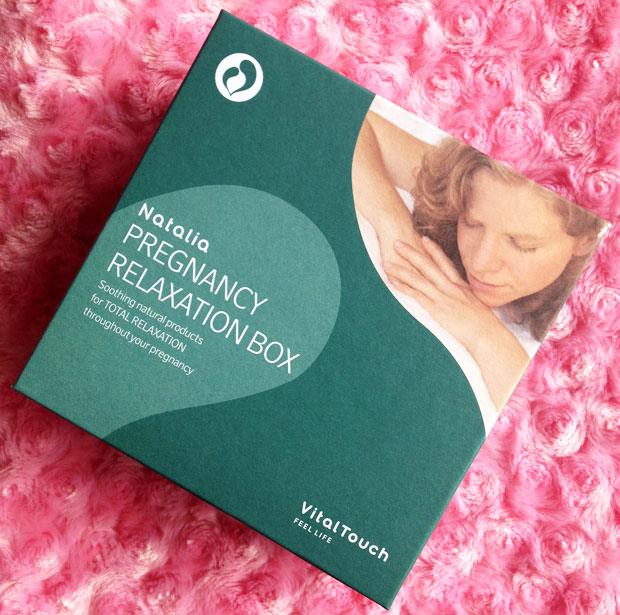 Vital Touch Natalia Pregnancy Relaxation Box Review
Pregnancy is the perfect time to really pamper yourself — especially towards the end of pregnancy when tiredness gets worse and your skin is stretching more than ever. It can be difficult to find time for me-time and pampering when you have older children to look after too but I'm really trying to squeeze some in now.
We've just rebuilt and redecorated our bathroom so now I finally have a bathtub in our home and somewhere to indulge in a warm bath and skincare at the end of the day. My toddler has finally started going to bed at a reasonable hour too so I actually do have some time in the evenings now.
I also believe that relaxation is very important to the well-being of the pregnant mother and the baby too and that it's good for bonding to take time to just relax.
Having some lovely products to use and spoil yourself with makes pampering much easier and more inviting. I've got the Step 1 – Total Relaxation Box for pregnancy by Vital Touch Natalia (£32). Vital Touch Natalia is a natural skincare brand that I absolutely adore — their products are amazing and so luxurious. You feel like a queen using them! I've previously used the products from the New Parent Survival Box and the Prenatal Beautiful Body Scrub which is probably my favourite body scrub ever.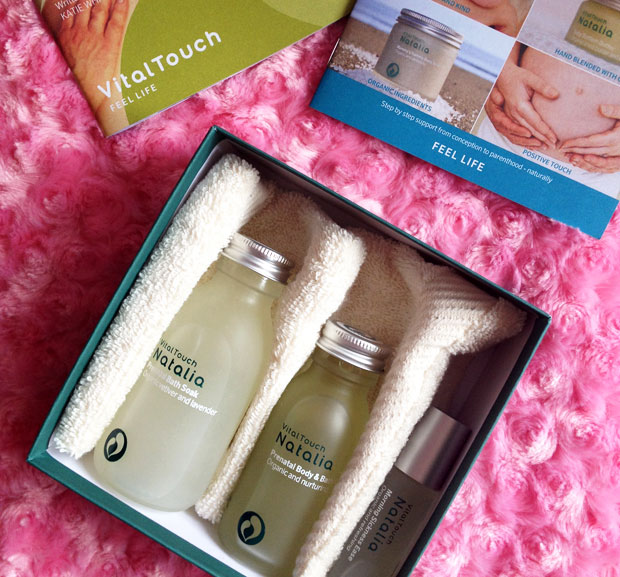 The Step 1 – Total Relaxation Box contains:
Prenatal Bath Soak (100ml)
Prenatal Body & Bath Oil (60ml)
Morning Sickness Ease (10ml pulse pointer)
Organic Ultra soft Cotton Flannel (ideals for skincare and baths)
Step By Step Pregnancy Labour Massage Guide (full colour booklet)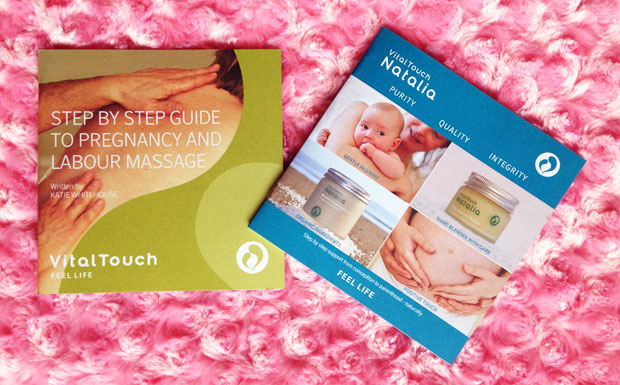 The Prenatal Bath Soak is a lovely, thick bath gel that is naturally bubbly thanks to a coconut derivative that creates rich and creamy bubbles without using SLS. It's especially formulated for pregnancy and blended with healing British calendula, hand harvested Aloe Vera and a synergistic essential oil blend of soothing French lavender, uplifting vetiver and Madagascan Ylang Ylang. This blend of beautiful smelling oils helps ease muscular tension and soothe anxiety.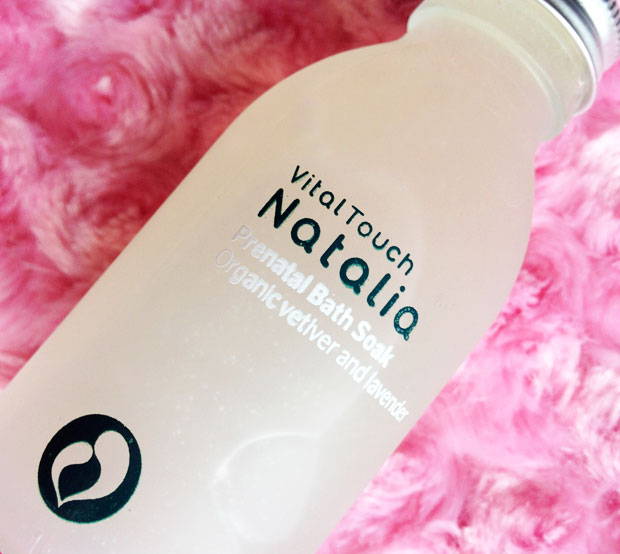 It's very relaxing to sink into a warm aromatic bath filled with bubbles created by this bath soak and to take some time to relax and connect with my unborn, growing baby.
I like to add a few drops of the Prenatal Body & Bath oil to my bath too to make it even more pampering and to hydrate my skin all over my body effortlessly while I relax in the bath. During pregnancy, your skin goes through so many changes due to stretching and hormonal changes. It's no wonder it needs some extra care during this special time!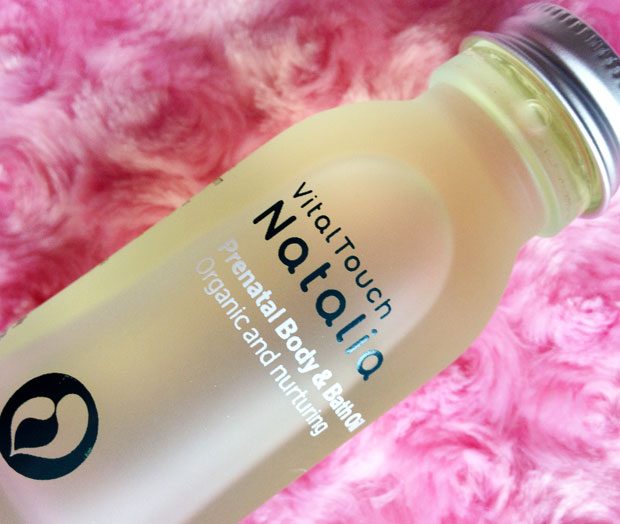 This body and bath oil is full of nourishing oils that make skin feel looked after and silky soft to touch. Avocado oil and sunflower oil are packed with vitamins that help your skin stay elastic and healthy. The scent is from a blend of essential oils — soothing lavender, roman chamomile and sunny sweet orange. It's gorgeous and helps to nurture the skin at the same time as it helps balance and uplift mind, body and soul. It's so lovely!
Luckily, my morning sickness passed soon after I entered the second trimester of my pregnancy. I know that aromatherapy can really help some women who suffer from it though and remember both peppermint and ginger working quite well for me.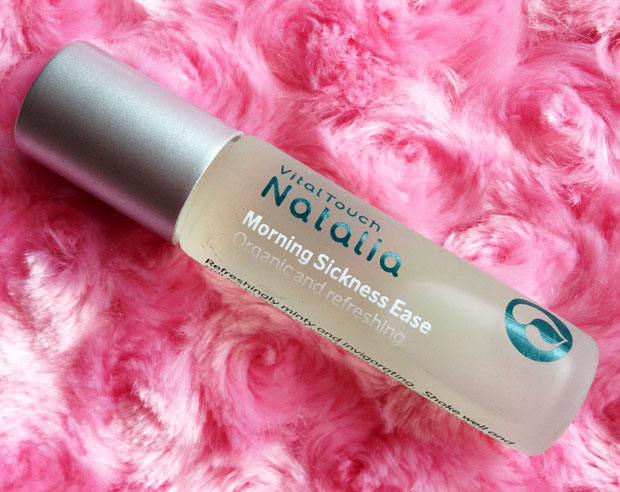 Morning Sickness Ease comes in a 10ml handy pulse pointer and contains a 100% organic blend of oils — peppermint, ginger and bergamot. This blend is refreshing and helps treat nausea and can even stimulate your appetite. It's suitable for sensitive skin and the base oil sunflower oil makes it very light and easily absorbed. You can apply it to your pulse points as often as you like, whenever you feel like you need it.
I use it to feel more energetic when I'm particularly tired and find the scent very uplifting and calming at the same time.
Vital Touch Natalia skincare sets are free from artificial additives and animal ingredients and are made from sustainable or recyclable materials. The ingredients are 100% natural and most of them are organic too.
I was sent this product for this review. As always, all my reviews are 100% honest and all thoughts and opinions are my own.