InstaNatural Age-Defying Retinol Serum Review
|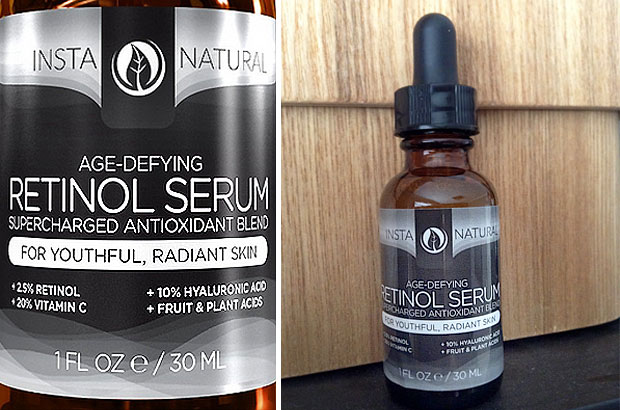 InstaNatural Age-Defying Retinol Serum Review
InstaNatural make lots of different serums for different types of skin. This one is all about making your skin look younger with a blend of 2.5 Retinol, 20% Vitamin C, 10% Hyaluronic Acid and Fruit & Plant Acids. It also contains Green Tea and Vitamin E to help repair the skin and Organic Jojoba Oil to help keep your skin soft and hydrated. Other active ingredients are Witch Hazel, Salicylic Acid and Glycolic Acid that help cleanse pores, shed dead skin cells and keep blemishes away.
This formula fights the signs of aging by tackling deep wrinkles, fine lines, dark circles, sun damage and hyper pigmentation. The antioxidant rich serum works to protect against free-radical damage and to reverse signs of aging and damage caused by the sun.
InstaNatural Age-Defying Retinol Serum can be applied once or twice daily after cleansing and before moisturising. Follow with a moisturiser containing SPF in the daytime as retinol makes your skin more sensitive to the sun. The serum sinks in really quickly and leaves your skin feeling smooth and nourished.
This is another great serum from InstaNatural made from really powerful and natural ingredients that work really quickly and make a huge difference to the quality of my skin. I find that adding a serum to my routine is one of the best ways to keep my skin in its best shape. This one helps keep my skin hydrated for longer, reduces blemishes and makes sure those sleepless nights do not show on my face. It smells lovely too!
I would recommend this to women of all ages — for a preventative step in your skincare or to reduce signs of aging that are already there.
InstaNatural Age-Defying Retinol Serum costs £17.97 and is available to buy from the InstaNatural website or from Amazon.
As always, InstaNatural's products are produced in small batches to ensure quality and freshness. InstaNatural is a lovely company that offers a 100% Satisfaction Guarantee Policy and will refund you if you are not happy with your product. It's very unlikely that you would not be happy though — the quality is amazing!
I was sent this product for this review. As always, all my reviews are 100% honest and all thoughts and opinions are my own.