InstaNatural Aloe Vera Gel Review
|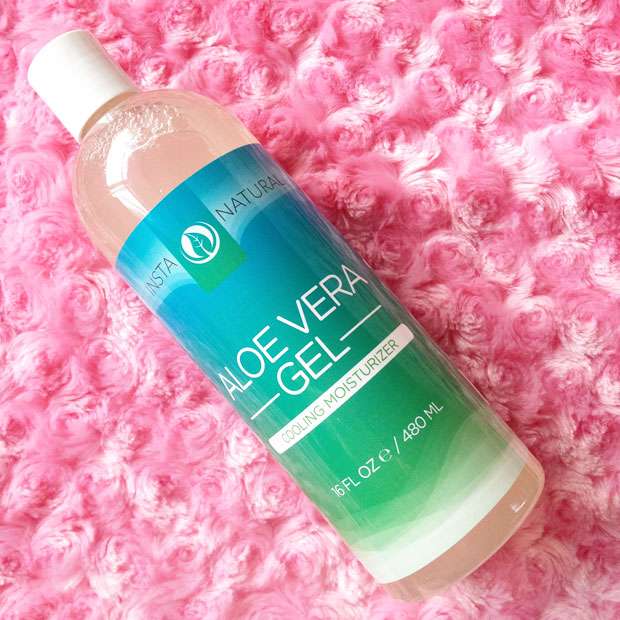 InstaNatural Aloe Vera Gel Review
Everybody should keep a bottle of good quality Aloe Vera Gel at home as it's such a great multi-purpose cooling and hydrating skin and haircare product for the whole family.
The InstaNatural Aloe Vera Gel is a premium grade formula derived from pure, organic, cold-pressed Aloe Vera. It's got a liquid texture that is lightweight and absorbs quickly leaving skin soft, supple, hydrated and conditioned. It smooths and strengthens skin and is great for your skin whether you are targeting signs of aging, sun burn, sun damage, dryness, itchiness or even blemishes.
You can also use this product as a natural hair conditioner for dry or damaged hair or to hydrate your scalp if it's feeling dry or itchy.
Aloe Vera is not only a great moisturiser — it also has antibacterial properties which makes it great for treating sunburn, acne, razor bumps, abrasions, insect bites and scratches. The gel will soothe these skin irritations while also moisturising your skin.
The reason Aloe Vera is such a good anti-aging product is that it's full of vitamins, minerals and other nutrients that help fortify your skin by trapping in moisture but without clogging your pores leaving the absorbed gel to work on wrinkles, fine lines and age spots.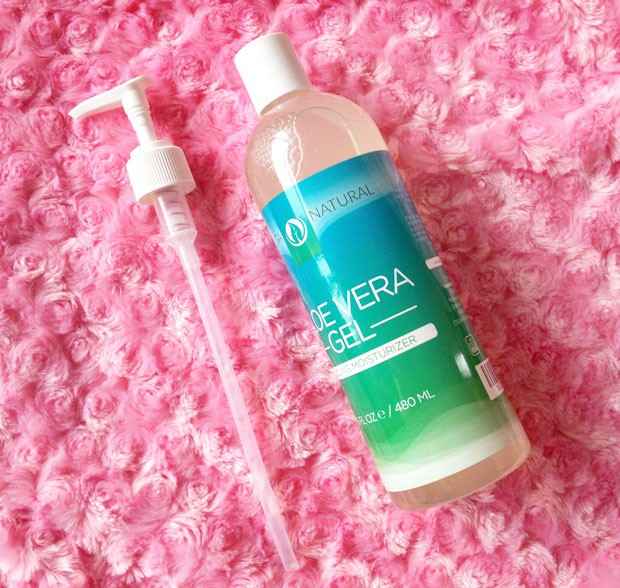 It's a truly versatile product that can be used all over your body and face to keep skin in great condition. It's suitable for all skin types and hair types.
The InstaNatural Aloe Vera Gel contains 99.78% of Aloe Vera and the remaining 0.22% or the formula consists of preservatives (Citric Acid, Potassium Sorbate, Xanthan) to make sure the quality lasts over time. The product contains an Alpha Hydroxy Acid (AHA) that may increase your skin's sensitivity to the sun so you should always use sunscreen when spending time in the sun after using this product (and in general!).
You don't have to store the product in the fridge but if you're using it to treat sunburn, doing this can enhance the soothing feeling.
So far, I've used the Aloe Vera Gel as a moisturiser and to treat razor bumps on my legs and it works a treat! I love how quickly it absorbs and that it doesn't leave a sticky residue like some Aloe Vera Gels do. The scent is natural, mild and very pleasant too.
The huge 480ml bottle comes with a long pump that makes it easy to use the product but you can also just use the cap if you wish.
The InstaNatural Aloe Vera Gel costs £15.95 and is available to buy from the InstaNatural website or from Amazon.
As always, InstaNatural's products are produced in small batches to ensure quality and freshness. InstaNatural is a great company that offers a 100% Satisfaction Guarantee Policy and will refund you if you are not happy with your product.
I was sent this product for this review. As always, all my reviews are 100% honest and all thoughts and opinions are my own.