InstaNatural Skin Clearing Spot Treatment Review
|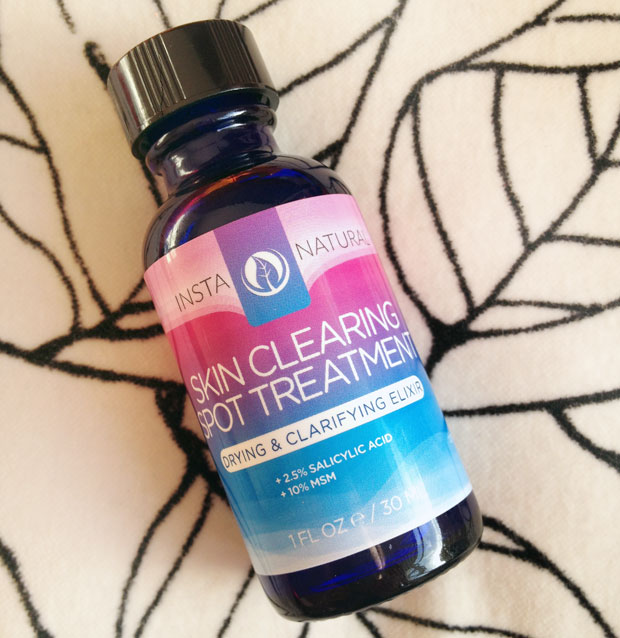 InstaNatural Skin Clearing Spot Treatment Review
Suffering from hormonal breakouts, I'm always on the lookout for products that can help me keep my skin clear and heal any spots quickly. InstaNatural is one of my favourite skincare brands so when I saw their Skin Clearing Spot Treatment, I was very excited to try it.
It's a lightweight and nourishing formula with a powerful and effective blend of 2.5% Salicylic Acid and 10% MSM. It's a unisex cleansing treatment that quickly dries out spots, minimises blackheads and whiteheads and fades other signs of acne too such as uneven texture. It works on teenage and adult acne.
You use it by dipping a cotton swab into the bottle or pouring some onto a cotton wool ball, then dabbing the product onto any problem areas. Allow to dry and then you're done. For stubborn spots, reapply as needed. Don't shake the bottle before use. For boosted results you can use the product together with the Skin Clearing Toner and the Skin Clearing Serum (read my review here) from InstaNatural.
The treatment comes in an absolutely gorgeous 30ml blue glass bottle with a screw cap. I've never seen such a pretty spot treatment before and nice packaging adds a bit of luxury feel to your bathroom cupboard.
I'm currently 15 weeks pregnant and it's recommended to be careful with salicylic acid but small amounts in regular skincare products are considered safe by doctors. You can read more about that here. Always ask your own GP or pharmacist if you're concerned.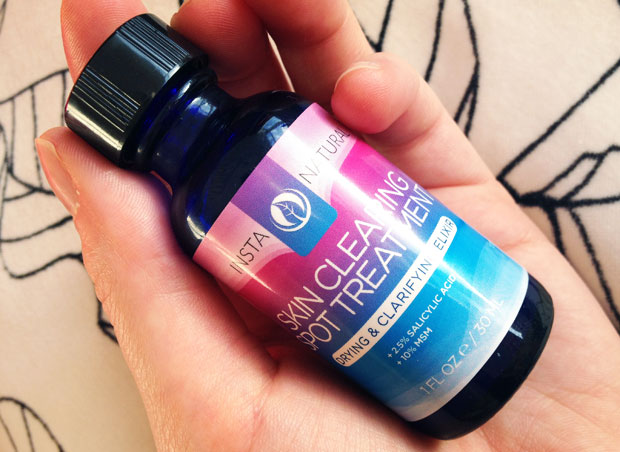 Luckily, my skin has been much clearer since getting pregnant. When I was pregnant with my daughter, I had really bad skin in the first trimester but this time around it's been much better than normal and I've only had the odd breakout and not on my chin and jawline which is the typical areas for hormonal acne. Instead, these spots have usually appeared near my temples and hairline.
To try the product, I have dabbed small amounts on any larger spots and they shrink away so much faster than without treatment. I'm looking forward to using it more post-pregnancy when I'm sure my normal breakouts will come back as my cycle gets going again. The scent is quite strong but I like this in spot treatments as it makes it feel like it's really efficient — and this treatment really is! The consistency is like a serum.
I would definitely recommend this to anybody suffering from acne or blemishes. It's got lots of great reviews on Amazon and seems to work on all kinds of breakouts and skin types.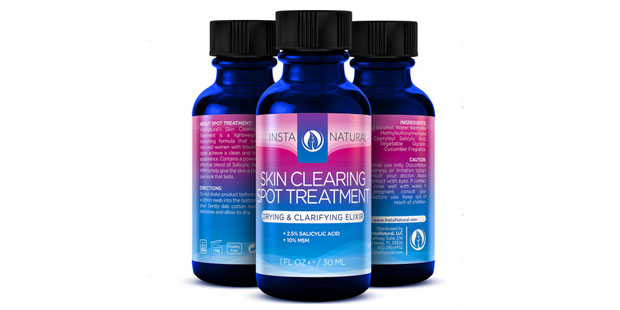 InstaNatural Skin Clearing Spot Treatment costs £17.95 and is available to buy from the InstaNatural website or from Amazon.co.uk.
As always, InstaNatural's products are produced in small batches to ensure quality and freshness. InstaNatural is a great company that offers a 100% Satisfaction Guarantee Policy and will refund you if you are not happy with your product.
I was sent this product for this review. As always, all my reviews are 100% honest and all thoughts and opinions are my own.