LittleLife Animal Toddler Daysack With Reins Review
|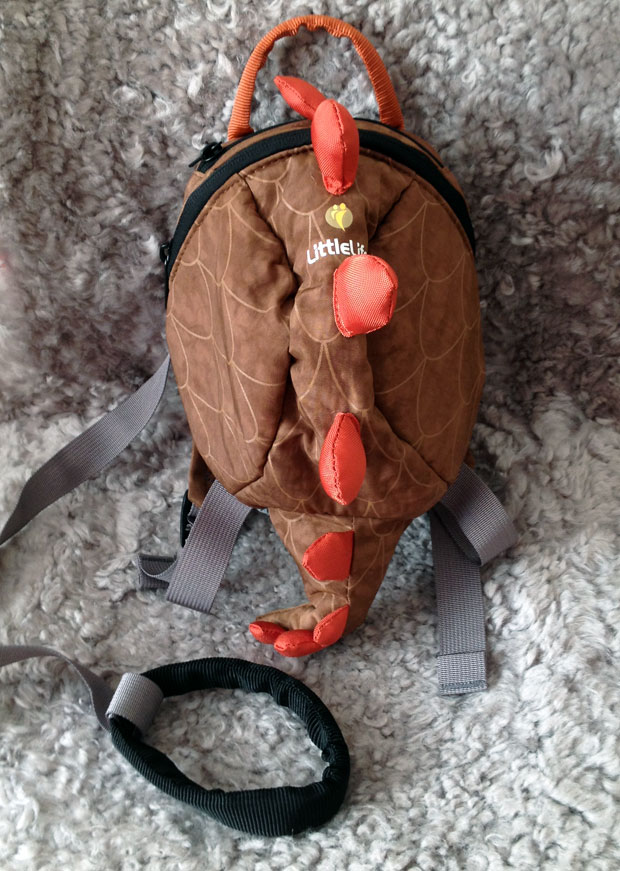 LittleLife Animal Toddler Daysack With Reins Review
A couple of months ago, my daughter got her very first backpack. She's growing up so fast. We chose the LittleLife Animal Toddler Daysack With Reins because I mainly wanted a backpack for the reins functionality at the moment. Our little girl likes to run around and she's fast! I wanted to give her the sense of freedom while still holding on to her with the reins.
I love the dinosaur design for many reasons — I love the colour combination of orange and brown (and it suits my daughter's colourings really well, too), I find the design to be quite unisex which is important to make sure future siblings of either gender can use it, it's tough and, most importantly, it's fun! The dinosaur design comes with the spikes and the tail which makes it really fun and interesting. It looks great!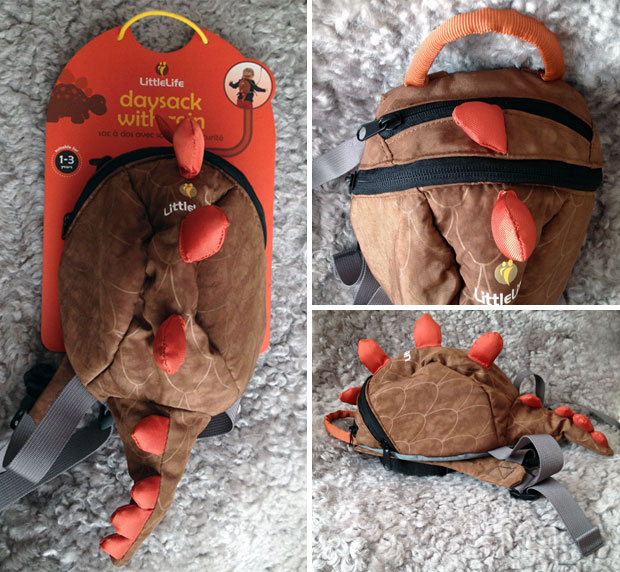 The reins are detachable and fit nicely in the smaller pocket on the top of the bag when not in use. This pocket also holds a rain hat. The handle on top can be used to carry the bag, to hang the bag up and also as a grab handle for parents to grab hold of needed.
The LittleLife Toddler Daysacks are recommended from 12 months onwards and are great for kids who are independent walkers and want to walk on their own. The big compartment of the backpack holds 2 liters which is a good amount for a toddler. Any more and it would be too bulky for a small child. We use the bag for days out or when travelling and use it to keep my daughter's toys in. For a recent flight we fit a small helicopter toy, a Peppa Pig: Little Library, a small musical toy, a small George soft toy and some soothers.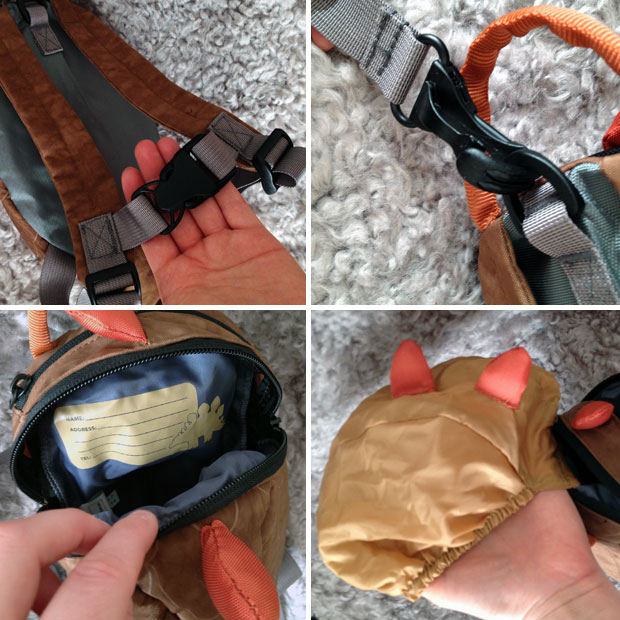 The shoulder straps are adjustable to make the bag fit your child exactly and there's a strap with a clip that goes around the chest to make sure the bag doesn't slip off. You attach the reins with the clip seen in the top right picture above and it fits to a sturdy hook at the top of the bag.
The bag has an internal name and address tag which is always handy. In the bottom right picture above you can see the rain hat. It's attached to the bag and fits like a shower cap. It's a bit tight for my daughter (she's small for her age and is now 17 months old) but looks really cute. I wish it was a regular hood design instead and not tight fitting. The rain hat has little dinosaur spikes on it too which is a great detail.

The little one loves wearing her LittleLife backpack. I think it makes her feel big and because it looks a bit like daddy's backpack it's extra fun to wear.
The quality of the bag is excellent! Everything feels really sturdy and nice and I'm sure it will look lovely for a very long time and be of use for future siblings too.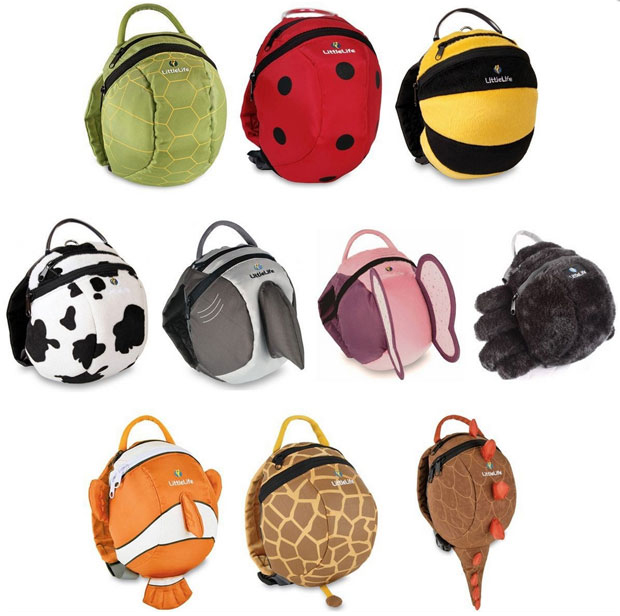 There are lots of amazing animal designs to choose from — even more than in the picture above — and they are available to buy from Amazon.co.uk. Ours cost around £20 when we got it.
Other designs available are: Buzz Light Year, Mickey and Minnie Mouse (pink or red) and the wonderful Alpine Design that looks just like an adult backpack.
Having such a positive experience with this product, I'm really curious to use more products by LittleLife. They make backpacks for older children, lunch bags, wheelie suitcases (I've got my eye on the matching dinosaur one, of course!), sleeping bags called Snuggle Pods, safety products and swim/beach items. All really interesting, fun and clever designs! Definitely a brand to remember when shopping for your children.
I nearly forgot! They make child carriers, too. I'll be buying one of them from LittleLife in the next few weeks. I'm just trying to decide which one I want!