My Little Piccolo Review – Organic, Adventurous & Delicious Baby Food
|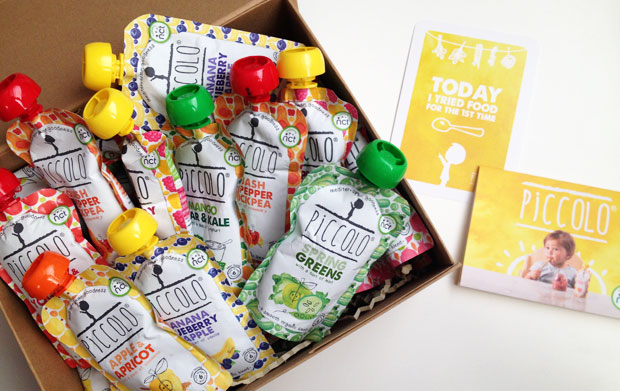 My Little Piccolo Review – Organic, Adventurous & Delicious Baby Food
I thought weaning was fun with my firstborn but, for some reason, I was even more excited this time around. I just had a feeling that Baby No. 2 would absolutely love food and I think I was right. Both my babies were about the same size at birth but my firstborn has always been on the slim/small side and Baby No. 2 is a hungry girl who is really into her breast milk and is growing very fast. She quickly grew out the newborn clothes — she never wore most of them — and was in size 3-6 months when she was around 1 month old and is moving into 9-12 months now as she turns 6 months next week.
We started weaning her around a week or two before she was 5 months old. I was going to wait until 5 months, but she seemed really interested and I felt confident that she was ready. She took to it so quickly and we didn't do a teaspoon here and there in the beginning as she loved it so much she didn't want to stop eating. I had to stop her at half a pouch and now at nearly 6 months, she usually has 1-1.5 pouches each day.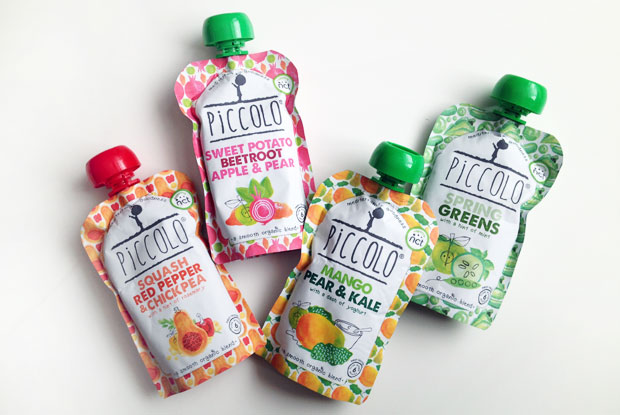 When choosing food for my baby, there are a few things that are important to me — I try to buy mainly organic baby food and I go for exciting flavours overs plain ones because I think it's important to introduce children to a variety of fun tastes to get them exciting about food.
That's why I'm so happy to have found the baby food brand My Little Piccolo that makes organic food pouches inspired by the Mediterranean approach to health and well-being. The company is very passionate about good, nutritious and organic food for children to enjoy from around 6 months. I know I started to wean Baby No. 2 sooner but looking at the ingredients, I was happy to give most of them to my baby when she was a bit younger.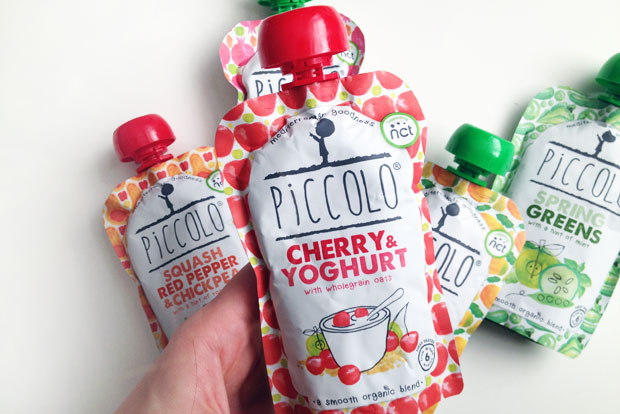 "Piccolo's founder, Cat Gazzoli, has spent her career campaigning for good, honest and natural food. As the CEO of the Slow Food Movement (in the UK) for 6 years, she certainly is an expert when it comes to food!

Cat's aim with Piccolo is to encourage healthy eating from 6 months and to introduce Mediterranean goodness in a delicious range of baby food. The range has been influenced by Cat's Italian roots, background in food education and passion for good, honest and natural food.

The Mediterranean approach to nutrition and lifestyle is one that champions fresh ingredients and great flavours, lovingly prepared, shared with friends and family."
My Little Piccolo also donates 10% of its profits to food education, and is the first baby food brand to work in partnership with the prestigious National Childbirth Trust (NCT), the UK's largest parenting charity.
My Little Piccolo offers a lovely range of ten Stage 1 blends made of 100% organic ingredients. The flavours will give your little one new taste experiences to enjoy and include these options:
Apple & Apricot with a hint of cinnamon
Banana. Blueberry & Apple with a hint of vanilla
Cherry & Yoghurt with wholegrain oats
Peach & Apple with a hint of basil
Spring Greens with a hint of mint
Squash, Red Pepper & Chickpea with a hint of rosemary
Mango, Pear & Kale with a dash of yoghurt
Raspberry & Apple with soaked oats
Sweet Potato, Beetroot, Apple & Pear
Banana, Strawberry & Peach with a hint of mint
My baby has tried them all except for the ones with yoghurt and oats and my toddler has had quite a few of them too. They both love them! My baby has them for her meals and my toddler has them as an addition to up her fruit and vegetable intake and get her to try more adventurous foods. She's a fussy eater so these pouches are great for her and makes sure she gets plenty of goodness into her.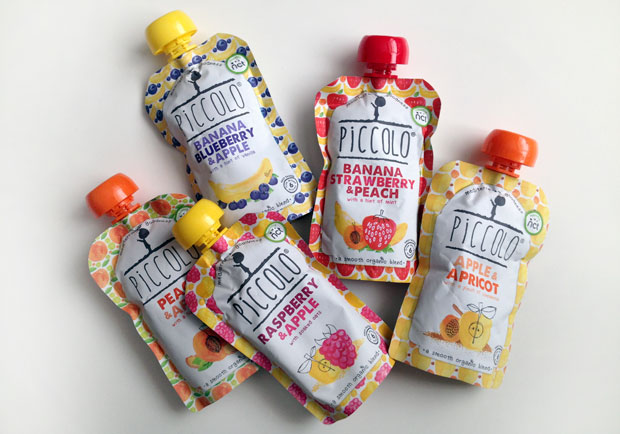 My baby's favourites are Squash, Red Pepper & Chickpea with a hint of rosemary and Peach & Apple with a hint of basil. My toddler loves them all too but especially the Spring Greens with a hint of mint one. The flavours are so amazing and fun and I love that my young children are eating kale, courgettes, beetroot, rosemary, mint, basil and cinnamon!
As a bit of a design nerd, I also absolutely love the packaging. The illustrations and patterns are so cute and beautiful! Since the patterns show the ingredients in each pouch they also make it really easy to see which pouch is which quickly when they're stacked in the cupboard. This might not be important to everyone but things that save time are important to me as a busy mum and every little helps!
Very recently, My Little Piccolo extended their collection and launched two vegetable only Stage 1 pouches and four Stage 2 ones. They sound amazing and we can't wait to try them!
Read more on the My Little Piccolo website and buy from Waitrose, Asda, Ocado or Amazon.co.uk, for example.
We were sent samples for this review. As always, all my reviews are 100% honest and all thoughts and opinions are my own.