Numberblocks 1-10 Mathlink Cubes Activity Set from BrightMinds
|
Numberblocks 1-10 Mathlink Cubes Activity Set from BrightMinds
BrightMinds is an award-winning shop that specialises in STEAM toys (Science, Technology, Engineering, Arts & crafts and Maths toys), wooden toys, board games, role play toys and much more. The shop offers a large selection of hand-picked educational and fun toys that are all backed by a 90 day no-quibble guarantee to ensure customer satisfaction. All the toys stocked have been tested to ensure that they inspire children's curiosity or spark creativity and help them develop skills in their own pace while having fun. If you're looking for some brilliant toys for your own children, or a gift for someone else's child, BrightMinds is a great place to find lots of perfect options.
My youngest daughter is three years old, and she is obsessed with Numberblocks which I'm happy about as it's a great show that teaches young kids maths in a fun way. She knows quite complicated things already!
I knew she would absolutely adore the Numberblocks 1-10 Mathlink Cubes Activity Set from BrightMinds that we now have. It's a fun set that can be used at home or in the classroom to help children master early learning maths skills through play.
The set includes all the pieces to build the Numberblocks characters Zero to Ten in different configurations and a bunch of extra MathLink Cubes too. There are 100 MathLink Cubes included in total. Before your little one gets started, there are lots of stickers to apply to flat squares, face-plates, that click onto the cubes – these are the faces and details of the different characters. You also get 11 Numberlings to click into the characters to label them (plus a stand for Zero). You also get 11 character cards and a multilingual supporting activity guide. The activities have been made to complement episodes of the Numberblocks show which is a great idea as kids recognise things that they've learnt from the show and can apply the skills while playing with their MathLink Cubes.
With the set you get 30 activities on 15 write-and-wipe activity cards with activities developed to help children learn basic maths like recognising numbers, counting, subtraction and addition as well as discover multiplication and division and develop problem-solving skills.
The set is recommended for children over 3 years old. The cubes are easy for small hands to click together and take apart. My three-year-old struggles a bit to take the face-plates off without accidentally removing the stickers too so I help her with this bit.
My daughter absolutely loves her the Numberblocks 1-10 Mathlink Cubes Activity Set! It's a great educational toy that offers so many fantastic ways to play and learn! There's also a set available with Numberblocks 11-20 if you want to expand play further.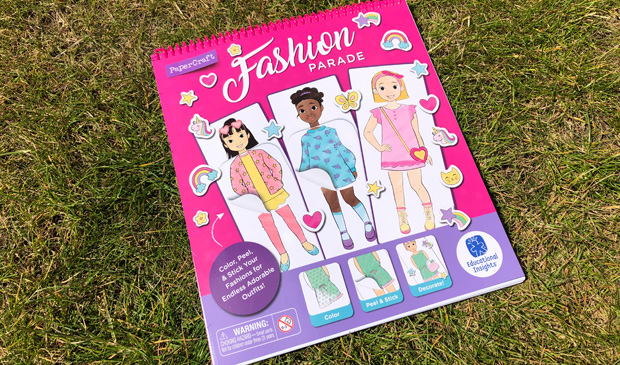 We also have the Papercraft Dolls Fashion Parade activity book from BrightMinds which is also lots of fun. The book includes 24 dolls and over 200 colour-in stickers.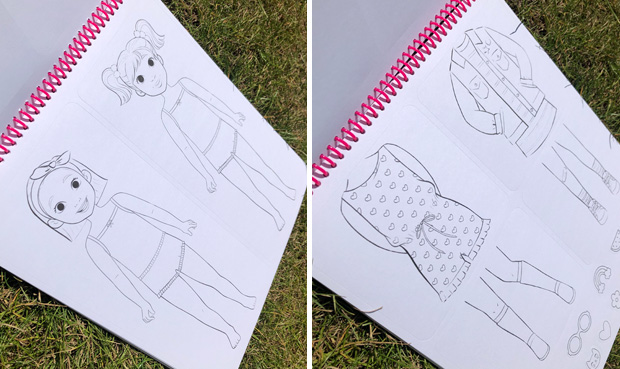 You colour in the doll first, then the clothes and accessories. After that, you dress the dolls up in the chosen outfits, then they can be used for role play activities or storytelling, for example. There are many hours of creative fun in this book – perfect for both at home and on the go. My 6-year-old is especially fond of this book as she loves dressing up.
These products were sent to us for this review. As always, all my reviews are 100% honest and all thoughts and opinions are my own.