Playmobil Aqua Park Review – Summer Fun with Playmobil
|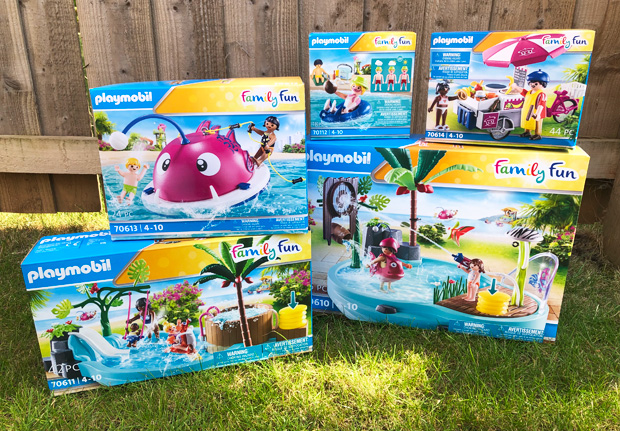 AD | Playmobil Aqua Park Review – Summer Fun with Playmobil
Summertime means water fun! Now you can enjoy wonderful water-splashing fun with the new Playmobil Aqua Park Family Fun range that includes lots of fun sets that allow you to create your own water park for your Playmobil figures to use with real water.
We've been having fun testing a few of the new, brilliant sets and my kids all love playing with them with water in the garden. Let's have a closer look at the new Playmobil Aqua Park sets!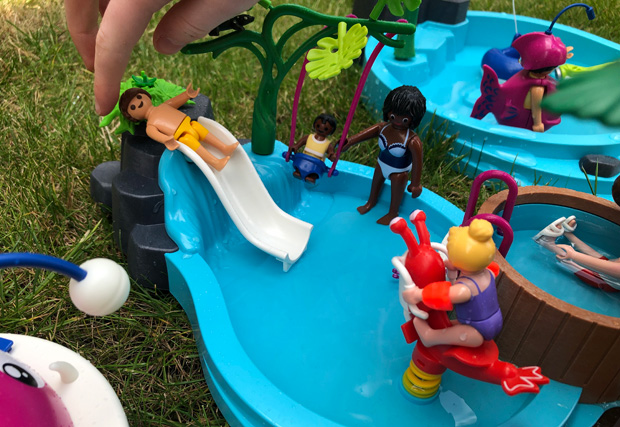 Children's Pool with Slide
First up, the Children's Pool with Slide which is a fun set that includes fun activities for Playmobil figures of all sizes and ages. There's a baby swing over the water, a shrimp spring rocker for the older kids, a wave slide for children and a whirlpool/wooden hot tub for the grown-ups. The set features stunning greenery, a palm tree, rocks, flowers and of course the pool that you can fill with water. The hot tub has a pump and hose so that you can make it bubble!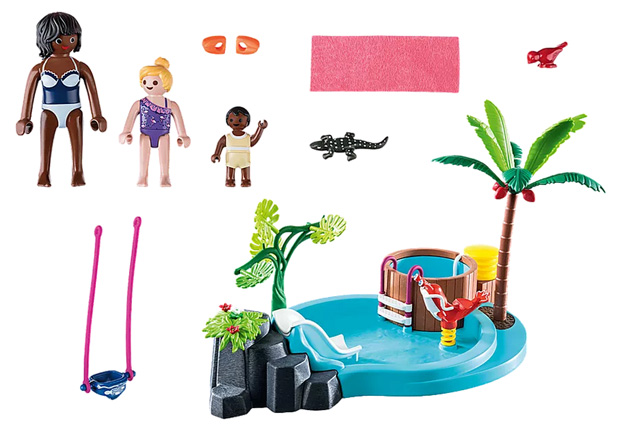 The set includes three Playmobil figures (a mother, one child and one baby – all in their bathing suits) and fun accessories including small animals, a towel and swimming armbands for the child to wear in the swimming pool.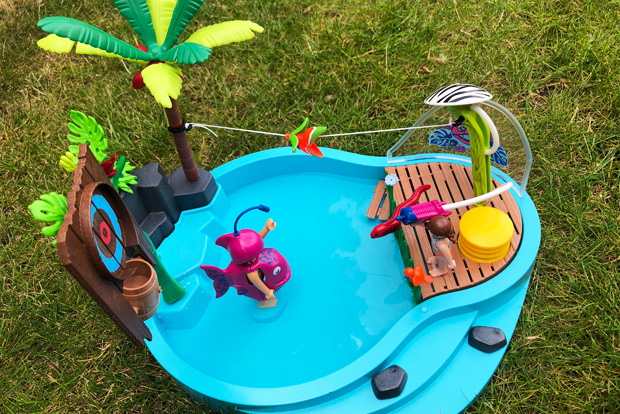 Small Pool with Water Sprayer
Next up, the Small Pool with Water Sprayer which is another set with fun features. This set includes a water jet that you can aim at a target. This then fills a barrel that tips water over into the pool – and over anyone who might be stood there!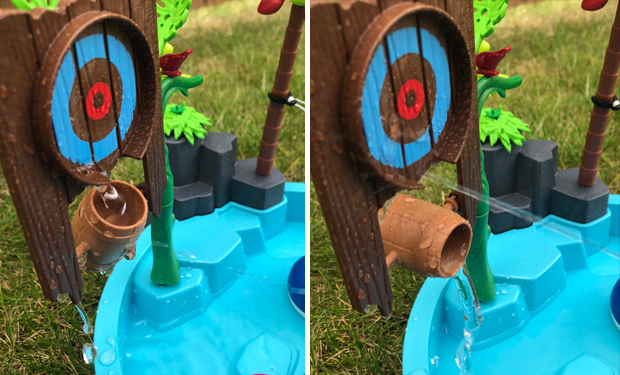 My kids love doing this with water in the garden and enjoy spraying the water everywhere, then refilling the pool!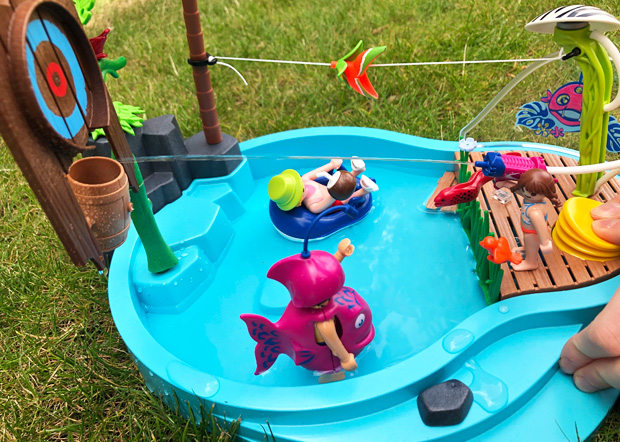 The set includes a dad Playmobil character in a funny fish costume (and a bathing suit underneath) and a child in her swimming costume. The set has lots of fun details too and looks great.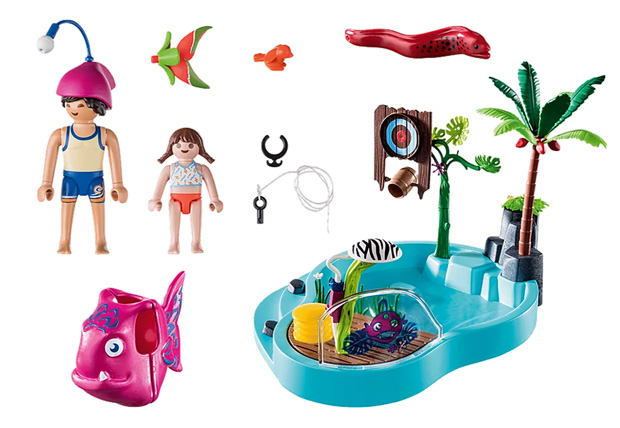 I love the wooden look decked area, the rocks and the greenery! You can also pump water through a shower for a rinse after a day in the pool. Lots of fun!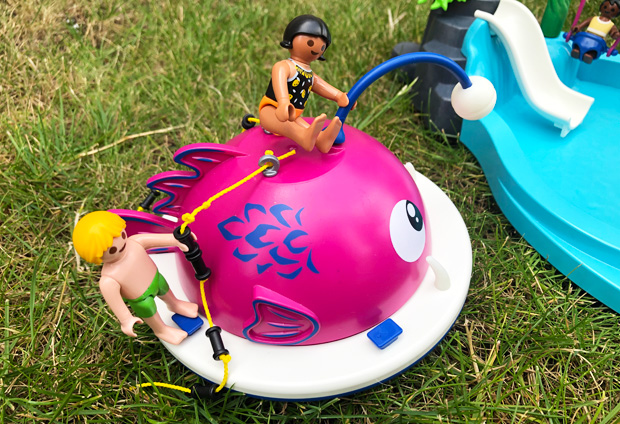 The Swimming Island set lets your Playmobil characters splash about and climb whilst floating in the water. The giant pink fish head design looks great hand has ropes with handles for the characters to hold on to. The lantern ball on the fish's head and the teeth even glow in the dark so the fun can continue when the sun sets too.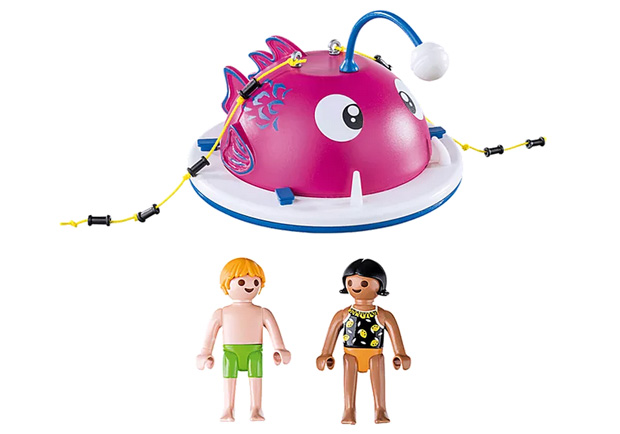 The set includes two children in their swimming costumes and the big fish head Climbing Swimming Island, of course. My kids love playing with this set in the bath as it floats so well.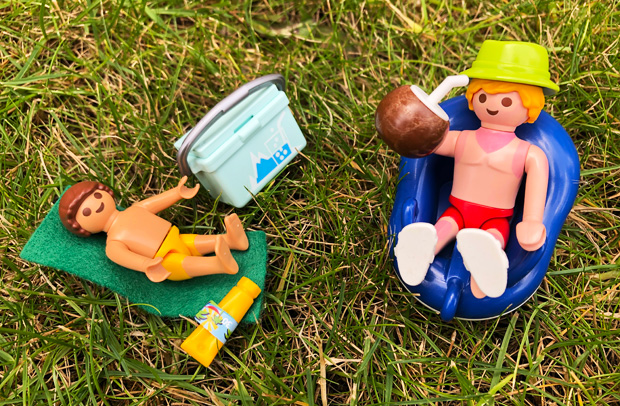 The Sunburnt Swimmer set is small but absolutely brilliant! It includes two Playmobil figures – one child and one man who actually gets sunburn when exposed to UV light! What a great way to teach children about sun safety!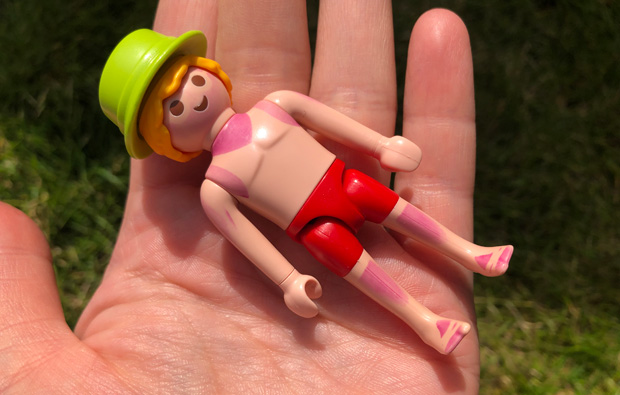 When you play indoors, his skin stays his regular skin colour, but when he's exposed to some sunlight, it burns a bit and when the sun is very hot, the burns get even angrier.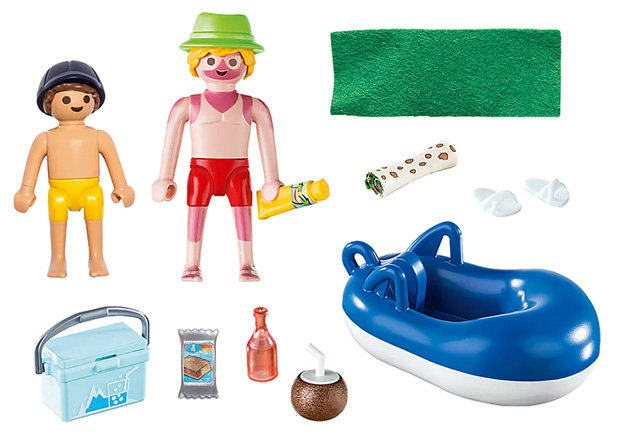 The set includes sunhats for both characters, sun cream with SPF30 that the grown-up must have forgotten to apply to himself, a cool box with snacks and drinks (including a coconut with a straw), a beach towel, some bathing slippers and a swimming tyre that floats in water.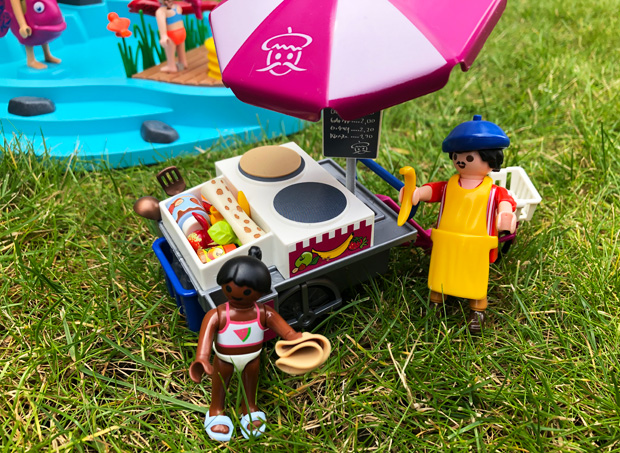 Last, but not least, the Crêpe Cart set which is a great addition because swimming makes you hungry! This set is packed with delicious accessories for your Playmobil characters to enjoy. The friendly vendor serves delicious crêpes and offers a range of different toppings – chocolate, banana or jam, for example. The characters can hold the folded up crêpes in their hands.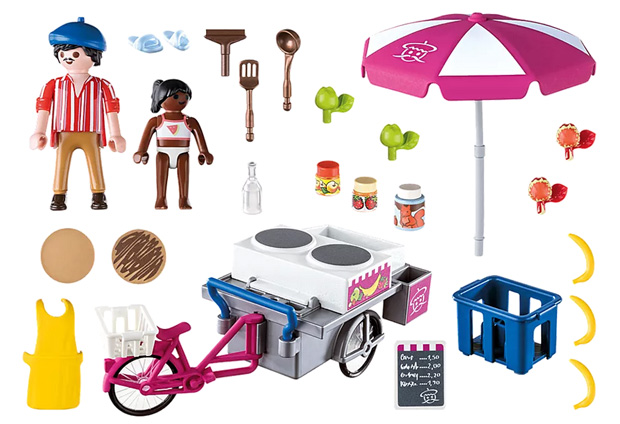 The set features lots of accessories as you can see above with plenty of things to eat and drinks too as well as cooking utensils, an apron for the vendor and a parasol to provide shade from the sun. The set includes the vendor and a child character in a swimming costume.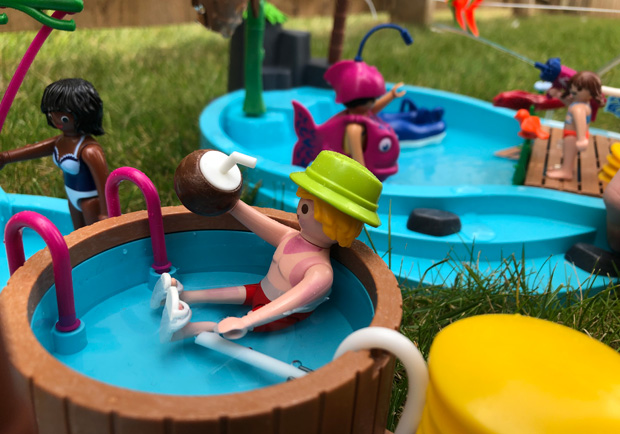 What a lovely selection of fun Playmobil sets for summer! There are a couple more sets in this range too – a large Water Park with Slides set and a Paddle Boat Rental that you can see on the Playmobil website here.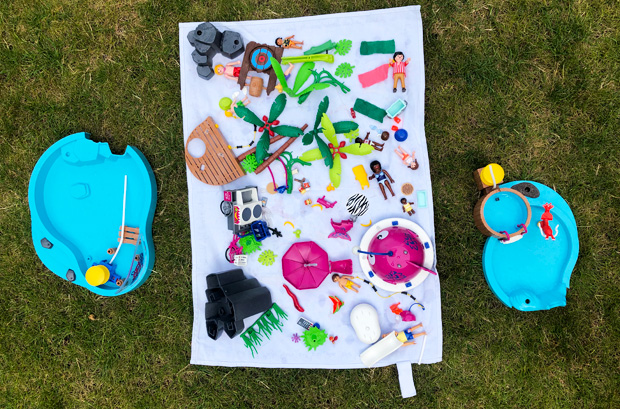 Remember to dry all the Playmobil parts and characters thoroughly after water play.
See our previous Playmobil reviews here:
These sets were kindly gifted to us for this review. As always, all my reviews are 100% honest and all thoughts and opinions are my own.