Our 5 Top Tips for a Perfect British Autumn Wedding
|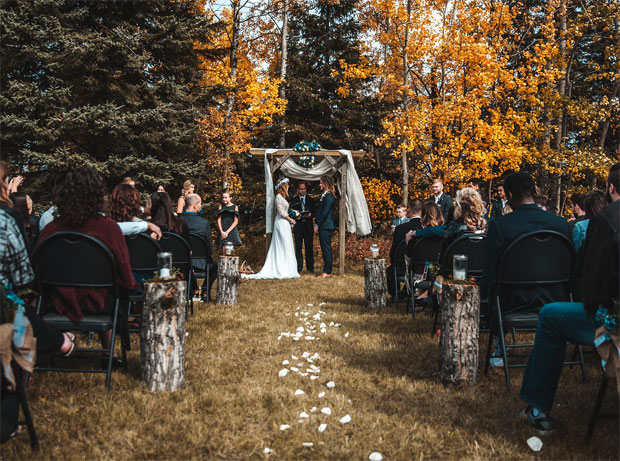 Our 5 top tips for a perfect British Autumn wedding
Step into the enchanting world of a British Autumn wedding, where nature paints a breath-taking canvas of glorious autumnal colours and late summer warmth wraps you in its embrace. Imagine capturing stunning photographs amidst golden leaves and crisp air, creating memories that will last a lifetime. If you're planning your special day during this magical season, we've got you covered with our top tips to ensure your British Autumn wedding is nothing short of perfection. So let's dive right in and discover how to make your dream wedding come alive amidst the beauty of fall!
Choose Your Autumn Venue Carefully
When it comes to choosing your autumn wedding venue, careful consideration is key. Embrace the natural beauty of this season by selecting a location that showcases the glorious autumnal colours in all their splendour. Look for venues with picturesque gardens or grounds adorned with trees that burst into fiery shades of red, orange, and gold.
Consider venues that offer indoor and outdoor spaces, so you can take advantage of late summer warmth while still having a backup plan in case of inclement weather. Imagine exchanging vows under a canopy of colourful leaves or dancing the night away beneath twinkling lights as the crisp evening air adds an extra touch of romance.
Another factor to consider is accessibility for your guests. Choose a venue that is easily reachable and has ample parking facilities. You want your loved ones to be able to celebrate with you without any hassles or logistical challenges.
Additionally, think about the size and capacity of the venue. Ensure it can accommodate all your guests comfortably while still maintaining an intimate atmosphere. Whether you're envisioning an extravagant affair or an intimate gathering, finding a venue that suits your vision is essential.
Don't forget about practical considerations such as amenities and services offered by the venue. From on-site catering options to audiovisual equipment availability, make sure everything aligns with your needs and preferences.
Remember, choosing the perfect autumn wedding venue sets the stage for an unforgettable celebration amidst nature's vibrant hues – where love blooms alongside falling leaves.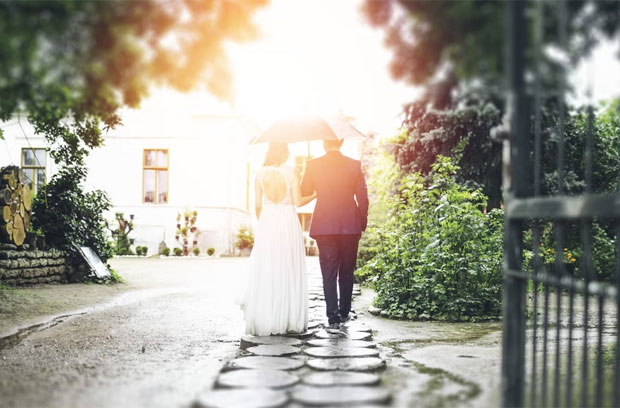 Plan For The Autumn Weather!
When it comes to planning a British autumn wedding, one of the most important factors to consider is the unpredictable weather. While late summer warmth can often grace us with its presence during this season, we must also be prepared for cooler temperatures and sudden showers. Here are some tips to help you plan for the autumn weather on your big day.
It's essential to choose a venue that offers both indoor and outdoor spaces. This way, you have the flexibility to move activities indoors if needed but still take advantage of any glorious autumnal colours or late summer warmth when they appear.
Consider providing some cosy extras for your guests. Blankets or shawls in rich fall hues can not only keep them warm but also add an extra touch of seasonal charm to your celebration.
Furthermore, don't forget about footwear! Autumn can bring rain and damp ground conditions, so advise your bridal party and guests to opt for appropriate shoes or even provide cute umbrellas as favours.
Work closely with your photographer to capture stunning photographs regardless of the weather. Embrace the beauty of overcast skies or even light drizzles – they can create a unique atmosphere that adds depth and character to your pictures.
By planning ahead and considering these tips, you'll be able to navigate whatever Mother Nature throws at you on your special day while still enjoying all the beauty that an autumn wedding has to offer!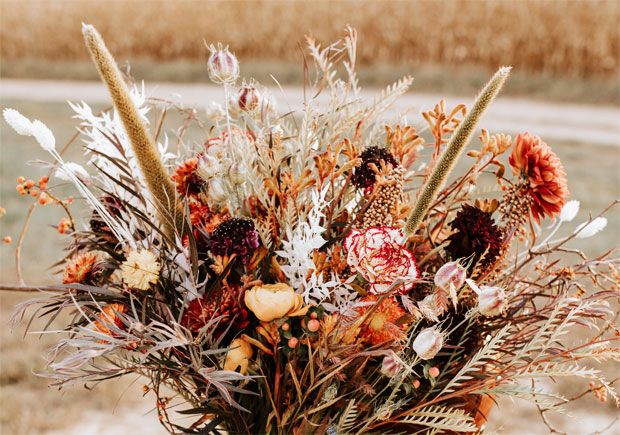 Great Autumn Flower choices
When it comes to planning a British Autumn wedding, one of the most important elements to consider is the choice of flowers. Autumn brings with it a stunning array of colors and textures that can add warmth and beauty to your special day. Here are some great autumn flower choices that will make your wedding truly unforgettable.
First up, we have the classic fall blooms like dahlias and chrysanthemums. These flowers come in a wide range of colours, from rich oranges and reds to deep purples and yellows. They are perfect for creating bold floral arrangements that capture the spirit of the season.
For a more romantic touch, consider incorporating roses into your autumn wedding bouquet or centrepieces. Roses symbolise love and beauty, making them an ideal choice for any wedding celebration.
Another fantastic option is using seasonal foliage such as maple leaves or eucalyptus branches. These add depth and texture to floral arrangements while capturing the essence of autumn.
If you decide to make use of beautiful natural confetti from specialists like Confetti Bee, (and you definitely should!) do make sure you store it somewhere cool and not in direct sunlight. It will add a lovely photogenic touch to your big day!
If you're looking for something unique, why not opt for succulents? These hardy plants come in various shapes, sizes, and shades of green. They can be used on their own or mixed with other autumnal blooms for an unexpected twist.
Don't forget about berries! Incorporating berries into your floral displays adds whimsy and charm to your overall aesthetic. From cranberries to rosehips, these little bursts of colour bring an extra touch of enchantment to any arrangement.
In conclusion, when choosing flowers for your British Autumn wedding, embrace the glorious autumnal colours available in nature during this time of year- think vibrant oranges, deep reds, golden yellows – they will create stunning photographs against the backdrop late summer warmth provides! So go ahead and let nature inspire you as you select beautiful blooms that perfectly complement this magical season.
For autumn weddings, you can also decorate with pumpkins! Don't think they have to be Halloween themed pumpkin lanterns though, there are many other no carve pumpkin decoration ideas that can work beautiful for an autumn wedding.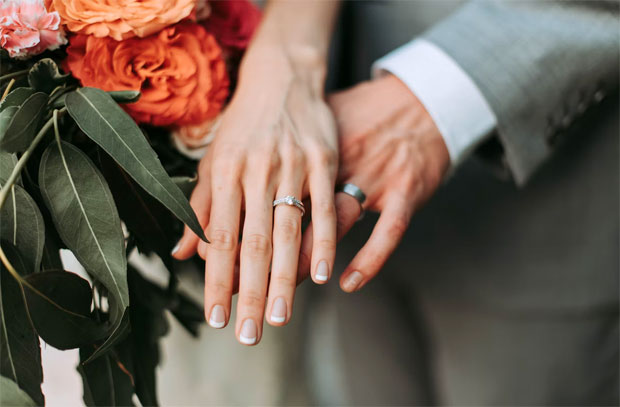 Autumn Outfits & Dress Tips
Autumn is a magical season that brings with it crisp air, vibrant colours, and the perfect opportunity to showcase your style at a British Autumn wedding. When it comes to choosing outfits for this special occasion, there are a few tips and tricks that can help you look stunning while staying comfortable.
Embrace the glorious autumnal colours in your attire. Opt for rich hues like deep burgundy, burnt orange, or forest green. These colours not only complement the natural beauty of the season but also add warmth and depth to your overall look.
Consider layering as an essential part of your outfit. The weather during autumn can be unpredictable, so having layers allows you to adjust accordingly throughout the day. A stylish blazer or cardigan paired with a beautiful dress or jumpsuit will not only keep you warm but also give you versatility in styling.
Don't forget about accessories! This is where you can truly make a statement and add some personal flair to your ensemble. Consider adding textured scarves, statement jewellery pieces like chunky necklaces or bold earrings, and even incorporating elements from nature such as feathers or dried flowers into your hair accessories.
Lastly (but certainly not least), choose footwear wisely. While stilettos may be elegant for indoor venues or photo sessions on solid ground like pavements or marble floors) they might not withstand outdoor settings such as gardens or parks). Opt for more practical options like ankle boots or block heels that provide both style and stability on different surfaces.
In conclusion, dressing for a British Autumn wedding requires careful consideration of colour choices, layering techniques, accessorising creatively and selecting appropriate footwear.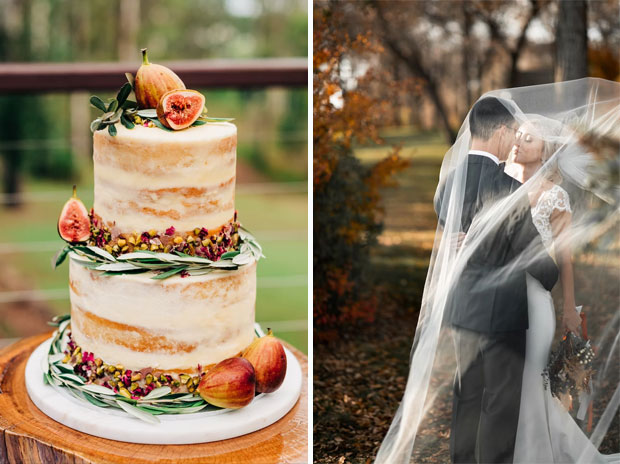 In addition to all the other elements that make a perfect British Autumn wedding, one thing you can't forget is the menu. While it may seem counterintuitive to have a spring-inspired menu during an autumn wedding, it can actually add a unique and unexpected touch to your special day.
Consider incorporating fresh seasonal ingredients into your dishes, such as vibrant greens, root vegetables, and succulent fruits. Start with a light and refreshing salad featuring crisp apples or pears paired with tangy goat cheese and toasted nuts.
For the main course, opt for comforting yet elegant options like roasted beef with caramelised onions or herb-stuffed chicken breast served alongside roasted butternut squash and Brussels sprouts. These hearty dishes will not only keep your guests warm but also highlight the flavours of autumn.
To round off the meal on a sweet note, offer desserts that showcase both traditional autumn flavours and lighter spring-inspired treats. Think pumpkin spice cupcakes adorned with delicate edible flowers or apple crumble served with vanilla ice cream drizzled in salted caramel sauce.
Don't forget to pair each course with carefully selected wines that complement the flavours of each dish. This attention to detail will elevate your dining experience and leave lasting impressions on everyone who attends.
Remember, while planning an autumn wedding in Britain comes with its own set of challenges, it's also an opportunity to create something truly magical. By choosing the right venue, preparing for unpredictable weather conditions, selecting beautiful flowers, dressing accordingly for the season, capturing stunning photographs amidst glorious autumnal colours – all wrapped up in delicious food – you'll ensure that your British Autumn wedding is nothing short of extraordinary!
So embrace this enchanting time of year when nature displays its most breath-taking hues and celebrate love amidst golden leaves falling gently from towering trees. Your British Autumn wedding will be an unforgettable celebration filled with warmth, beauty and cherished memories for years to come!
| Guest Article.