Pancake Day 2019 Recipe: Lemon Poppyseed Pancakes
|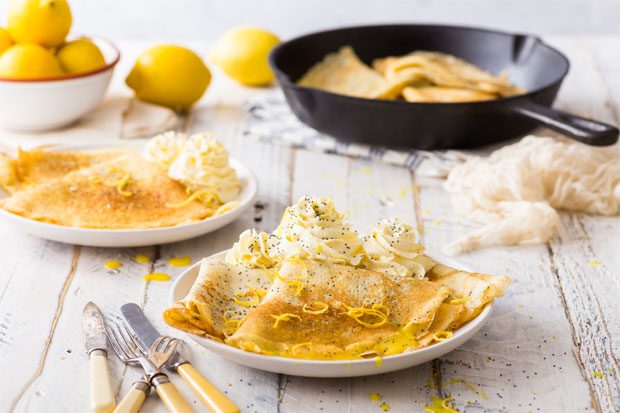 Pancake Day 2019 Recipe: Lemon Poppyseed Pancakes
Pancake Day is a month away but I can't resist sharing this recipe now by Kat from the Loopy Whisk that she created in collaboration with VonShef. It sounds like an amazing twist on the traditional pancake topping that is lemon.
Lemon Poppyseed Pancakes Recipe

Makes 12-14 pancakes | Preparation time 15 minutes
Ingredients:

300 grams plain flour
2 tablespoons poppy seeds
3 – 5 tablespoons granulated sugar
½ teaspoon salt
zest of 2 lemons
4 medium eggs, room temperature
2 tablespoons melted unsalted butter
600 ml milk, room temperature
For serving:
lemon curd
double cream
lemon zest and poppy seeds
For serving:
In a large bowl, mix together the plain flour, poppy seeds, sugar, salt, and lemon zest until combined.
In a separate bowl, mix together with the VonShef Hand mixer the eggs, melted butter, and milk until combined.
Slowly add the wet ingredients to the dry, while constantly whisking using a hand mixer with the double beater attachments, until you get a smooth pancake batter with no flour clumps.
Pre-heat a well-seasoned cast iron skillet until very hot. Generously butter the skillet, then pour in ½ cup of pancake batter, swirling the skillet around to get an even thin coating of the batter.
Cook on medium-high heat for about 1 minute, or until the pancake loosens from the skillet and is golden brown on the bottom.
Flip the pancake and cook for a further 30 seconds to 1 minute, then place on a plate or cooling rack to cool.
Repeat with the rest of the batter.
Serve with lemon curd, whipped cream (you can make your own using a VonShef Whipped Cream Dispenser), and a sprinkling of lemon zest and poppy seeds.
 
Recipe and photography by Kat from the Loopy Whisk. Source: VonChef.com