Recipe: Black Bean, Beetroot and Feta Burgers with Mango Slaw
|
Recipe: Black Bean, Beetroot and Feta Burgers with Mango Slaw
Award-winning British brand The Groovy Food Company has partnered with foodie mum and presenter on Britain's Got Talent, Alesha Dixon, to create a range of delicious, healthy recipes and show consumers how best to use the brand's natural and unrefined foods to feed the body's overall health and wellbeing.
I've been sent the recipe to try and share with you on my blog so you'll find all the details below.
"Inspired by Alesha's love of vegetarian food, this scrumptious burger is bursting with flavour and is perfect for serving up to friends and family whether at a summer barbeque or at home."
Serves 6 Prep 25 mins, plus chilling cook 25 mins
Ingredients:
1 red onion, finely chopped
2 garlic cloves, crushed
2 tsp smoked paprika
2 tbsp tomato puree
2 x 400g cans black beans, rinsed and drained
2 cooked vacuum-packed beetroots, grated (in natural juices, not vinegar)
50g wholemeal breadcrumbs
1 egg, lightly beaten (I used egg-replacement as I don't eat eggs)
125g feta, crumbled into chunks
For the slaw:
Zest and juice 1 ½ lime
½ small red cabbage, very finely sliced
1 small ripe mango, peeled and finely chopped
4 spring onions, finely sliced
small bunch coriander, finely chopped
To serve:
6 burger buns
2-3 avocados
Lettuce leaves
Method:
Heat the 1 tbsp coconut oil in a frying pan, add the the onion and cook, stirring for 5 mins until softened, then add the garlic and cook for 1 min more. Stir in the paprika and tomato puree and cook for 2 mins, then set aside.
Tip the black beans into a bowl and mash with a potato masher or fork until well crushed. Add the onion and garlic mixture, grated beetroot, coconut flour, breadcrumbs, beaten egg and plenty of seasoning, then mix well. Gently stir in the chunks of feta. Using damp hands form into 6 patties and place on a foil-lined tray. Chill for at least 30 mins to firm up.
Meanwhile to make the slaw, combine the agave syrup, lime zest and juice in a bowl, then stir through the cabbage, mango, spring onions, coriander and seasoning.
Heat oven to 200C/180C fan/gas 6. Once the burgers have finished chilling. Heat 1-2 tbsp coconut oil in a frying pan and cook the burgers for 2-3 mins each side, turning carefully, you may need to do this in batches. Transfer to a foil-lined tray and bake for 20 mins until cooked through, popping the buns in the oven to warm though for the last few mins. Leave the burgers to cool a little.
When ready to serve, mash the avocado with remaining half lime juice, and spread over the bases of the buns. Top with the patties, lettuce leaves and slaw, then pop on the lids and enjoy!
Our verdict:
The burgers were quite easy to make and would be even easier if you have a food processor at home. The burgers were tasty but next time I will add more Feta cheese as I couldn't really taste the cheese in them. The combination of avocado, the burgers, lettuce and the delicious slaw was amazingly yummy! The slaw was simple to make but full of flavour and so GOOD! I would have never thought about combining red cabbage and mango in a dressing and putting it on burgers but it was a huge hit. Both my husband and I agree that the simple slaw is brilliant and would make a great addition to many different meals.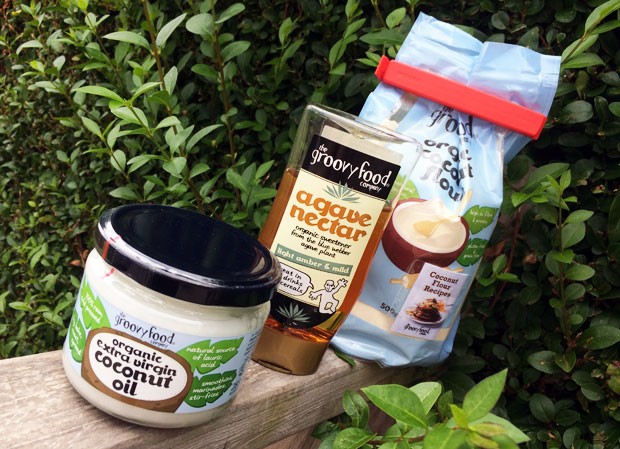 Stockists:
The Groovy Food Company's Virgin Organic Coconut Oil (283ml), RRP £4.99, is available nationwide at Tesco, Waitrose, Ocado, Asda, Morrison's and the 500ml is available at Tesco and Amazon, RRP £7.99.
The Groovy Food Company's Agave Nectar (Light Amber & Mild), RRP £2.50, is available nationwide at Tesco, Holland and Barrett, Waitrose, Ocado, Sainsbury's, Amazon, Morrisons, Booth's.
The Groovy Food Company's Organic Coconut Flour (500g), RRP £3.80, is available nationwide at Tesco, Sainsburys, Waitrose, Lakeland's, Ocado, Holland & Barrett, Amazon, Morrisons.
About The Groovy Food Company
The Groovy Food Company is an award-winning British brand committed to sourcing and producing natural foods that taste delicious and nourish the body's overall health and wellbeing.
The Groovy Food Company's overriding ambition is to create products that not only taste great, are of the very highest quality, but do good to the body and are organically, sustainably and ethically sourced. To view the full collection of The Groovy Food Company's recipes please go here.
In collaboration with The Groovy Food Company.