Recipe: Joe & Seph's Cappuccino Layer Pots
|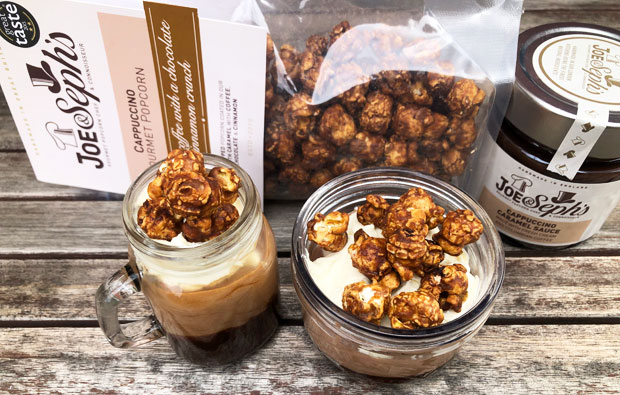 Recipe: Joe & Seph's Cappuccino Layer Pots | AD
If you're looking for a delicious dessert recipe for coffee lovers, then you have come to the right place! In this article, I am sharing a super tasty and impressive looking dessert by Joe & Seph's and Two Chimps Coffee. It's a dessert that looks great so would make a perfect dessert option for a dinner party but it's also really easy to make so you can just make it for yourself when you fancy a treat too.
I will share the recipe from the Joe & Seph's recipe section with step by step instructions and my own adaptations and other ideas for how you can change things up if you want to. I'm personally not great at following recipes which is perfectly fine with things like this since it's not a baked dessert (baking requires you to be more precise since it's more of a scientific process!). Let's get started!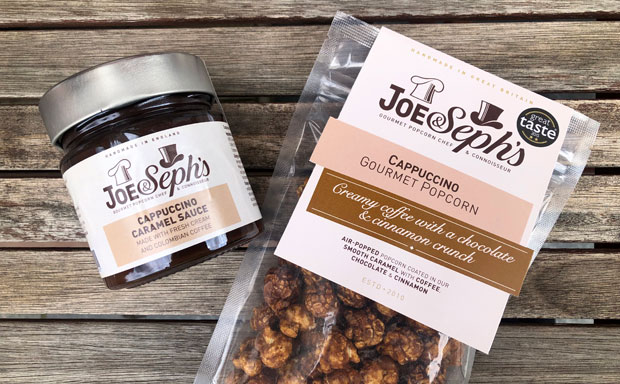 Ingredients:
100g Milk Chocolate
60ml Full Fat Milk
500ml Double Cream
1 Tbsp Icing Sugar (sieved)
3 Tbsp Espresso (or strong brewed coffee)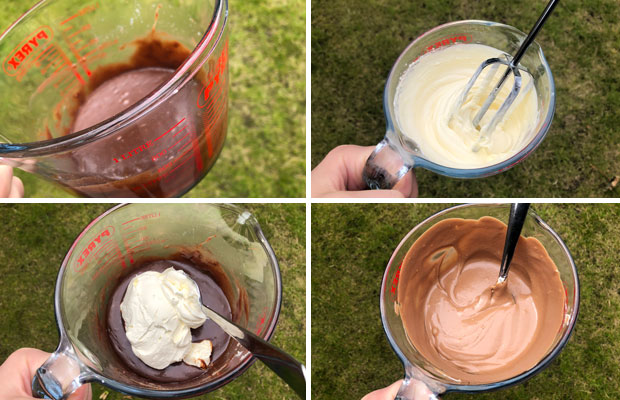 Method:
Gather all your ingredients and 4 small glasses/glass mugs/glass bowls to create individual servings. You can use regular bowls or cups but, since it's a layered desserts, it will look more impressive in a transparent vessel. If you have glass mugs/cups, these will look extra cute since it's a coffee themed dessert. To create a slanted effect for the caramel layer in the bottom of each glass, use a muffin tray or similar to lean the glasses for the first section of the recipe.
The first step is to get the caramel sauce into the glasses. Carefully spoon in 2-3 tablespoons of the Joe & Seph's Cappuccino Caramel Sauce into the slanted glasses to create the first layer. Pop these in the fridge for about 30 minutes or so.
Next, melt the chocolate by combining chunks of chocolate with the milk in a bowl over a pan of simmering water or in the microwave (checking it an stirring it often to make sure it doesn't burn). Stir until all chocolate has melted, then allow to cool slightly. I added instant espresso powder to the melted chocolate.
With an electric mixer, whip the double cream until soft peaks form. Remove a third of the whipped cream and put it in the fridge until later – this is for the top layer of the cappuccino pots. I used slightly less cream which worked well too.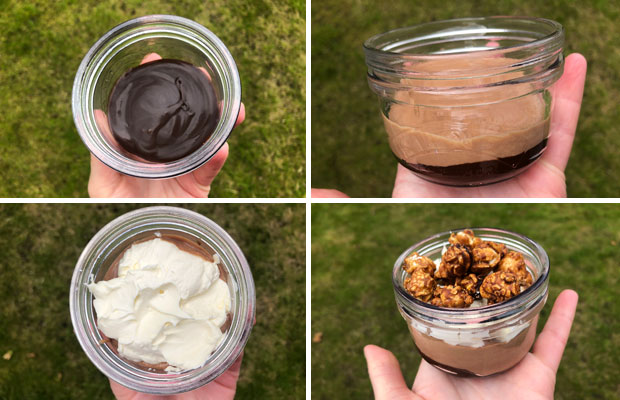 If using fresh coffee, add the brewed coffee, icing sugar and melted chocolate to the cream and fold together gently until combined to create a cappuccino mousse. I omitted the icing sugar as I had a higher chocolate to cream ratio.
Spoon some of the mousse into the glasses, carefully not to disturb the caramel layer. This will create a barrier to help the caramel stay in place. Keep the glasses slanted and return to the fridge to set a bit before adding the rest of the cappuccino mousse. Chill until set.
The final stage is to add the reserved whipped cream to create a layer that looks like the froth on top of a fancy cappuccino and top this with Joe & Seph's Cappuccino or Tiramisu Popcorn. Serve and enjoy!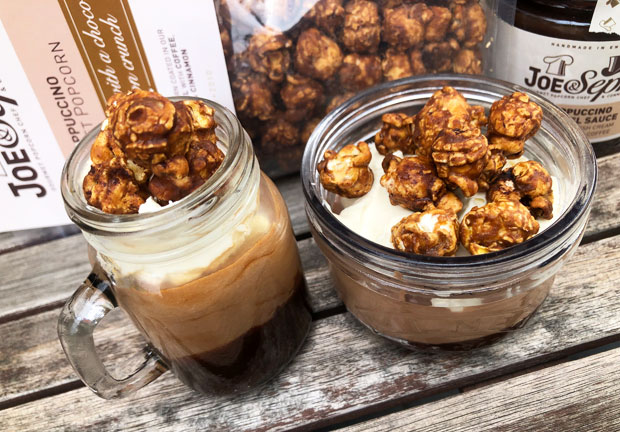 These slanted puddings look brilliant and taste amazing! The decadent and powerful coffee flavours are perfect for coffee enthusiasts especially but tasty for others too. All three of my kids devoured these desserts even though they're too young to drink coffee!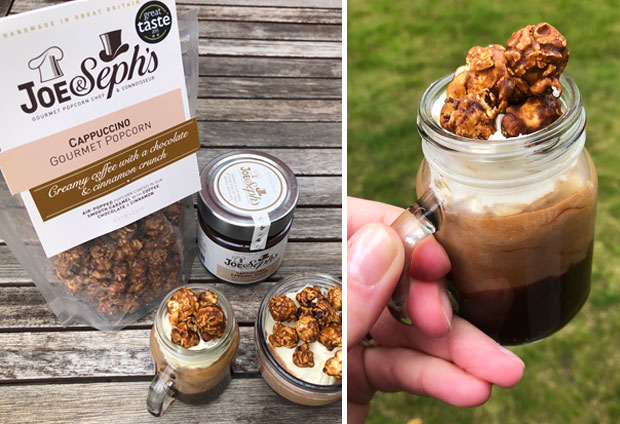 This recipe can easily be adapted to suit your preferences. You can change the chocolate to cream ratio if you want a richer chocolate taste, you can add more or less coffee and sugar and adjust the amount of caramel sauce, cream and popcorn. You could also create different desserts with the same base recipe by changing the flavours of the caramel and popcorn etc.
Collaboration.