Recipe: Really Easy and Quick Swedish Scones With a Pizza Twist
|
Recipe: Really Easy and Quick Swedish Scones With a Pizza Twist
I love scones and being a Swede, I'm partial to the Swedish kind. Swedish scones are really buttery and moist and therefore, in my opinion, tastier than British scones which tend to be a bit dry (but still yummy when slathered in cream and jam!).
Sometimes I very suddenly get a craving for Swedish scones and yesterday was one of those days. Good thing they are really easy and quick to make and you only need ingredients that I usually have at home.
This time I decided to experiment a bit and add cheese and herbs to the dough and it really worked! The scones ended up tasting a bit like pizza! If you want plain ones, just omit the cheese and herbs. The recipe below is for one large scone that splits into four. Two pieces are usually enough for one person as a serving.
Ingredients:
200 ml of plain flour
1 tsp of baking powder
1 pinch of salt
50 gr cold butter
75 ml of milk
a handful of grated cheese
a sprinkle of basil and oregano
Method:
Put the oven on to 225 degrees Celsius. Measure the flour into a bowl and add salt and baking powder. Then add your butter in small cubes and pinch it into the flour making a flaky, dry dough. Add the cheese, herbs and milk and very quickly knead the dough into the consistency shown in the photo above. It should be easy to shape with floury hands and be quite moist but not wet. You might need a bit more flour. Place on a non-stick tray and cut a cross almost to the bottom, leaving the scone stuck together but ensuring some hot air can get in.
Put your (wonky) oven tray in the oven and bake the scone for 15-20 minutes or until lovely and golden. The outside should be crusty but the middle slightly moist and look slightly under-baked. When the scone has cooled down (if you can leave it that long — I never can…), it will be perfectly baked.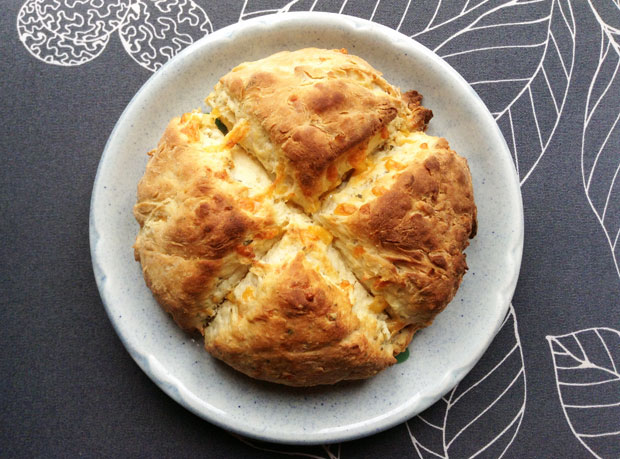 Serve with even more butter, cheese and jam. Enjoy! Like most baked goods, these are the best on the day they are baked, but can be eaten the day after too. You can make the dough the night before you want to bake the scones if you want. Just shape the dough, cut it and put in on your tray covered with cling film and store it in the fridge overnight. They will take a few more minutes to bake.

Do you bake your own scones?