Recipe: Warrior Fuel Protein Bowl – A Healthy Breakfast Idea
|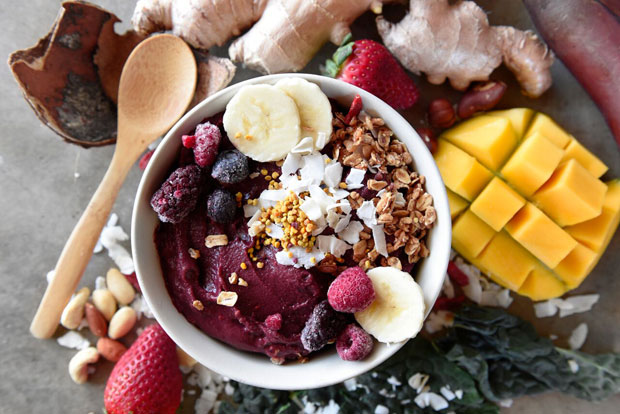 Recipe: Warrior Fuel Protein Bowl – A Healthy Breakfast Idea
I always feel that a change in seasons makes me want to update my meals a bit and change them up a bit to match the change in temperature and weather. With spring finally here, I try to eat a bit healthier and ditch the unhealthier breakfast options that have been staples during the cold winter months. I'm ready to be healthier and this Warrior Fuel Protein Bowl is a great way to start the day. It's full of nutrients and goodness!
Ingredients:
1/8 – ¼ c Non-Dairy Milk of Choice
Handful fresh Spinach or Kale
1 scoop Nut Butter
½ c Frozen Mixed Berries or Frozen Mango
1 Banana
1 tsp Maca Powder
¼ c Shredded Coconut
Toppings: Granola, shredded coconut, goji berries, golden berries, dried mulberries, fresh seasonal fruit, cacao nibs and bee pollen.
Method:
Put all ingredients except for your superfruit packs and toppings.
Cut your açai packs in half and break the pulp into your blender. Start on low, using the plunger attachment to get things going.
Add more liquid as needed, but only so it just combines. The less liquid you use, the thicker your blend!
Once combined, scoop into a bowl and top with all the goodies.
About Sambazon Original Superfruit Pack:
"Where it all started, these packs are perfect for blending your own Rio-style Açai bowls at home. Stacked with antioxidants and healthy omegas, it tastes like exotic mixed berry meets a hint of cacao. With more antioxidants than blueberries, this is dense nutrition at its best. Blend it thick for a traditional-style Açaí bowl, topped with granola and fresh fruit, or add more liquid to make a delicious smoothie. You can even eat it like a popsicle. Certified Fair Trade, Organic, Vegan, Kosher, Gluten Free, Lactose Free."
Thank you to Sambazon for sending me this recipe!