Regatta Malawi Pop Up Tent Review – Easy Camping at Home and Away
|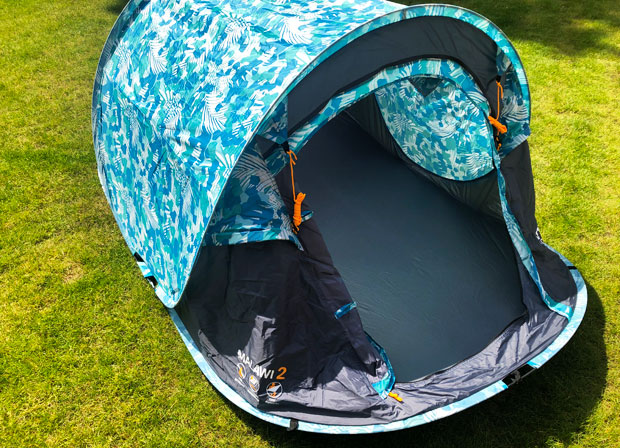 Regatta Malawi Pop Up Tent Review – Easy Camping at Home and Away
This is the year that we're hoping to start our family camping adventures that will hopefully become a yearly family tradition too.
With travel options still being very limited, this year is a perfect time to explore camping if you haven't already. My husband is a much more experienced camper than I am but I've read some books and bought some gear, ready to give it a go along with three kids this summer. Wish us luck!
We are trying to keep things as minimalist and simple as possible with the essential camping equipment only and not lots of extras to store, pack and look after. We're also practising a bit at home before actually heading out to camp properly.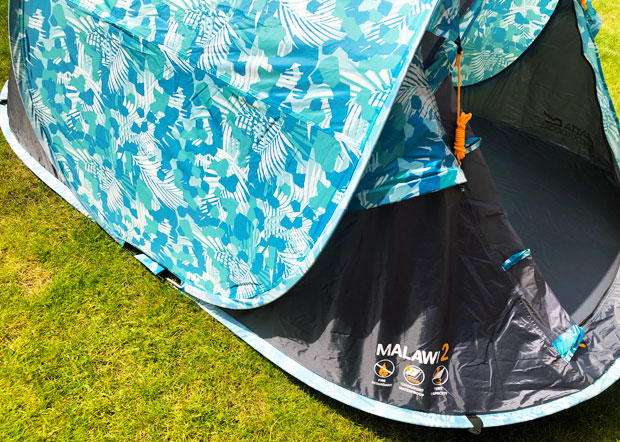 Regatta pop up tents are ideal for both real camping and for creating a camping experience at home or in the garden for the kids to enjoy or to practice sleeping in a tent to see how it works for your family.
We have the Malawi 2-Man Pop Up Print Festival Tent in the Tropical Print (also available in other prints and colours) and we love it. So far, we've only used it in our garden and in the living room to get the children used to the whole camping idea and there are lots of features that we love about our new pop up tent.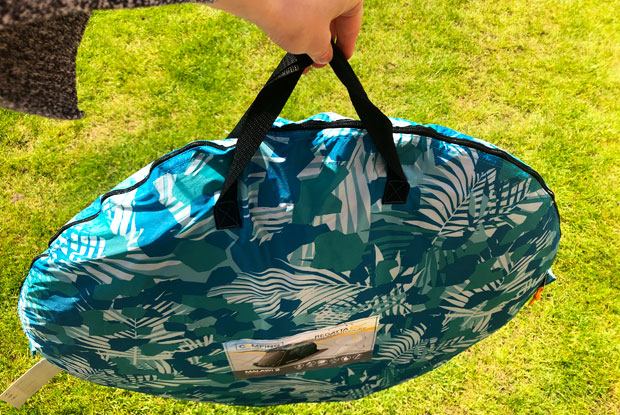 The Regatta Malawi Pop Up tent has lots of benefits compared to a traditional tent:
It doesn't need assembling. It simply springs into place! Super easy! The only thing left to do is to fix the guy lines, then you're ready to camp.
It's really compact and lightweight at 2.4kg.
It is packs up flat into a round bag that's easy to carry and store.
Once you know how to fold it away, it's really quick and easy too. I'm still practising but my husband has nailed it already! There's a helpful article and video by Regatta here on how to fold a pop up tent.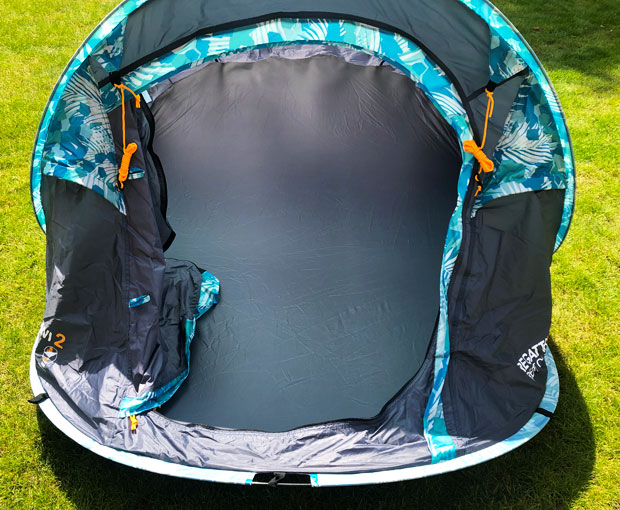 Though it's compact, it's surprisingly spacious. It's designed for two people to sleep in comfortably and all three of the kids have plenty of room when they're using it. We will use our bigger tent when the whole family goes camping as we're a family of five but this will be the tent to use when one of us parents go camping with one of the kids. There is definitely plenty of room for that and I think one adult and two young children would be able to sleep in this tent comfortably too.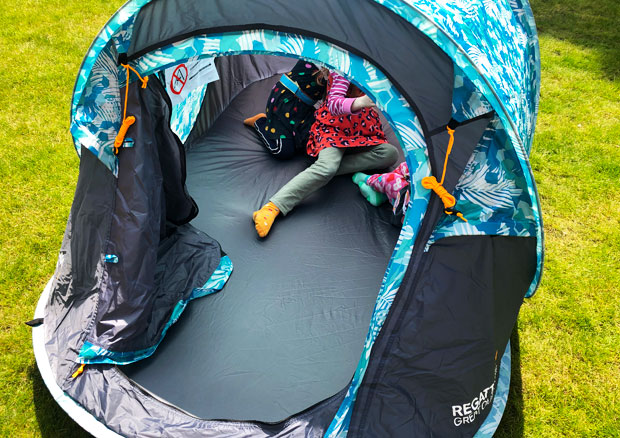 Inside the tent, there are practical side pockets on both sides to store your things, a hook to hang a light/lantern on and several vents to allow good air flow while also keeping insects out.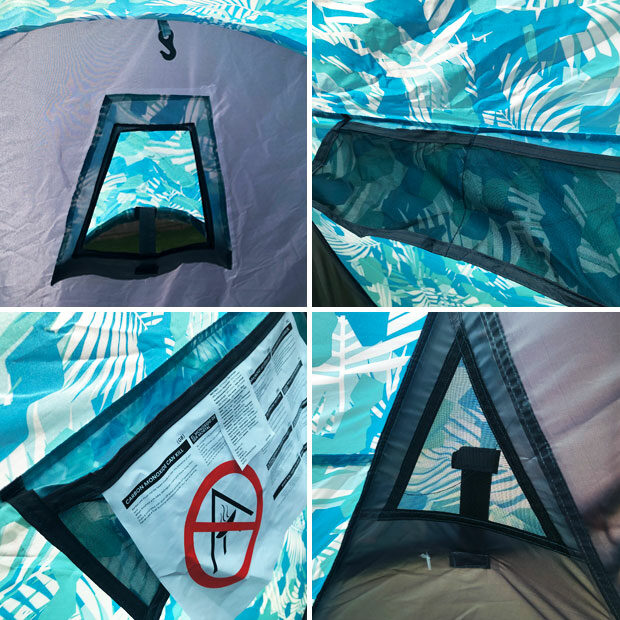 The Regatta Malawi Pop Up Tent is suitable to be used in any weather with its waterproof Hydrofort 70D flysheet with 3000mm hydrostatic head and hardwearing, waterproof polyester groundsheet. Any surprise rain will not ruin your camping trip!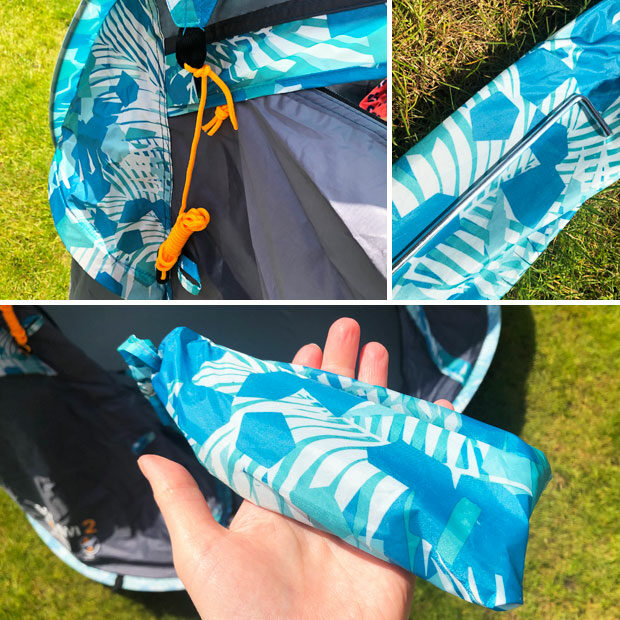 The tent is made with fully fire-retardant fabrics and strong, flexible fibreglass poles. Another feature that we love is the brightly coloured guy lines that ensure they're extra visible which will reduce trip accidents – this is very important to us with young (and clumsy) children. The tent comes with all the pegs you need in a handy storage bag. You can roll and tie the guy lines up when not in use to avoid tangling.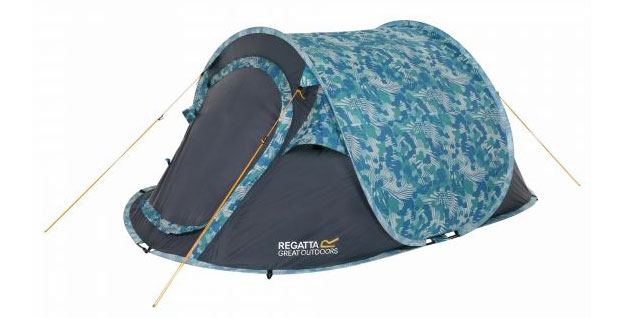 If you're considering this tent or already have it, this video tutorial from Regatta is very useful.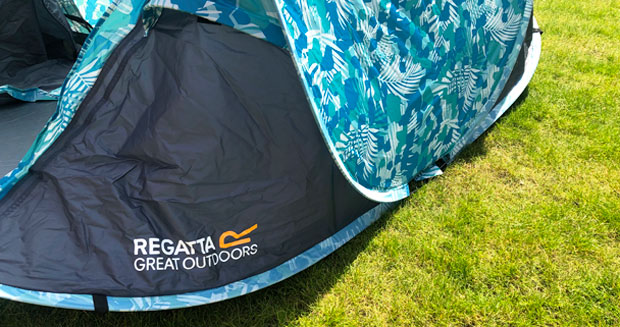 If you're looking for a tent that's quick to pitch, compact and easy to use – the Malawi Pop Up Tent from Regatta is a great choice that will leave you more time for actual adventures in the great outdoors instead of setting up camp!
This tent was kindly provided to us for this review. As always, all my reviews are 100% honest and all thoughts and opinions are my own.