Rehab London Skincare Products Review – For Men
|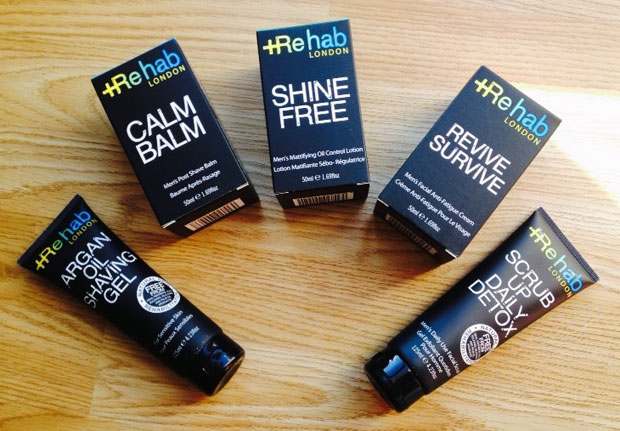 Rehab London Skincare Products Review – For Men

Rehab London is a skincare brand that specialises in natural grooming products for men. The brand is proud to be rock'n'roll on the outside but gentle on the inside. The range contains products to cleanse and moisturise male skin and products designed for shaving, too.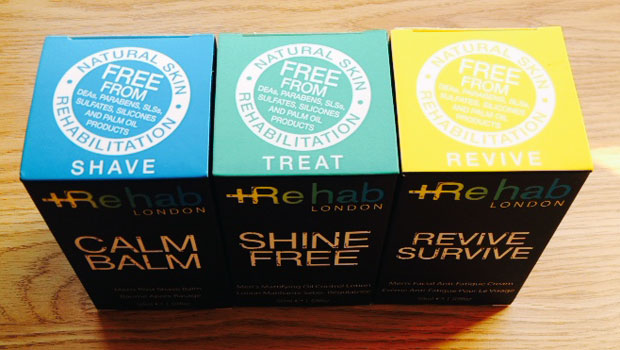 The products in this range are suitable for all skin types, including hypersensitive skin and are made from natural botanical ingredients and essential oils. All the products complement each other very well. The range is clear and uncomplicated and caters to all men's skin balancing needs and offers sun protection, too. The products are made from natural ingredients, are animal and planet friendly and SLS, paraben and petrochemical free.
My husband and I have had a look at some of the products from Rehab London.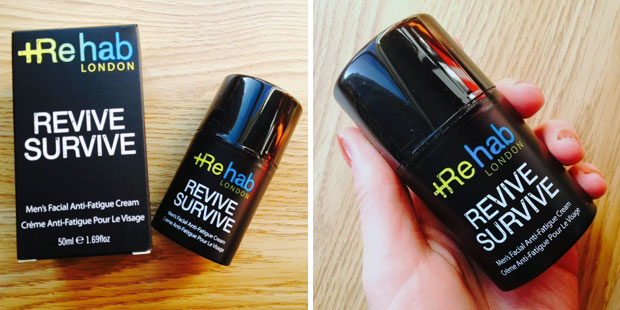 Let's start with moisturisers! Reive Survive is a really cool and interesting product. It's the perfect cream for when your skin is feeling dull and tired and needs a bit of a pick me up. This could be after a night of wild partying or a sleepless night looking after your baby or teething toddler. Rock'n'roll! The cream is also very suitable for long haul flights and when spending a lot of time in rooms where either air-conditioning or central heating is being used.
Revive Survive promises to visibly reduce the signs of skin fatigue and aging and to increase blood circulation to the skin. This will make skin feel revitalised and younger in just 10 minutes.
The cream contains cocoa butter which is a great moisturiser that contains vitamin E and antioxidants. It's really hydrating, healing and minimises skin damage. It also contains Hawaiian water algae which is great for stimulating the skin's energy and is also softening and moisturising.
Ginseng is another important part of this cream and it's known to be anti-aging thanks to its stimulating properties. It increases the skin's metabolism and blood flow which helps skin renewal and evens skin tone. It's also invigorating, detoxifying and protects the skin from free radicals.
Revive Survive also protects you from the sun with an ingredient called Escalol. It's an organic ingredient that is used in most sunscreens and protects skin from the harmful UV-B rays.
This cream is quite powerful! You quickly massage it in and a few minutes later you can feel something happening to your face. It's waking up, it feels tighter and refreshed. It's an incredible feeling! It really perks your skin up and makes it feel soft and nourished too.
The scent is very manly, a bit like a classic aftershave, and a bit too strong in our opinion. I prefer more natural and subtle scents and my husband prefers unscented products. It would be great if you could get this cream in an unscented version too because it's amazing!
Revive Survive costs £17.95 for a 50ml pump bottle.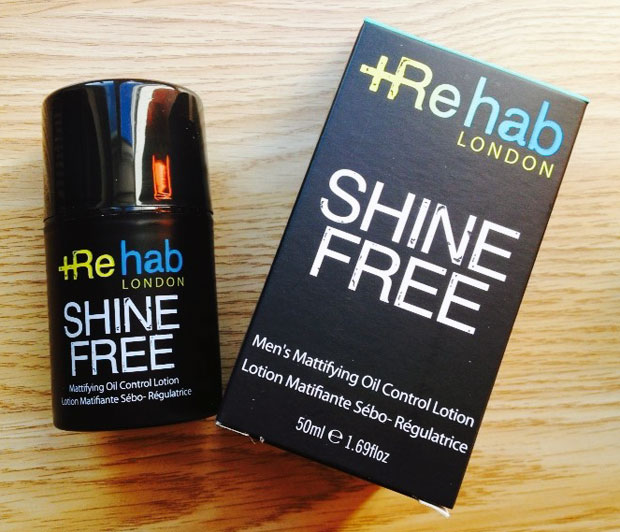 Shine Free is a facial moisturiser that is ideal for normal to oilier skin types. This cream leaves skin feeling refreshed, bright and hydrated but clear of any excess oil. It contains antioxidant rich and skin renewing Hawaiian water algae and rooibos extract which is an anti-allergenic that protects the skin against those harmful free radicals. It's anti-inflammatory and antimicrobial too which is perfect for oilier skin types.
Other important ingredients include Myritol which is an emollient that also gives skin a lovely velvety feel, Lipomois which is a molecular film that provides hydration and gives skin a pleasant and fresh feeling and Normaseb that balances sebaceous functions of the skin and helps mattify the complexion. This cream also contains Escalol for sun protection.
Shine Free absorbs really quickly and leaves skin feeling smooth and supple and well cared for. It's moisturising yet really good at controlling oil and leaves your complexion matte and velvety. It's a lovely formula and the effect seems to last a long time.
The scent is very similar to Revive Survive and, again, my husband and I agree that an unscented version would be a great choice for those who don't like strong scents in their skincare products.
Shine Free costs £15.95 for a 50ml pump bottle.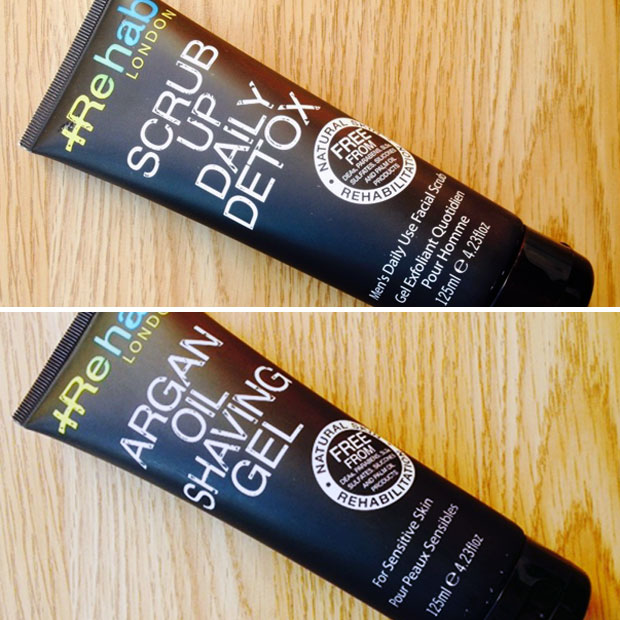 Scrub Up Daily Detox is a facial wash/face scrub that I have previously reviewed here.
The Argan Oil Shaving Gel is the favourite Rehab London product in our household. It's packed with ingredients that help protect and care for your skin. These include argan oil, witch hazel and aloe vera. This combination leaves skin smooth and soft and protects against irritation, soreness, tightness and even ingrown hairs.
Argan oil is a great help to speed up regeneration of the skin and helps the vital functions of skin cells and protects against free radicals too. It also provides a protective layer that makes the razor glide smoothly over your skin. Argan oil is very moisturising and leaves skin very soft. It's anti-aging and increases elasticity and prevents damage from stress and environmental factors.
Aloe vera is known for its skin healing properties and is very soothing and cooling. So is witch hazel which is one of nature's very best astringents. Actisea is a natural hydro gel that forms a protective film that traps the nutrients and agents from the other ingredients which helps condition and moisturise the skin. The gel also contains Pentavitin which is a moisture regulator that works efficiently on even the driest skin conditions.
The scent of this product is amazing! Thanks to menthol crystals it smells like Vicks and is so refreshing and cooling on your skin. It's perfect for waking you up in the morning. My husband usually shaves at night but maybe he should swap to mornings now that he has this invigorating shaving gel.
It's a pleasure to use and is a clever, low foam and clear formula which means you can see where and what you are shaving which is of course great if you have a particular beard shape you like to keep or to keep side burns equal.
The Argan Oil Shaving Gel costs £8.95 for a 125ml tube.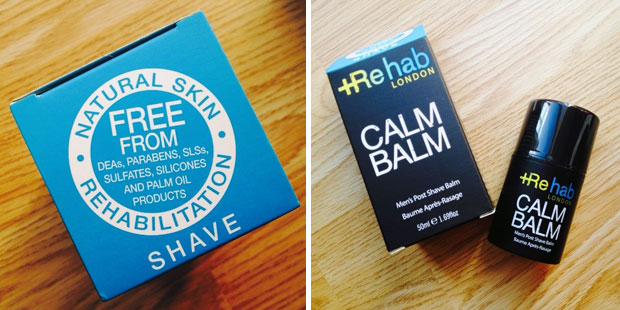 The Argan Oil Shaving Gel is very protecting and soothing by itself, but for even more calming properties and protection, the Calm Balm is a great product to follow up with.
Calm Balm is a post shave and post weather exposure cream that helps soothe and calm your skin and leaves it smooth and soft.
It contains hydrating and protecting cocoa butter, the emollient Myritol, Lipomist that creates a film to lock in moisture for all day hydration, soothing witch hazel, Hawaiian water algae to soothe skin and make it smooth and supple and Escalol to protect against the sun.
A special ingredient in this cream is rockweed aqueous extract which detoxifies and tones skin, leaving it calm and free of any irritation, redness and inflammation. It also helps decrease skin thickness and improves its elasticity.
The scent is similar to the other creams in this range but is a bit milder and smells more like a gentle skin cream with a hint of after shave. The cream does a great job soothing skin post shaving.
I have really sensitive skin on my legs and nearly always get a rash after shaving my legs so I could not resist giving the shaving gel and balm a go to see if they work as well on ladies' legs as they do on men's faces. I'm happy to say that my legs are soft and smooth and completely rash free. We'll be fighting over these two products!
Calm Balm costs £14.95 for a 50ml pump bottle.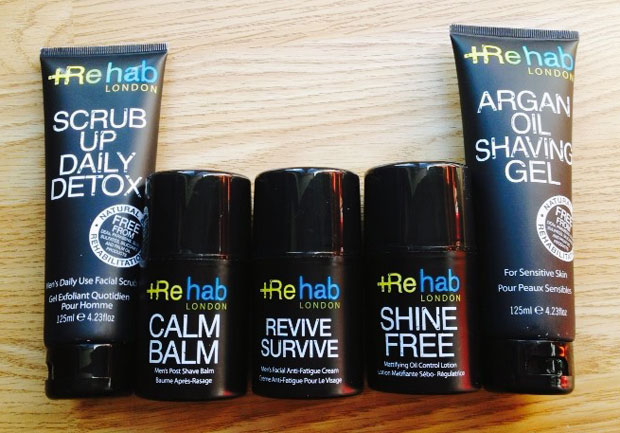 Rehab London's products are great quality and we love that they are natural and friendly to people, animals and the planet. We also really appreciate that all the creams contain sun protection as this is very important to my family. The products would make great gifts for men who like (or need!) a little bit of pampering and I highly recommend the shaving products to ladies too.
Buy Rehab London products from Asos, Boots, The Fragrance Shop or Amazon.co.uk.
We were sent these product for this review. As always, all my reviews are 100% honest and all thoughts and opinions are my own.