Review: Grimm's 4 Elements Large Building Set from 100 Toys
|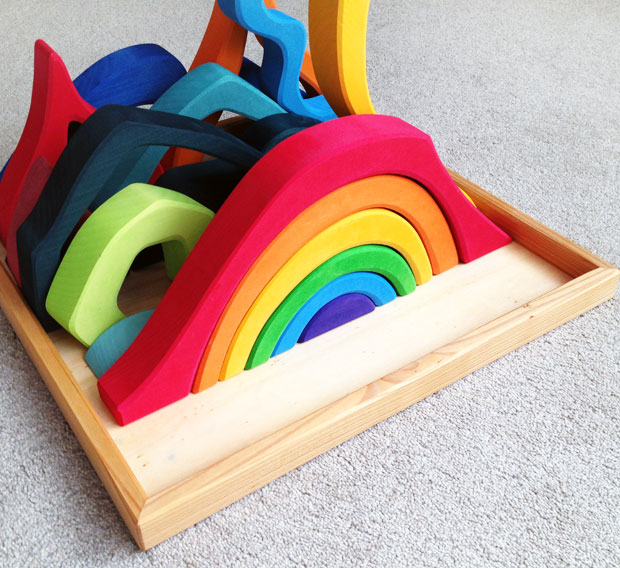 Review: Grimm's 4 Elements Large Building Set from 100 Toys
100 Toys is an online shop that specialises in good quality toys that are fun, engaging and also help children develop essential skills. Their motto is: "Fewer, better toys" and when looking through their website, you'll see lots of amazing looking items that can be used in so many different ways, encouraging children to be imaginative and inventive with their play.
Nowadays, there are so many modern toys that kids only play with for a few weeks or months and then forget about but 100 Toys are all about choosing the right kind of toys and choosing them wisely, allowing your kids to have less stuff and more time to play with them in all kinds of ways.
The toys on the website can be organised by highly specific age categories to ensure you're choosing items that are pushing the right buttons at the perfect time for your little one's development or by brand if you're looking for something in particular. You can also sort them by type which is very handy too.
I'm particularly fond of wooden toys and have loved the look of Grimm's natural and sustainable wooden toys for a long time. We love rainbows and bright colours in this family and Grimm's offer lots of fun and colourful wooden toy sets.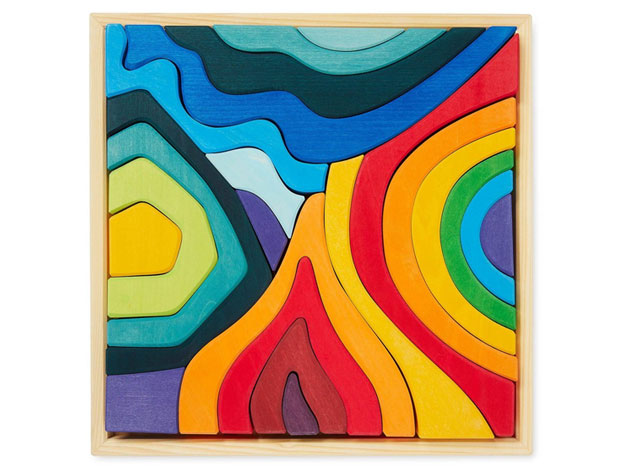 We have now got our very first Grimm's toy which is the 4 Elements Large Building Set from 100 Toys. It's a fantastic set that is a feast for the eye and the imagination! It's an amazing chunky puzzle and building block set. The puzzle is giant — 44.5 x 44.5cm — with 23 chunky pieces that are 4cm thick and lots of different shapes and sizes.
The large wooden pieces are made from sustainable lime wood and finished with child-friendly, non-toxic, water-based colour stains that give a natural finish, allowing the beautiful grain of the wood to shine through. The pieces have a matte texture which makes them easier to build with as they don't slip off each other so easily.
The theme of the set is the four elements and each side of the square puzzle has an elements theme — earth, air, fire and water represented by a cave, a rainbow, flames and waves. It's a truly beautiful set! When my husband saw it, he suggested we should put it up on the wall as a piece of art! It really looks amazing and is perfect for creative play.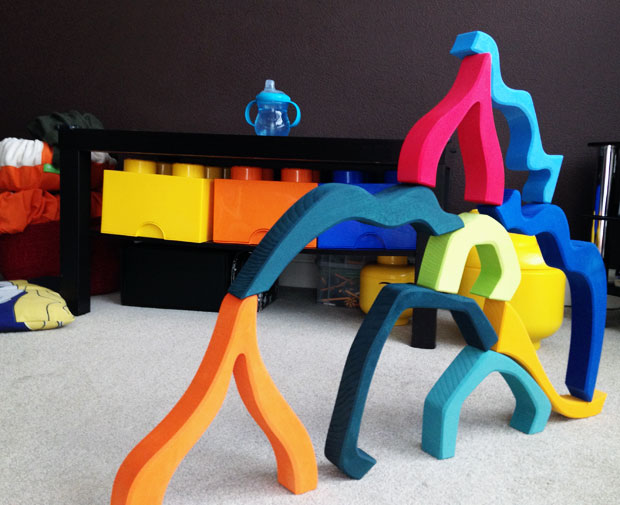 You can use it to practice your puzzle skills, assembling the elements into the sturdy wooden tray that the pieces come in or use the pieces to create landscapes, patterns, shapes or structures, building horizontally flat on the floor or vertically upwards.
The set helps develop children's motor skills, spatial thinking and problems solving skills. It also encourages creativity! All very important skills that children need. Plus, it's fun too! Both my daughters, aged 3.5 years old and 14 months old, love playing with this set and so do my husband and I. It's a perfect family activity to all do together.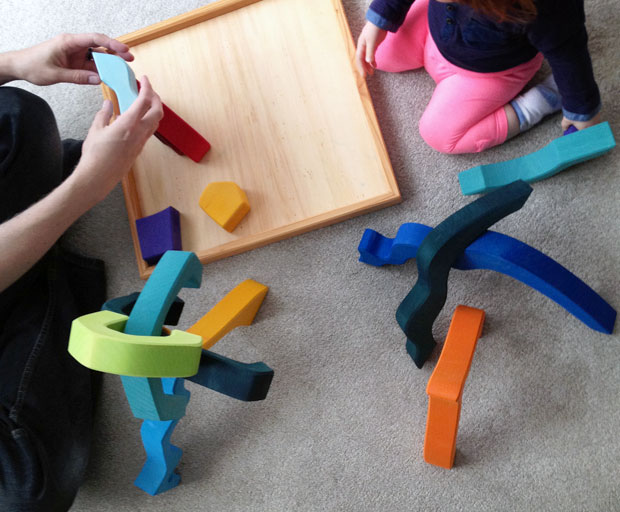 There are endless activities to do with a set like this and my girls come up with new things all the time!
The only negative aspect I can think of is that it's a bit difficult to store being so large. We have kept the cardboard box that it came in — it looks like a big pizza box — and store it under our bed. I would love to have it on display all the time though as it looks so gorgeous! It would work on top of a deep chest of drawers or something like that. We'll get one when we move house!
Discount Code
Enjoy 10% off your 100 Toys order with my exclusive discount code: AMUMREVIEWS100
We were sent this toy for this review. As always, all my reviews are 100% honest and all thoughts and opinions are my own.