smarTrike 5-in-1 Recliner Infinity Tricycle Review #smartDiscoveries
|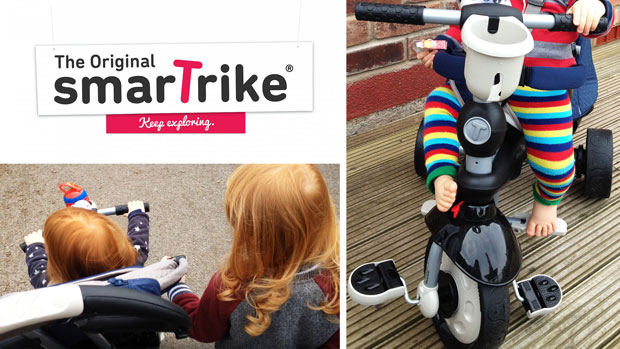 smarTrike 5-in-1 Recliner Infinity Tricycle Review #smartDiscoveries

After eyeing up her big sister's trike for about 5 months, my youngest finally has her own trike that she's not too little for and that will grow with her over the next couple of years. She's so happy! I'm happy too because we can fulfill her trike riding wishes safely now.
The trike that I'm referring to is the smarTrike 5-in-1 Recliner Infinity Tricycle which is designed for babies as young as 10 months up to 3 years. You simply adjust the trike as your child grows to enable you to use it for a long time.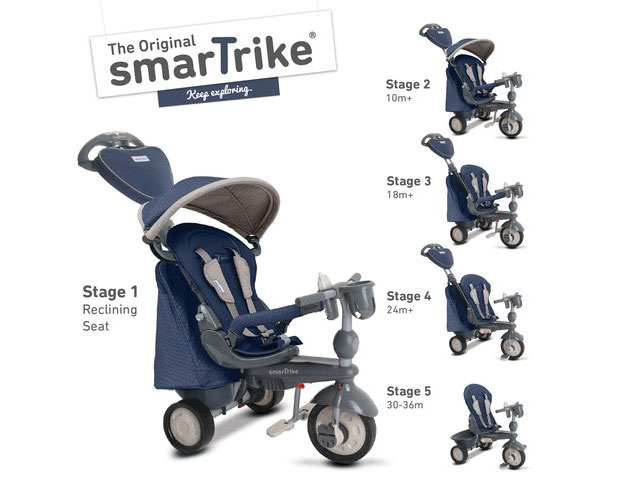 As the name suggests, there are five different stages:
Stage 1 | Sleep mode which lets the seat recline so that your young baby can rest and sleep comfortable and securely.
Stage 2 | From 10 months, your baby can sit safely and enjoy the fun of the trike. The padded seat is nice and soft and there's a foot rest for feet too young for pedaling. The safety bar adds extra protection.
Stage 3 | From 18 months when your toddler is sitting up very steadily and independently, you can remove the safety bar. At this stage, the parents still push and control the bike but your toddler is enjoying the ride and developing confidence, balance and motor skills.
Stage 4 | From 24 months, your toddler can start to learn how to pedal properly and the trike becomes a training trike. The parents still have the handle to control the bike as needed.
Stage 5 | From 30 months, remove the parent handle and close the safely clutch to make the trike an independent trike for your little adventurer to enjoy as they pedal by themselves.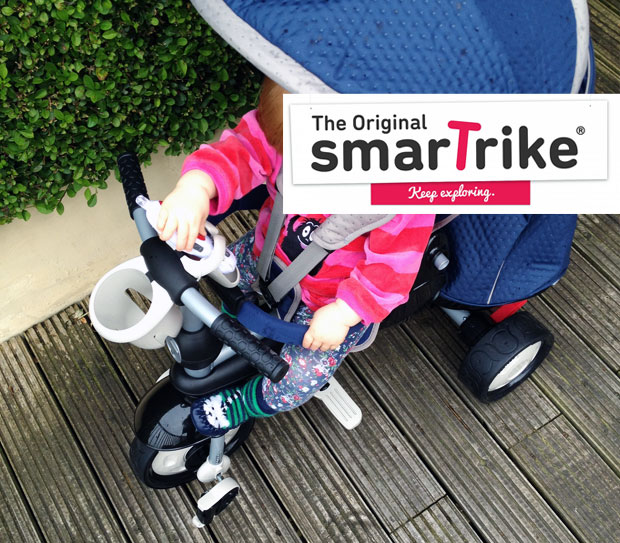 With my children being bad nappers, we are starting at Stage 1. My baby (toddler) is nearly 13 months old now and has 1-2 short naps a day at home or in the pushchair if we're out but the smarTrike 5-in-1 Recliner Infinity Tricycle is just too exciting for her to sleep in at this age when she wants to explore the world more than anything.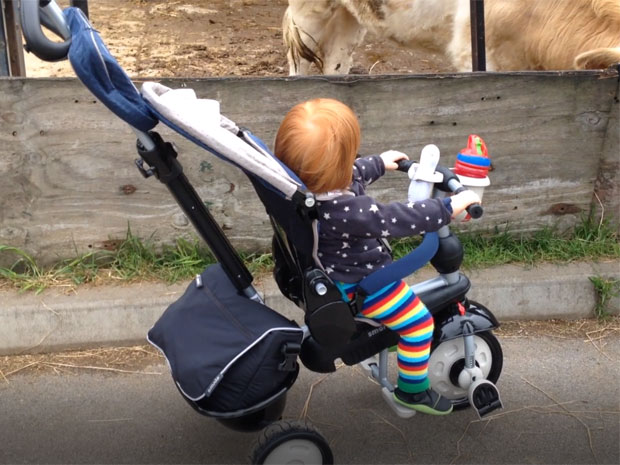 Some of the features of this lovely trike are:
You have a 3-point Y-harness with shoulder pads for comfort and safety. My toddler seems very comfortable in her seat.
A high-backed reclining seat with a soft washable padded seat cover. We've not used the reclining function yet but I'm glad it's there if my girl wanted to fall asleep.
A safety bar for young babies/toddlers. My toddler is steady but I still like this feature a lot.
An extendable, UV-blocking canopy. This is really easy to adjust and it's nice and thick and quite wide too to offer good protection from light rain or sunshine.
A 5 positions telescopic parent handle

—

it is sturdier the lower down it is so can be slightly wobbly if in the tallest position. The parent handle is "touch steering" and comfortable and easy to use with one or two hands.
A large swivel wheel at the front for tight cornering with built-in suspension. All the wheels are made of dual component rubber and they work really well and provide a smooth ride! You press-out a clutch on the front wheel for freewheeling when your child gets to that stage.
The pedals are non-slip and there's a foot rest for younger babies who can't yet pedal. This folds away when you're done using it.
There's a plastic basket at the bottom for storing toys or a changing bag or a bit of shopping. You also get a removable storage bag that fits in this space and goes up the parent handle. This is quite roomy and very handy when you need to have more stuff with you.
There's also a smaller pouch on the handle which I really like. This is perfect for your phone, wallet and hand sanitiser

—

small things that you want to keep close to you and easily accessible.
There's a cup holder for the child and a toy phone with a stand too on the handlebar. The phone requires two batteries. My toddler is obsessed with phones and ringing granddad so she loves this feature. The phone is attached by a strap and it's not long enough to bring the phone to my toddler's ear but I'm guessing this is due to safety reasons.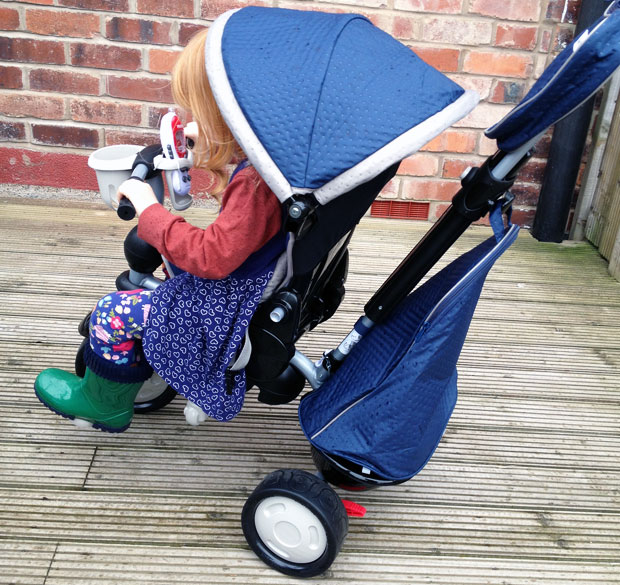 Here's my three-year-old trying her baby sister's trike! The roles have changed!
The tricycle has a full metal construction and built-in suspension. It's very sturdy and easy to maneuver like a pushchair. It's comfortable for both parent and child and overall quite practical.
It doesn't replace a pushchair for us but is instead a fun trike to use on days out when I want my toddler to have fun and stay awake and entertained when we're out and about. She's at an age when she gets bored in her regular pushchair after a while (unless she's sleeping or eating!) so if we're out for longer, the smarTrike 5-in-1 Recliner Infinity is a much better option for keeping her happy for a long time.
I wish it would fold up smaller to go in the car boot more easily but it's difficult to design something like this to be as sturdy as possible and still compact. To put it in the car, we take the parent handle off but it's still difficult to get into our quite roomy boot.
My littlest girl is really happy to have her very own trike and she absolutely loves exploring the world from it. It's great that it will grow with her as kids have so many things and I prefer items that last a long time to save money and storage space!
I also really like that the sides of the hood provide a natural place for my eldest to hold on to — like she would do when we use a pushchair.
Watch our little video below to see the view from my toddler when taking the smarTrike 5-in-1 Recliner Infinity out for a day at our local farm:
We were sent this trike for this review. As always, all my reviews are 100% honest and all thoughts and opinions are my own.