Swimwear Trends For 2015 With Bras Galore
|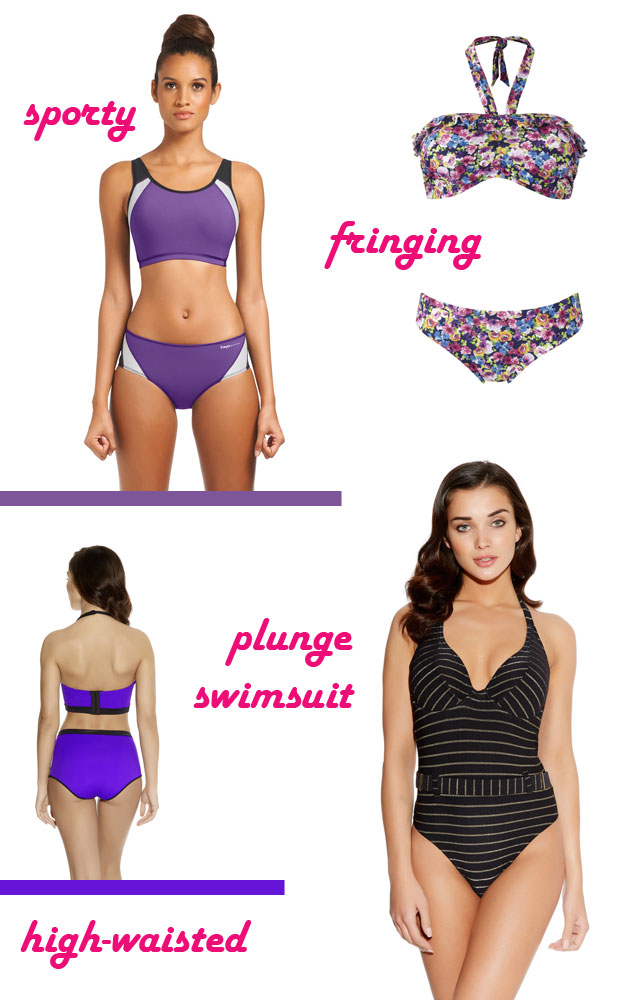 Swimwear Trends For 2015 With Bras Galore
It's almost summer and time for holidays and hot weather and you know what that means! Time to find this year's bikinis and bathing suits. Danielle Kisby from leading lingerie and swimwear retailer Bras Galore shares her expert opinions of the swimwear trends for this year. I've picked my favourite styles from the shop to go with the trends.
Sporty
Sports luxe has been on trend for a few years now but this year it's really starting to dominate the swimwear market with sports-bra inspired high-neck tops with mesh details and bright block colours combined with classic black. I'm happy to see this style since it looks so comfortable and these types of bikinis will stay in place even when playing and swimming. The one in the picture above is the Freya Active Swim Underwired Cropped Tankini.
"A sports inspired bikini is perfect for lazy days in the sun and splashing around in the pool. However, the shape isn't for everyone. While they are incredibly flattering for athletic and boyish shapes, the high-neck cut can make ladies with a bigger bust look top heavy. If you do have larger breasts and you are considering this style, I'd advise choosing one with mesh detailing to reduce the coverage over your bust. That way, you can have the best of both worlds." – Danielle
Fringing
This was huge in the 80s and 90s and is now back this year. I like a fringed bikini because it adds detail and looks very cute. The one in the picture above is the Freya Summer Hipster Bikini Brief and Bandeau Bikini Top.
"Channelling boho chic, fringing is one of my favourite trends this season. It's great for minimising the appearance of a larger bust, as well as disguising those pesky cellulite-prone areas on the hips. A fringed bikini is the perfect alternative to heavily printed swimwear. Choose a plain option to remain subtly stylish." – Danielle
High-waisted
I love a high-waisted bikini, whether it's a retro style one or a modern one. They are so flattering and highlights curves at the same time as they hide your belly a bit. They are very sexy! The one in the picture above is the Freya Bondi High Waist Bikini Brief.
"A 1950s-style bikini is perfect for showing off those va va voom curves! The high-waisted bottoms are great for highlighting an hourglass figure, and are incredibly flattering across problem stomach areas. If you are blessed with a larger bust, choose a bra- or halterneck-style bikini top. These are much more preferable to flimsy string designs, which can offer little support. Ditsy prints like polka dots are an absolute must for this style. You can wear them year after year!" – Danielle
Plunge swimsuit
The plunge swimsuit is a very sexy kind of swimsuit and fits all kinds of shapes and bust sizes. The one in the picture above is the Freya Rock the Beach Padded Halter Neck Swimsuit.
"Plunge swimsuits are great as they can be worn by women of any size. Suits that offer little support around the bust are best suited to women will smaller busts. If you have larger breasts, choose a style that offers additional support to prevent squashing and provide an extra lift. Because the plunge adds detail to the swimsuit, choose a classic Ibiza-ready colour like black, white or red. Team with a floppy sunhat for ultimate glamour." – Danielle
I love all the styles and would like one of each! I need to book a holiday too…