LOVALL Leggings Review – High Quality Leggings for Ladies & Children
|
LOVALL Leggings Review – High Quality Leggings for Ladies & Children
This review was originally published in March 2019 and has been updated in September 2023 to reflect the new name of the brand. Love Leggings was the brand name before but now it is LOVALL.
I have also tried a few new products from LOVALL alongside this update which you'll be able to see further down in this article.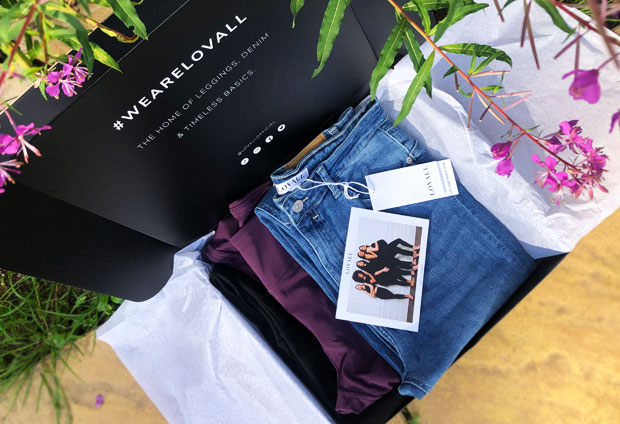 LOVALL focus on making everyday leggings that are finally great quality, none see through and incredibly comfortable — the solution to all those low-quality, cheap and see-through options that so many other retailers offer. Their range also includes maternity leggings, sports leggings, tights and children's leggings. The ladies sizes available are sizes 6 to 28 and there are loads of colours and styles to choose from. (Update: LOVALL now have lots more products too!)
I'm quite fed up with clothing that is simply not well-made and bobble or break after a few wears and washes. I'm trying to ensure that my wardrobe and my girls' wardrobes contain good quality clothes that can be worn and enjoyed for a long time and not show signs of wear instantly.
Leggings and other running equipment needs to be good quality – check it out here.
LOVALL Sports Leggings for Ladies Review
Keen to try the leggings from LOVALL, I have two pairs of gym & fitness leggings from them — Energise Full Length Shadow Grey Sports Leggings and Empower Deep Navy Full Length Sports Leggings. I don't go to the gym nor am I a fitness focused person, but I do move around a lot with the kids and wanted to try some really durable and comfortable leggings to use in day to day life. If you are into fitness, the Empower leggings are designed for running and exercise and even has two slimline pockets for valuables while Energise is a more lightweight version. There's also a Focus style which is ideal for Yoga and Pilates and the different leggings are available in a range of colours and in different lengths.
The Empower leggings are my favourite — they are so comfortable with support in all the right places. They stay in place perfectly and the seams are all in the right places for perfect comfort. They're really easy to move in and stretch very well.
The Energised leggings are brilliant and fit me very well but I do feel that I need to pull them up every now and then. I am happy with both these pairs of leggings and I know I'll get lots of use from them. I think the LOVALL range of sports leggings is great and I'd love to try the Focus ones too at some point as yoga style leggings are usually a good fit for me and very comfortable.
It's great to see different lengths available but as a tall woman, I'd love to see an option of leggings with slightly longer legs too. I'm 176cm and have long legs and would benefit from another couple of centimetres at the ankles of the leggings for full coverage.
I got these leggings in Size 12. I'm usually a Size 10-12 in trousers and these fit me well. I've just had a baby less than 3 weeks ago so I'm slightly larger than usual but can see these fitting me when I'm back to my regular size too.
LOVALL Children's Leggings Review
The children's leggings from LOVALL are available in lots of fun and stylish colours! I went for a black pair for my eldest daughter as I thought they'd be great for school. They are made of the softest cotton (95%) mixed with elastane (5%) for stretch. They have a classic soft knit waistband for comfort and are great for school and playing. They are designed to be comfortable to wear and to be durable for all the fun adventures kids get up to.
My eldest has just turned 5 and I got size 5-6 years for her which is the size she usually wears in leggings. She's quite tall but very slim so most leggings are a bit loose on the waist. Unfortunately, the leggings from LOVALL were too small for her — a bit short and she said they were too tight on her belly which they looked too. I would say to definitely size up in children's leggings.
I would still recommend buying them though as the quality is amazing! My middle daughter who is nearly 3 years old and on the larger and taller side wears these size 5-6 years leggings from LOVALL and they fit her very well! They've been through quite a few adventures and washes already and they still look brand new so I'm really impressed by them. They're really affordable at just £8.50 too.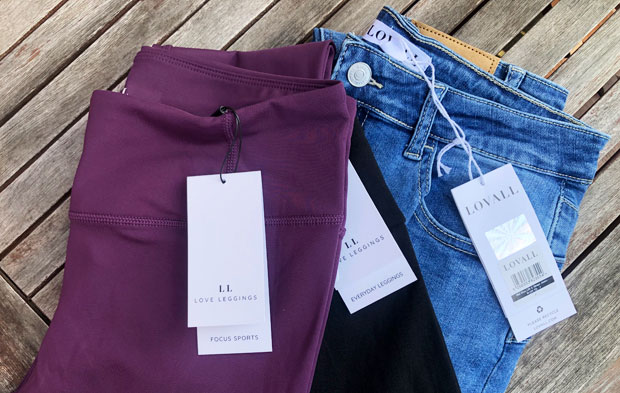 September 2023 Review Update – Love Leggings becomes LOVALL
A few years ago, the brand Love Leggings was a newly launched clothing brand with a goal of becoming the home of leggings. The brand definitely succeeded with this and has now developed into LOVALL. I love the new branding and the new website which features a great selection of products – still the place to shop for leggings but also so much more now! On the site you can find lots of stylish clothing for women, including lots of different types of leggings, jeans, timeless basics, and more.
My need for leggings has changed since this review was first published too – I am now much more physically active and I regularly go for long walks and hikes, I have taken up running and I go to fitness classes most weeks. Leggings are no longer just a comfortable mum uniform for me but an important staple for my now active lifestyle. The activewear leggings that I use need to be of high quality and fit well for all the above activities.
LOVALL sports leggings tick all these boxes are absolutely excellent! They are sturdy, great quality and fit well. They are comfortable to wear, wash well and come in different lengths too which is amazing! I have opted for the Tall length for my new leggings and they fit my long legs perfectly.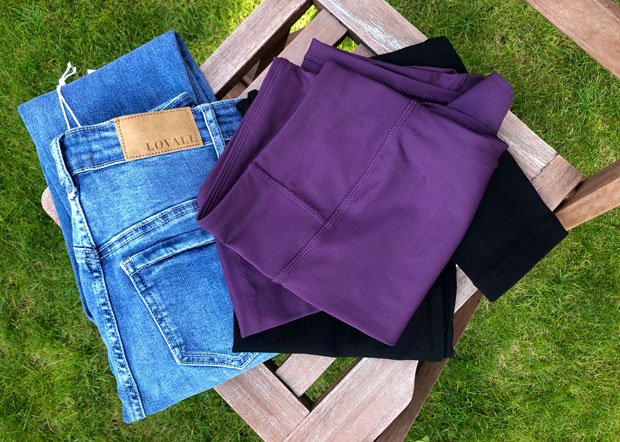 I have now tried a few more products from LOVALL:
Focus High Waisted Sports Leggings which are made from a mid-weight material and offer high support around the waist. The waistband is high and V-shaped for comfort and the sweat-wicking leggings feature a minimal and flattering seam design. These leggings are supportive, flattering and comfortable. I love them! Great for running and other fitness activities.
Everyday High Waisted Leggings are the perfect everyday leggings. I have them in black but they are available in lots of fun and stylish colours. These leggings feature a 4-way stretch cotton fabric that is comfortable and not see through. They have a high-rise waistband and a brushed cotton lining for all day comfort. The Everyday leggings can be dressed up or down are perfect whether you're lounging at home, out with the kids or in the office.
Lift & Shape Jeans (in Mid Blue) that have a sculpted design to enhance your body's natural features and form, smoothing your figure and flattering your silhouette. The lightweight jeans are soft and stretchy – the material is comfortable, moulding and moves effortlessly with the body. The jeans have a contouring seam design and a 5-pocket finish. It's great to see a denim range added to LOVALL – there are several fits and colours to choose from so that you can find your perfect style.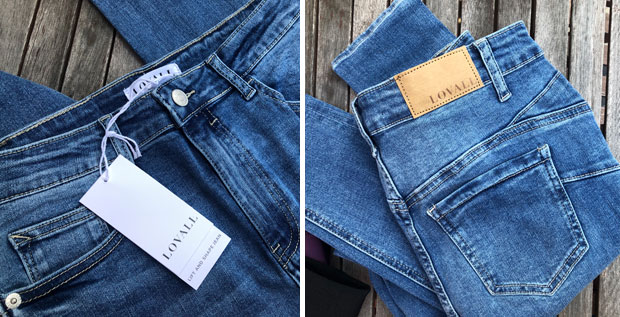 Visit the LOVALL website to shop all leggings, jeans and more.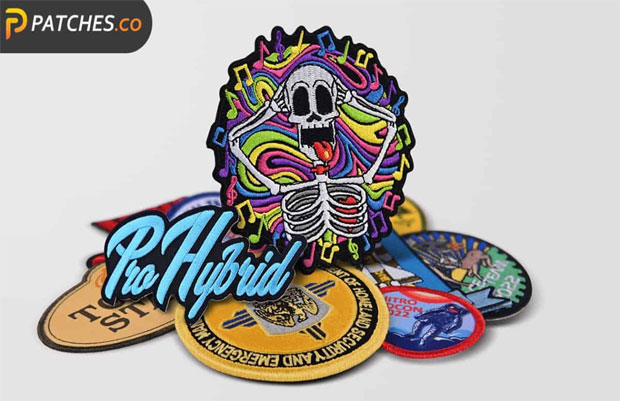 Of course, if you are someone who seeks individual uniqueness and wants to make your clothes different from others, consider adding uniqueness to your garments by adding a few small accessories.
These small accessories can be small pin badges or small patches, for example. But if you want your clothes to be more personalized, consider designing and customizing them to your liking. With these custom pin badges, custom patches, your clothes will take on a different look. If you want to decorate your leggings or jeans or other garment with unique patches, Order Now at patches.co.
These leggings and jeans were sent to us for this review. As always, all my reviews are 100% honest and all thoughts and opinions are my own. Contains sponsored links.