The Best Naturally Caffeine Free Teas – Perfect for Pregnancy
|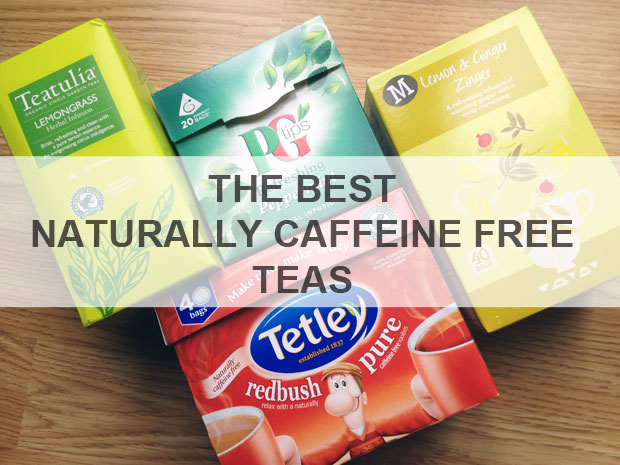 The Best Naturally Caffeine Free Teas – Perfect for Pregnancy

I love tea and drink all kinds of different types. In the mornings I generally need a caffeinated drink of either English tea or coffee but throughout the day I enjoy both caffeinated drinks and caffeine free teas. In the evenings I almost always choose a caffeine free tea since I'm trying to wind down and relax to prepare for going to bed.
When I was pregnant with my daughter, I avoided caffeine completely and only chose to have teas that didn't contain caffeine. It's important to watch your caffeine intake when pregnant and some women need to limit it when breastfeeding too. Luckily my girl could handle my huge coffee intake when she was a newborn…
I have a few favourite naturally caffeine free teas that I drink a lot. There are plenty of decaffeinated versions of traditional breakfast teas, other black teas and green teas but these are all naturally free from caffeine.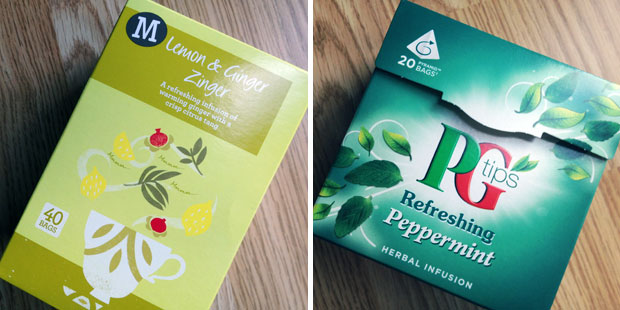 I've been drinking Lemon & Ginger tea for many years and it is delicious with a spoon of honey. Whenever I feel like I'm about to get a cold, I drink lots of this and sometimes add some fresh ginger to it. The brand doesn't really matter and I find that the Asda, Morrisons and Twinings versions are all very similar.
The PG Tips Refreshing Peppermint Herbal Infusion is a new product and a new favourite of mine. It was only released recently but I've bought lots of boxes already. The peppermint flavour is really intense, fresh and strong and this particular brand is much nicer than all the other peppermint teas that I've tried.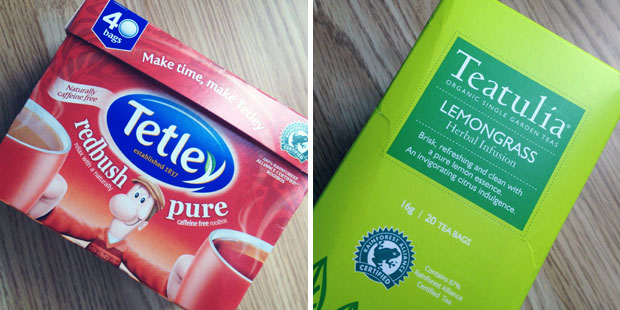 Roiibos tea is another tea that I've loved for a long time. I used to drink it with my friends when we had movie nights as teenagers and a few years ago we started having it at home after my husband tried it on a visit to South Africa. Again, the brand is not very important with Rooibos for me and all the ones that I've tried have been nice and very similar. This one is Tetley's Redbush Pure and the pack of 40 bags was great value at only £1. I love Rooibos tea with a spoon of honey and a bit of milk.
The Teatulia Lemongrass Herbal Infusion is a new favourite that I discovered after trying a few Teatulia samples recently. It's very delicate and zesty and tastes lovely hot or cold, sweetened or not. It's a really good quality tea.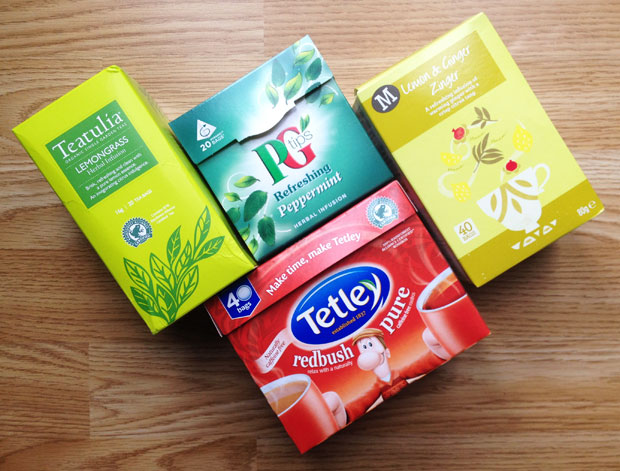 Those are my favourite naturally caffeine free teas! Do you have any favourites?