The Best Travel Games for Families
|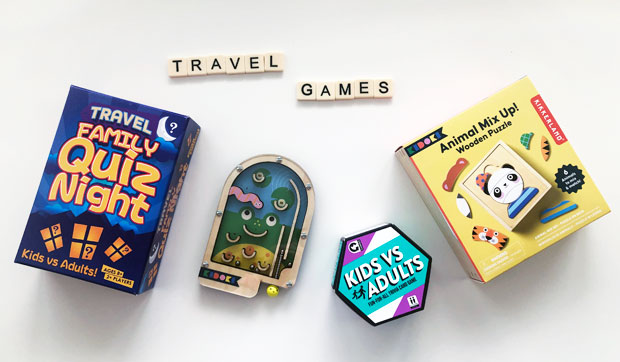 The Best Travel Games for Families | AD
The summer holidays usually include some kind of travelling. If you're travelling with children, it's definitely a good idea to be prepared with some activities and travel games to keep everyone entertained. Whether you're heading on a family road trip to a UK destination or hopping aboard a train or a plane, pack some of these games to play by the pool, during the journey or for relaxing at your accommodation.
We always pack travel games when we go camping, for when we're staying in a caravan and for when we're going abroad too. I try to pack a small selection so that we have something to do for all age groups. Read on for a few of our favourite new additions!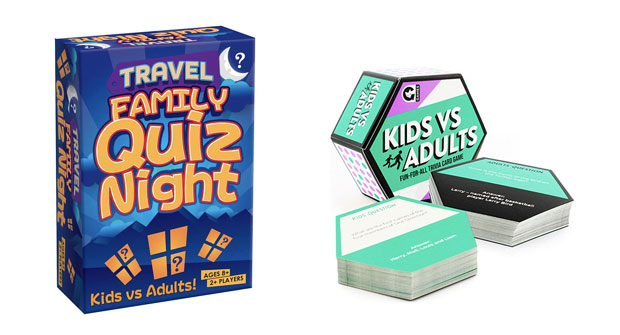 My family loves playing quiz games to test our general knowledge and to learn new facts. We have lots of different quiz games at home. For travelling, mini versions are ideal. Here you can see two excellent travel-friendly quiz games – Cheatwell Games Travel Family Quiz Night and Ginger Fox Adults Vs Kids Game.
The full-sized version of Cheatwell Games Family Quiz Night is one of our favourite family games so I was very excited to see a small version suitable for travelling. This game is about the size of a thick paperback book so easy to take with you in your bag when you're travelling.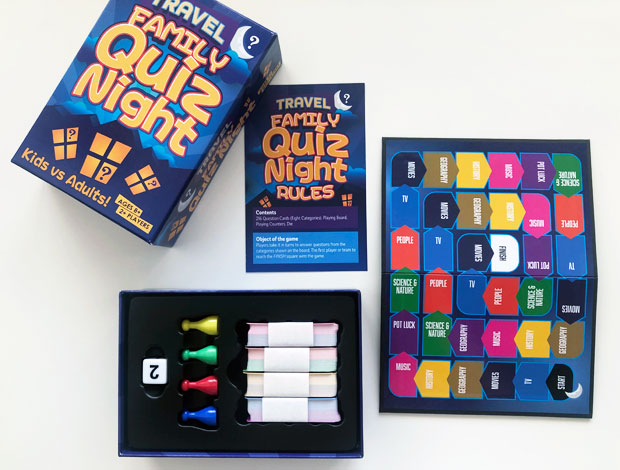 Cheatwell Games Travel Family Quiz Night works in the same way as the original game. There's a board that the counters move around with different categories that you can land on. Each card has a multiple-choice question for younger players and a more challenging question for adults which is a great way to make it fair. You can play individually or in teams.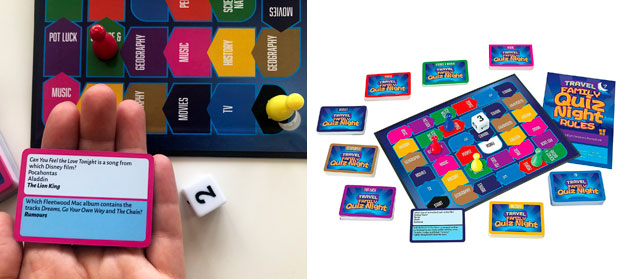 The question categories includes a wide range of subjects – TV, Geography, History, Science & Nature, Movies, People, Music and Pot Luck. The set includes 432 questions (the full sized version includes 1,200 questions as a comparison), a playing board, 4 counters, 1 die and a set of rules. The winner is the first player to reach the finish square on the mini playing board.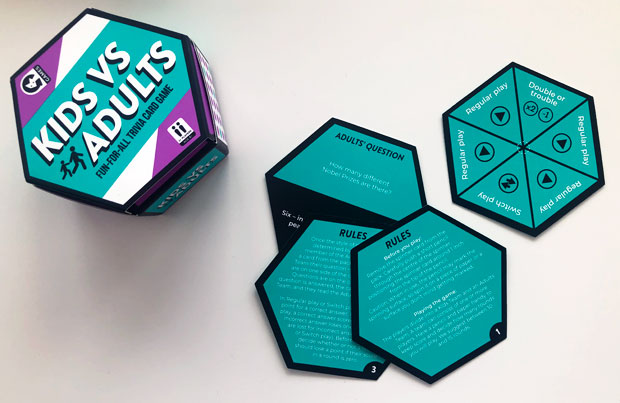 Ginger Fox Adults Vs Kids Game is another quiz game and this one comes in a small, pocket-sized hexagonal box that you can take with you anywhere. It is a fun trivia game for families to play. The game includes 80 cards with easy and challenging questions for kids and adults, making it ideal for different ages to play together. It's a fast-paced and entertaining game that you can play anywhere without the need for a big play surface.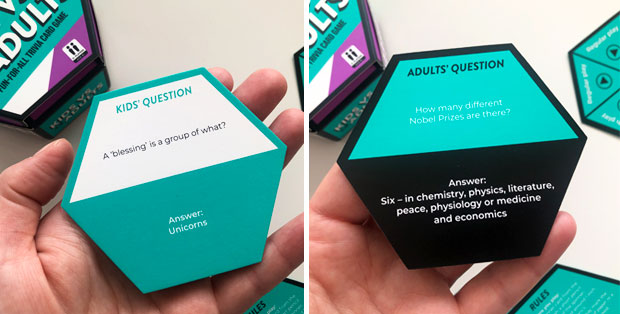 There are different game styles for each round to make things extra interesting – Regular Play, Switch Play and Double Trouble. A spinner that you make with a pencil and a card decides the game style. The game is suitable for children from around 8 years and above and adults to play together. You can play just two players or more in teams, split into kids and adults. Use the spinner to decide the game style, then both groups will take turns answering both adults and kids questions. The team with the most points at the end is the winner.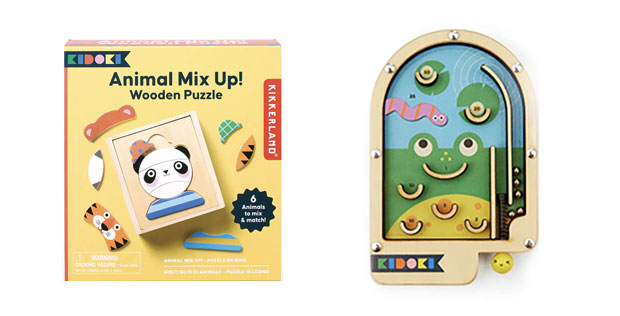 Games for Younger Children to Play Independently
If you have younger children too, it's a good idea to pack some options that they can play with independently. Our youngest is 4.5 years old and loves to join in with quiz games as part of a team for a while but then gets a bit bored, understandably. We have found some other options that she loves to play with independently which helps keep everyone happy when we're playing games.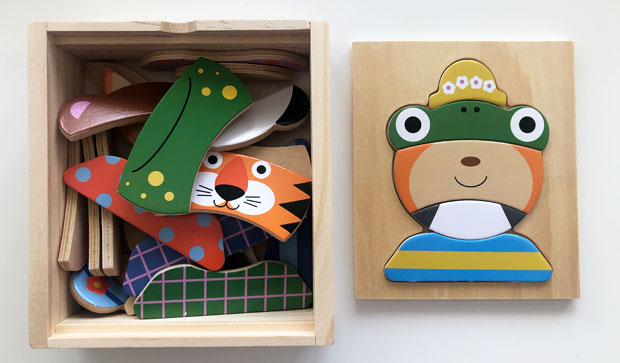 The Animal Mix Up Wooden Puzzle from Kikkerland is ideal for independent play and lots of fun! It's a wooden box full of puzzle pieces that you can mix or match to create animal faces or funny creations. The box is small enough (13x14x4.5cm) to fit in a bag and to take with you when travelling.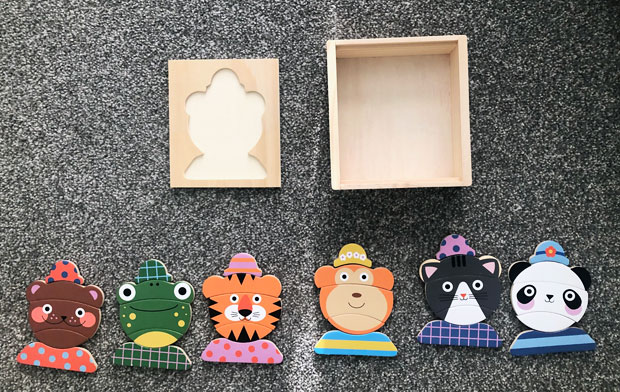 The game is suitable for children aged 3 years+ and encourages creativity, problem-solving, communication, and fine motor skills. It's a great activity for learning about different animal features and the different parts of a face. I love that everything is wooden for durability, longevity and for our planet.
My youngest absolutely adores this game! She has lots of fun playing with it on her own, giggling at the funny-looking animals she's mixed together. Her big sisters love getting involved with this puzzle game too.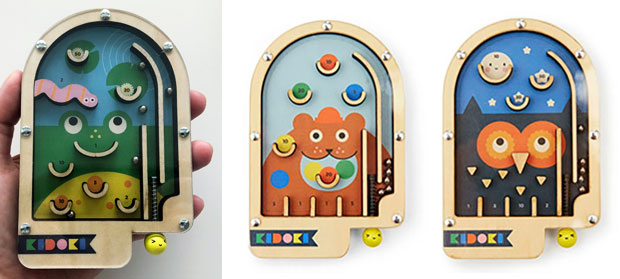 Next up, also from Kikkerland, is this cute Wooden Pinball game. The game is available in three adorable animal designs (picked at random when ordering) – Owl, Bear or Frog. The pinball game is a chunky design that's easy for small hands to hold. You simply pull the handle to get the small metal balls to fly up inside the pinball game, then see how many points you get. The game is fun and practices fine motor skills and technique as well as maths skills when adding up the points. Another activity that's entertaining for both younger and older children. Can be played anywhere without the risk of losing any pieces too which is great!
Collaboration. Games provided for this review. As always, all my reviews are 100% honest and all thoughts and opinions are my own.