The Fairytale Hairdresser and the Little Mermaid Review
|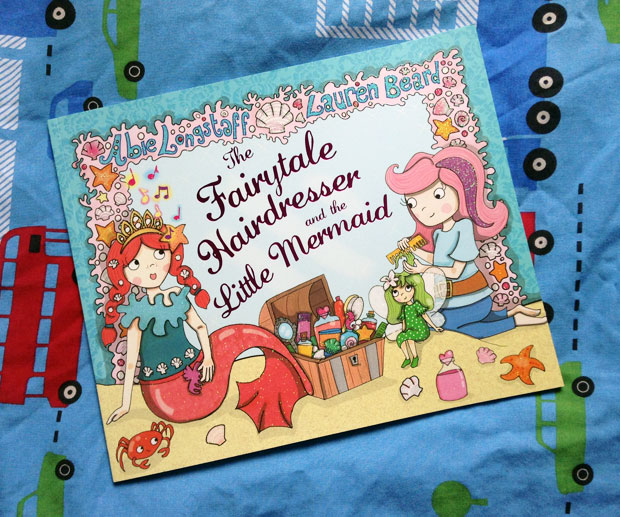 The Fairytale Hairdresser and the Little Mermaid Review 
This is a sweet but adventurous modern take on the classic story about the little mermaid. This book by Abie Longstaff features The Fairytale Hairdresser Kittie and shows her interactions with her mermaid friend Coral. Coral is a beautiful mermaid and a wonderful singer but she's sad that she's not got legs and can't get to the boy she loves. Kittie tries to tell her that he (the prince!) will love her just the way she is but Coral doesn't believe her and makes a desparate visit to the witch who promises to give Coral legs, which she does, but she also steals her voice.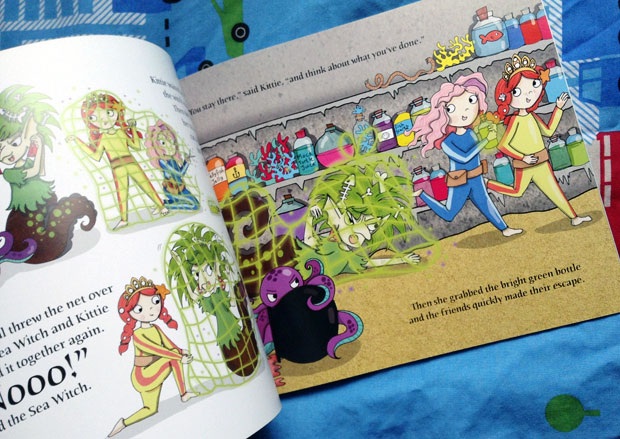 After reaching out to Kittie back on land, they both go back down under water together to tackle the witch and get Coral's voice back. The friends manage well and Coral gets her voice and her mermaid tail back. Kittie was, of course, right and the prince loves Coral just they way she is, as a mermaid with a beautiful singing voice. They live happily ever after and make their relationship work by sometimes living under water with the prince in diving gear and sometmes in the palace with Coral in a swimming tank. This very sweet!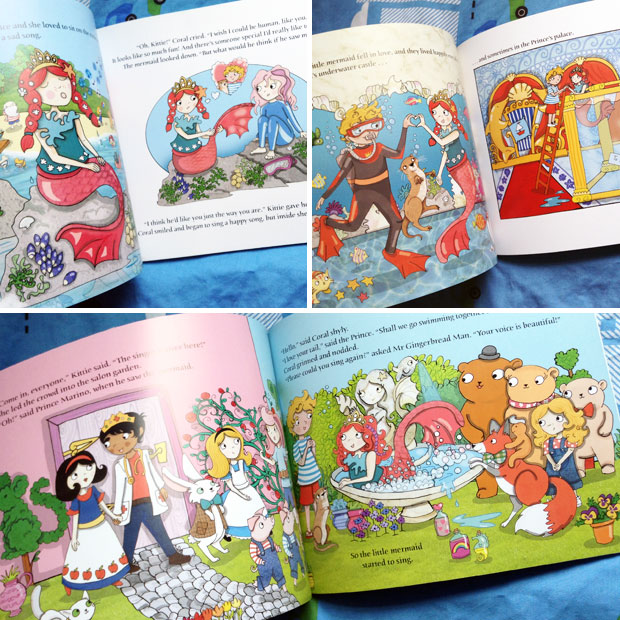 I thought this book would be a bit too girly for me with its theme of mermaids and hairdressers but these girls are quite tough at the same time and I really like the book. I like a modern take on an old classic story and in this book you'll also be able to spot lots of characters from other fairytales which is a lot of fun, too.
The illustrations by Lauren Beard are really cute and very detailed. You'll spot something new in the background or a new detail every time you read a book and I remember loving books like that when I was little and today's kids are the same.
Below, you can see a youtube Q&A session with the author of the book, Abie Longstaff.
There are many more books about The Fairytale Hairdresser where she meets other fairytale characters like Snow White, Rapunzel, Cinderella, Sleeping Beauty, Sugar Plum Fairy and even Father Christmas! You can buy this book and all the others via Amazon.co.uk.
Share your love of fairytales:
Today, Friday 5th June, the sun will be shining, fairies will be flying and there will be lots of happy-ever-afters! We would love to join in with our #ShareAFairytale day. The aim is simply to pass on the love of stories and storytelling, and have a lot of fun in the process!
Dig out your best fairytale ball outfits, dust off that pumpkin and allow us to be your fairy-godmother! We want to see all of your great costume ideas. Join in the conversation now by using the #ShareAFairytale hashtag, copying in @RHKidsUK on Twitter – we'd love to hear your ideas and suggestions for holding a great event!
To get you started, here's a step-by-step guide to Fairytale Hair. Read more about the #ShareAFairytale day here.
We were sent this book for this review. As always, all my reviews are 100% honest and all thoughts and opinions are my own.