The Ginger People Crystallised Ginger & Ginger Syrup Review
|
The Ginger People Crystallised Ginger & Ginger Syrup Review
Do you love ginger? Then The Ginger People is the brand for you. They make a lovely range of products that all feature ginger as the main ingredient and flavour. The company has over 80 ginger products in its portfolio and exports them to over 40 countries.
Nobody does Ginger quite like The Ginger People. All ginger. All natural. That's all we do.
The Ginger People source their key ingredient directly from farmers and producers from the best ginger growing regions in the world. All products are free from GMOs and artificial ingredients and many of the products are now organic too.
I've recently sampled a couple of the products from the Cooking Essentials range that's now available in the UK. The products I've tried are the Organic Crystallised Ginger and the Organic Ginger Syrup. Suitably, the samples arrived when my mum was visiting, and no one loves ginger more than my mum! Great timing and perfect to have a ginger expert available to help me judge these products.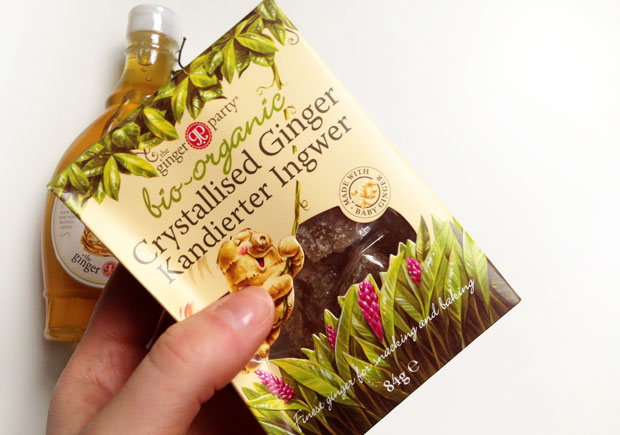 The Organic Crystallised Ginger are candied ginger cubes that you can eat just the way they are or add to cereal or porridge or use in baking. You can also dip them in chocolate! They're tender and fibreless as they're made from baby ginger. The texture is lovely and the contrast between the heat of the ginger and the crystallised sugar coating is powerful and interesting. My mum loved them but the ginger heat was a bit too strong for me.
The Organic Ginger Syrup is a ginger-infused syrup that you can use in beverages, in glazes or as breakfast toppings. My mum loved it on top of her porridge in the morning and I love it in my tea — perfect when you have a sore throat. It would also work well in a noodle stir-fry, I imagine. I love the glass bottle it comes in too!
Ginger is tasty and healthy — it has a long history of medicinal use in traditional Chinese and Ayurvedic medicine and modern research confirms its effectiveness in relieving symptoms of nausea, vomiting, indigestion and dizziness. I used ginger a lot during both my pregnancies to help combat morning sickness.
Now available in the UK, the Cooking Essentials range from the Ginger People costs from £2.79, and can be found from selected independent health stores nationwide, and online from The Ginger People.
Samples provided to me for this review. As always, all my reviews are 100% honest and all thoughts and opinions are my own.