The Good Edit – Making it Easy to Find Conscious Gifts
|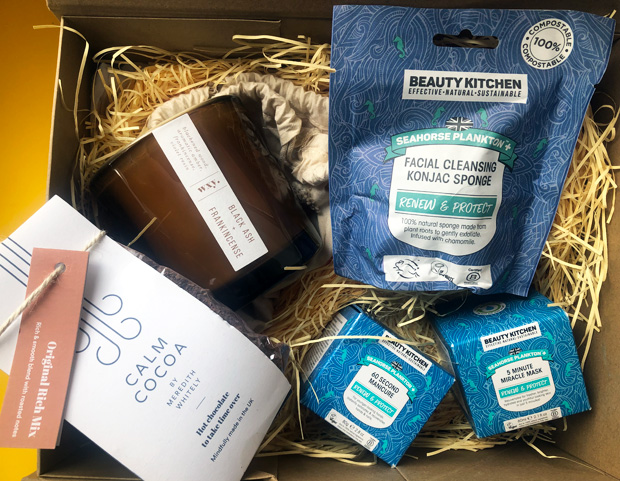 The Good Edit – Making it Easy to Find Conscious Gifts
The Good Edit helps your find ethical, sustainable, and conscious gifts for all occasions. They've made a big effort to collect beautiful and purpose driven brands that make a difference and share the same ethos.
All items available through The Good Edit have an increased environmental and/or social benefit so when you do want to buy something, you know your purchase will make a positive impact. There are also some products available to borrow for events which is a great idea to help limit unnecessary purchasing and sharing things that can be shared.
I have a wonderful bundle of products from The Good Edit that I'm enjoying testing – the The Self Care Facial Gift which is a gift set and also the 60 Second Manicure added as an extra. I will go into detail about all the products below.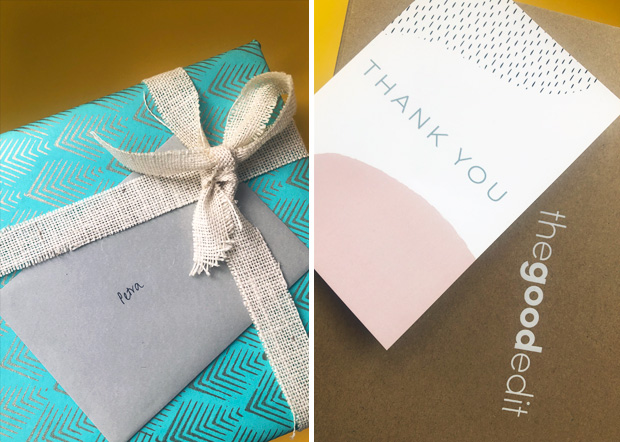 The Self Care Facial Gift + 60 Second Manicure
This is a perfect gift for anyone who's busy and in need of some me-time and pampering! I feel like most mums tick those boxes! This bundle contains four items to help the recipient create some calm at home and take some time out for self-care. All presented beautifully in a recycled gift box with a complimentary handwritten message. You can also add a greeting card or gift wrap (all from recycled materials too) if you wish.
Let's have a look at the products from this gift set: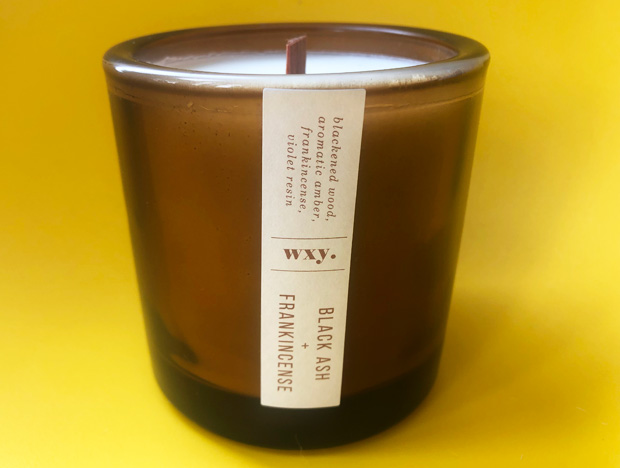 Recycled Glass Vegan Candle
This is a huge, luxurious, 100% plant-based, soy wax candle presented in a thick recycled glass jar which can be infinitely reused and looks beautiful. Made here in the UK too. The scent I have here is Black Ash + Frankincense and it smells great! Lighting a candle is a great way to create a relaxing environment. I especially love having a candle lit when I'm enjoying a hot bath to help me unwind at the end of a busy day.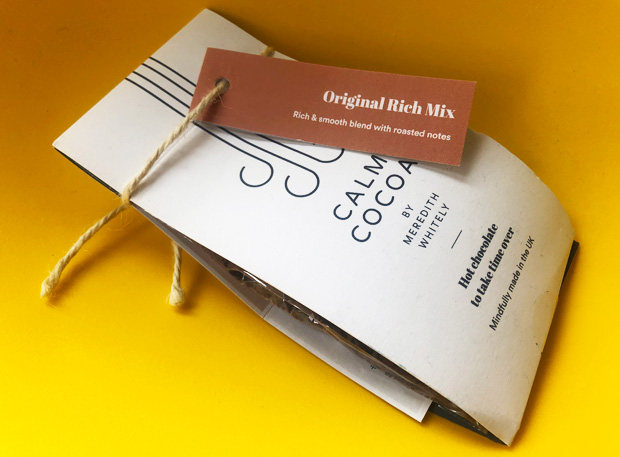 Calm Cocoa Hot Chocolate Pouch
A mug of luxury hot chocolate is the ultimate indulgent and relaxing drink when you're trying to unwind and take a few moments to yourself. This is the original flavour with a rich blend of two chocolate origins (ethically sourced, of course), full of delicious flavours and aromas. The pouch contains two servings (or one huge mug!) and the brand encourages you to take time enjoying your drink with mindfulness tips included in the compostable and recyclable packet.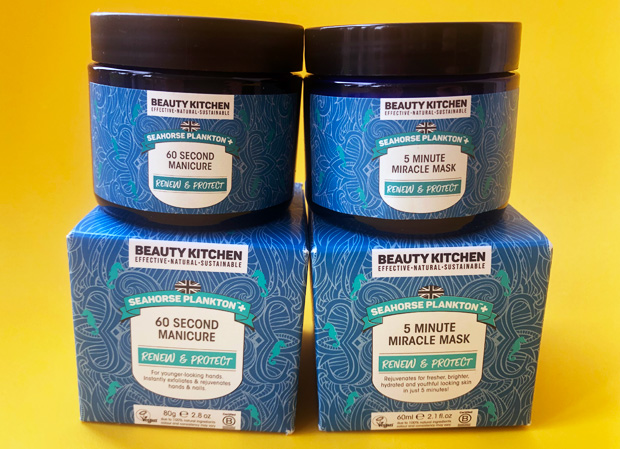 Beauty Kitchen Renew & Protect Products
I was so excited to try these products as they sounded amazing! I love the fact that the products have been developed to provide quick results for busy people.
We should all be able to take 60 seconds for a manicure or 5 minutes for a facial. Beauty Kitchen is on a mission to create the most effective, natural and sustainable beauty products in the world and the products do not disappoint…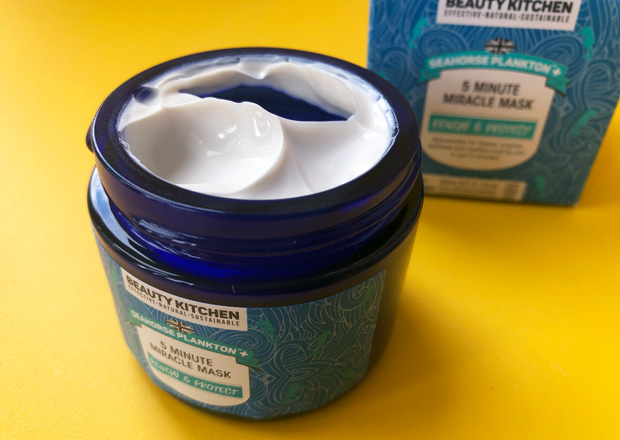 I love using a face mask as a treat but rarely have time to keep it on for as long as suggested. Since the 5 Minute Miracle Mask only needs 5 minutes, I can fit that in and enjoy a facial at home. I sometimes apply it when I'm giving the kids their bath or when I'm brushing their teeth and getting them ready in the morning.
It's a cream-based mask with potent marine extracts that are scientifically proven to hydrate and even skin tone – just what I need! After just a few minutes, my skin feels refreshed, hydrated, soft and smooth and looks healthier with a bit glow too. I'm really pleased with the results and amazed with how quickly the mask works.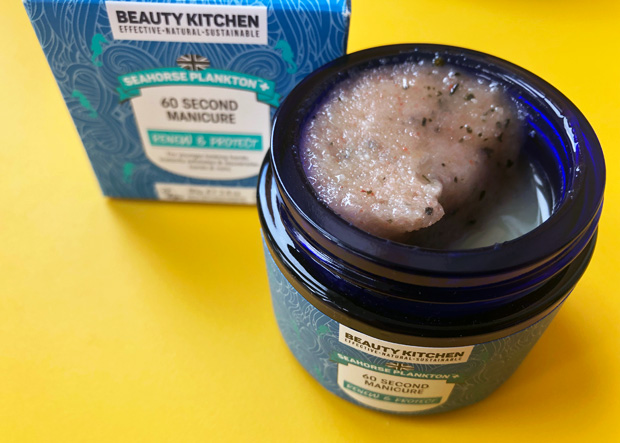 The 60 Second Manicure from Beauty Kitchen was not included in the gift set but an extra product that I was curious to try. Our hands do so much for us all day long and all the hand-washing, work, chores and hand sanitiser applications mean they need a bit of TLC to recover.
This wonder product is a hand scrub with scientifically-proven microalgae and seaweed Himalayan sea salt to target age spots, even skin tone and revitalise hands and nails. You wet your hands and then apply a small amount of the scrub and massage it into your hands for 60 seconds, rinse off and pat dry. I can't believe how well this product works – my hands look and feel amazing after use, and it only takes a minute!
It's best used before bed to get most of the product, but you can use it any time of the day when you feel that your hands need it. A brilliant hero product that will become a staple product for me.
I also love the beautiful blue glass jars that these products come in!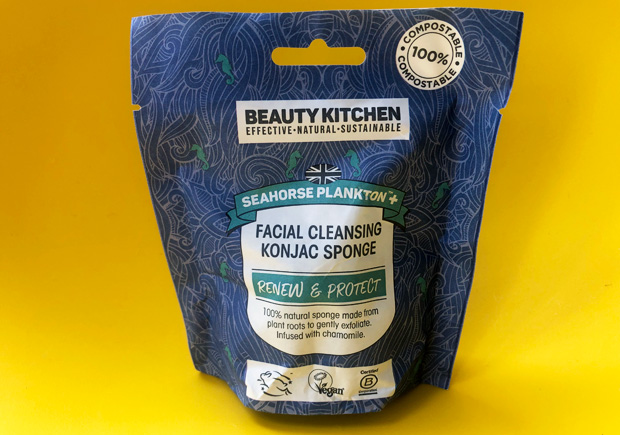 Also from Beauty Kitchen, is this sustainably sourced Facial Konjac Sponge made from plant roots, infused with blue chamomile.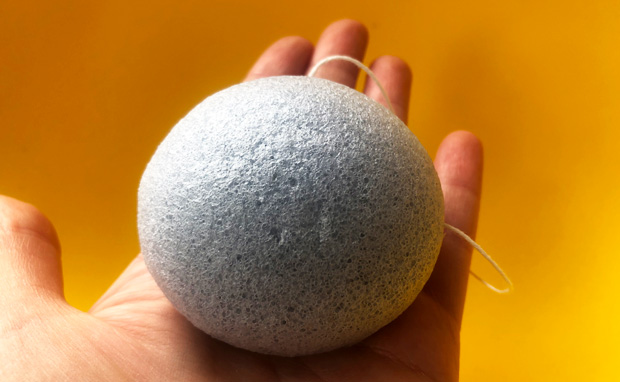 Konjac Sponges are a great tool for gently exfoliating your skin and works wonderfully with just water or with your favourite cleanser. They're also great for removing face masks like the one above.
What a wonderful selection of products, ideal for self-care at home – even if you only have a small amount of time.
Find all these items and many more from The Good Edit.
These products were kindly provided to me for this review. As always, all my reviews are 100% honest and all thoughts and opinions are my own.