The People's Poncho Review & Giveaway | For Kids & Adults
|
The People's Poncho Review & Giveaway | For Kids & Adults
The colder and rainier season is definitely here and it's important to be ready for whatever the weather brings you. The People's Poncho is a top-quality rainwear brand that specialises in multi-use ponchos for cycling, walking, festivals, travelling and more. They are available for children and adults and are very waterproof, thanks to the 3 layer TPU material made from Japanese Polyester, TPU coating 12,000 mm (highly waterproof) & a Tricot knit which ensures breathability too.
Group photo by Andrew Berekdar.
The kids' poncho is new to the brand and is pretty much a carbon copy of the adult one but it does come in two sizes to fit children of different ages. The sizes available are Small for children between 90-110cm (or age 3/4-6/7) and Medium for children between 110-135cm (or age 7/8-10/11). The kids' ponchos also fold in on themselves into the large pocket at the front instead of having a separate pouch and this means the storage bag can never be lost.
These kids' ponchos are ideal for small adventurers who will not allow a little bit of rain stop them from having fun outdoors!
The ponchos feature and adjustable peaked hood (with extra stretchy forehead panel to follow head movements and a firm hood brim) and elastic toggles at the neck back of the head to adjust to the desired fit. They have three press studs at either side that can make sleeves if wanted. There are reflective strips on the front and back, as well as piping on the edges and logo on the back to increase visibility in the dark and in heavy rain.
My two daughters have a The People's Poncho each — my eldest has a red one in Size Medium and my youngest a navy one in Size Small. I love how compact they are when not in use as this means I can easily throw them into the basket of the pushchair or my changing bag if we're going out and there's a risk of rain.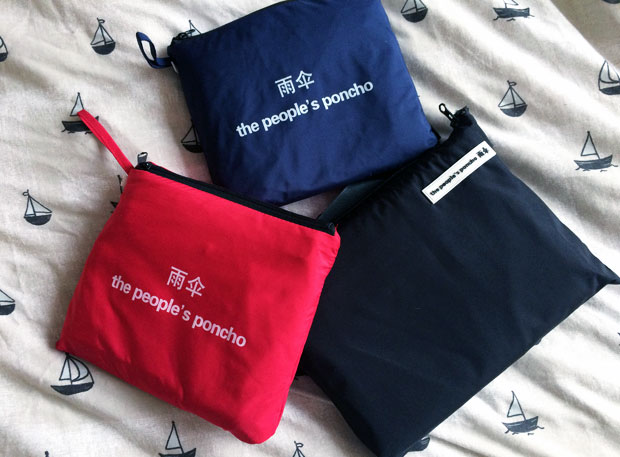 Though the material is very waterproof, the shape of any poncho is not as waterproof as a full puddle suit or rain jacket and trousers set, as it doesn't cover the legs completely and the sleeves can let water in if you don't keep your arms down. But they are a great item to have for lighter rain or any surprise rain!
I have an adult's poncho myself — I went for the Hardy Black Poncho. The adult poncho is a unisex one-size-fits-all design that's available in Red, Navy, Black and Yellow. It has the same features as the children's one except that it folds away in its own separate pouch with carry strap plus a few extra features that make it even more useful.
It's especially great for anyone who rides a bike a lot as it's got special straps on the inside that you can hook onto the handlebars to keep your legs covered and protected from the rain and also a waistband that prevents the poncho from flapping up in windy conditions — this also ensures stability on the bike. If you ride a bike to and from work, a The People's Poncho should really be an essential for you and it's so easy to take with you in case the weather suddenly changes. If you're based in the UK too, you'll know that rain can come at any time!
The adult poncho weight just 460 grams which is very lightweight to wear and also makes it easy to carry the poncho when it's in its pouch.
There's a water resistant zippered pocket on the front of the poncho where you can store valuables and keys but if the rain is very heavy, remember to double bag anything that might be damaged from water like your phone.
For me, my new poncho is a great item for me to keep on hand in case it suddenly starts to rain. If I'm doing the school run with a pushchair, I still need to wear a coat to keep my arms and wrists dry and covered when pushing a pushchair but some of my coats are not waterproof so if I want to use one of them, I can layer the poncho over the coat which is a great.
Visit The People's Poncho on Instagram to see how people are using their ponchos!
Giveaway: Win Two The People's Ponchos worth £100! One for kids and one for adults!
For a chance to win two ponchos — one adult poncho in the colour of your choice and one kids' poncho in the colour and size of your choice, enter my giveaway through the Rafflecopter below. The giveaway is open to UK residents over the age of 18 years. Terms & Conditions apply. The giveaway will end on the 10th of November 2018.
Samples provided for this review. As always, all my reviews are 100% honest and all thoughts and opinions are my own.