The Personal Barber | A Male Grooming Subscription Service
|
The Personal Barber | A Male Grooming Subscription Service
The Personal Barber is a male grooming subscription service that focusses on the traditional razor and brush style of shaving with the goal to get men loving their shaving routine.
I've had a look at a The Personal Barber and I'm so impressed that I want to share all the details with you — in time for Christmas as I believe a subscription would make the perfect Christmas gift for men who like to stay groomed and look after their facial hair and skin.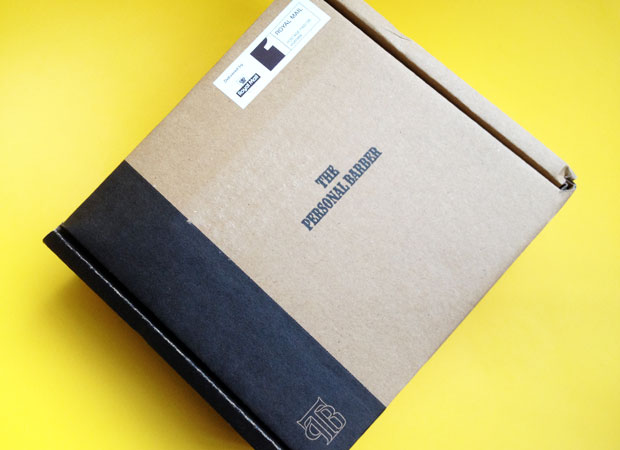 So How Does It Work?
When you sign up, you choose whether you just want to have one box (£24.95) or a subscription for 6 months or 12 months. If you subscribe, you get a premium selection of classic wet shaving goods delivered to your door every 6 weeks. You can cancel you subscription at any time from your account page online — no need to phone or email! — and you can skip your box if you know you're going to be away or need a break for any reason.
"Every box features a completely different selection of curated shaving goods to keep your morning routine interesting. You can expect to receive 10 new blades as well as shaving soap/cream and pre- or post-shave goods such as oils, balms, scrubs etc."
Your very first box contains all these goodies as well as The Personal Barber's signature safety razor and shaving brush included for free. These look and feel amazing, by the way!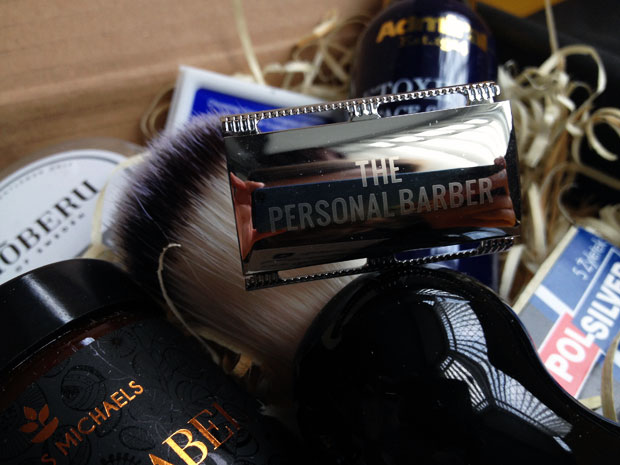 You don't have to worry if you're new to using a classic razor and brush as the box also includes step by step instructions to have you mastering your shave in no time at all.
I think it's great that more men are going back to this kind of shaving. A classic brush and razor is what my dad used to use — oh, and some moustache scissors! It's a stylish way to shave and it's less wasteful too as you only change the actual steel blade in your razor, not the whole head of it.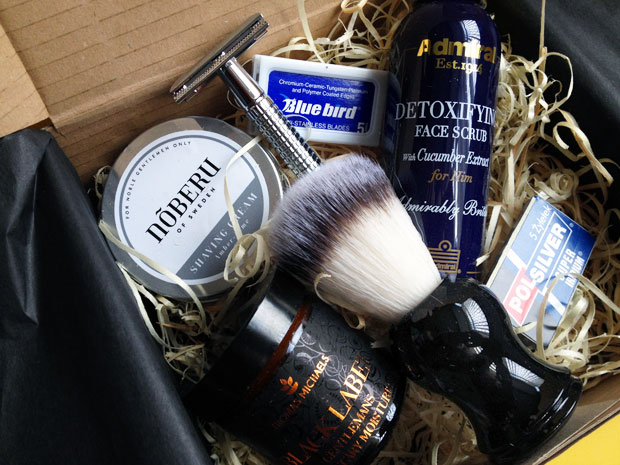 A Closer Look Inside The Box
Each box contains a selection of hand-picked traditional wet shave products. The content varies but you can expect products like the ones below:
Classic Safety Razor (first box). A double-edged, perfectly balanced safety razor that's perfect for even beginner wet shavers.
"It's got a relatively thin head for maximum control when keeping the correct angle and for maintaining light pressure. Made up of 3 parts, it is easy to take apart and replace blades. Locking system ensures blades are always placed in straight, removing the potential for user error, resulting in a consistently even cut."
Shaving Brush (first box). The Personal Barber synthetic hair shaving brush is a high-quality nylon brush with a softness somewhere between boar hair and badger hair. Easy to use to for whipping up a thick and creamy lather but also soft and comfortable on your face. It's easy to clean and doesn't need breaking in like animal hair brushes do.
Replacement Blades. You get a generous supply of double edge razor blades in each box so you never need to worry about dull blades again! To keep things fun, you get sent different brands every time.
"Because different brands of blades have varying levels of sharpness and employ different materials in their manufacturing processes which means your shaving experience will be different depending on the blade you use. What's more, it is important to use the correct type of blade for your skin type and hair thickness so you have the most comfortable shave possible. The only way you can know which blade to use is to try them all, which is what we set out to do."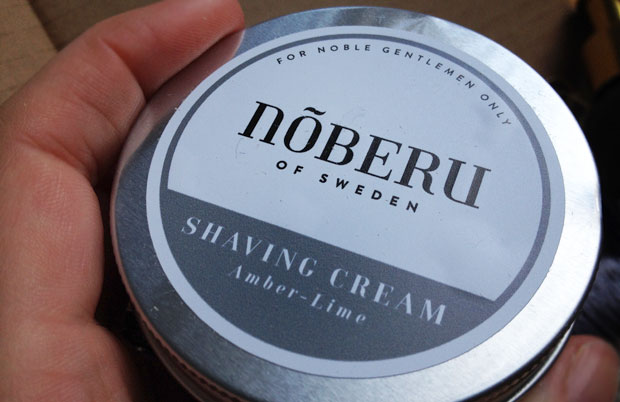 Shaving Soap. Each delivery includes new shaving soaps and creams from around the world and you never get the same ones. The Personal Barber makes it easy for you to find and try the best shaving products available and makes it easy to avoid the canned kind of foaming gel that most men tend to use. My box contained a Shaving Balm in the scent Amber-Lime from the brand Nõberu of Sweden

—

my home country!
"The Personal Barber introduces you to everything that the shaving soap world has to offer from subtle unscented bars, for those wanting to focus on their aftershave, to mild manly woody aromas, to wild and unexpected fragrances. And then there are the benefits of using a soap or cream with a brush on your skin as it exfoliates and keeps it looking young."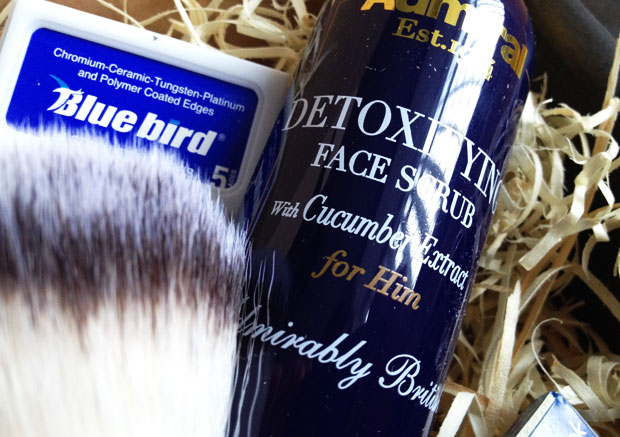 "We want you to be excited to try new things but never at the expense of novelty, first and foremost is a great shave which is why we go to great lengths to provide products that are great for your skin. All boxes include mystery gifts ranging from pre-shave oils, aftershave balms, colognes to alum products."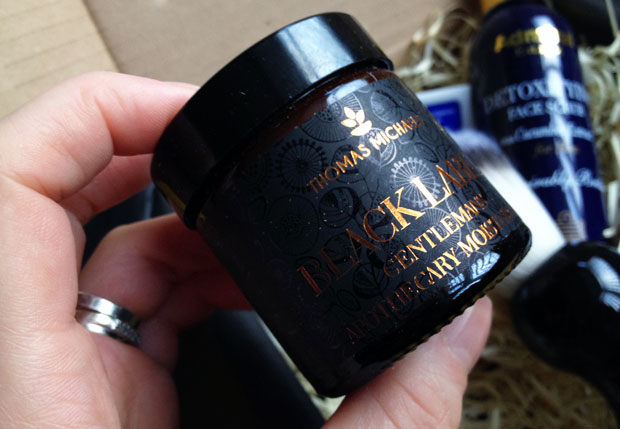 It's such a lovely subscribtion box with amazing products! It's really good valued considering the quality of the prodcuts and the fact that they're full-sized, too. It would make an amazing gift for a loved one this Christmas. It's especially perfect for men who enjoy trying new and exciting products instead of just using the same stuff all the time.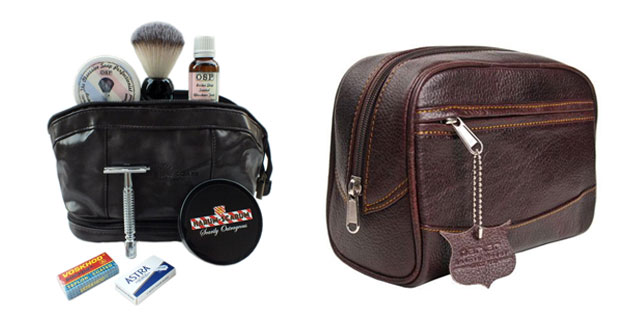 The Personal Barber also sells Extras which include the two products in the picture above: Complete Shaving Gift Set, currently £34.99 instead of £44.99, and Parker Buffalo Leather Wash Bag, £28.50. They would also make great gifts! The Parker Buffalo Leather Wash Bag is actually on my own wish list — it looks amazing!

Head over to The Personal Barber for more information and to make an order. Sign up to the newsletter to enjoy a 15% discount too.
I received a sample of the subscription box for this review. As always, all my reviews are 100% honest and all thoughts and opinions are my own.