Things to Remember When Buying a Bed for a Baby or Toddler
|
Things to Remember When Buying a Bed for a Baby or Toddler
There are lots of choices out there when you're looking for a bed for your baby or toddler. It can be quite overwhelming! In this blog post, I've put together a few things to remember when shopping for a bed for your baby or toddler.
Choose a Cot Straight Away
Babies can sleep in a Moses basket or bedside crib for the first few months of their lives but, if you have the space, it makes sense to buy a full-sized cot straight away as babies can sleep in them from birth too and, unlike a small crib or Moses basket, a cot can last you many years.
To make a large cot cosy for a newborn baby, you can use a "baby nest", like the Sleepyhead Deluxe Pod (read my review here), to make your baby feel more secure and snug. It's a great way to make a bed for a baby feel more like the arms of a parent!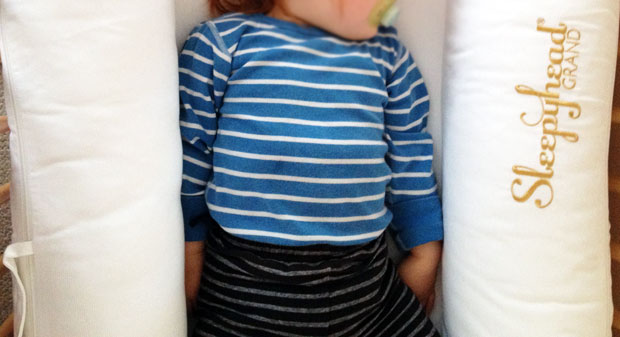 We went for a simple wooden cot from IKEA that we've used for both of our girls now and it's been really good. Whatever you go for, try to find a cot that has different mattress height positions so that you can keep your baby higher up when he or she is little (this will save your back!) and then move the mattress down when your baby starts to sit up and move around more.
Go for a cot with a removable side as this means you can turn your cot into a toddler bed when your baby is older.
Cots can be bought second hand, but it's recommended to buy a new cot mattress for each baby as this reduces the risk of SIDS (Sudden Infant Cot Death).
Invest in a breathable but waterproof mattress protector to keep your child's mattress in great condition to make it last longer.
If you've gone for a full-sized cot, then you don't need to buy another bed when your baby becomes a toddler. You simply take the side off and you have a bed ready. If you've used a mattress protector, the mattress should still be in good condition.
Choose a Bed that Will Last
Once your toddler grows out of this bed, I would recommend going straight to a single bed instead of a children's bed. There are lots of fun kids' beds in all kinds of designs that children love but a pink princess bed, a football bed or a character bed is just not going to last as kids change their interests all the time.
Choose a full-sized single bed that your child can have throughout their childhood instead. Go for a classic and timeless design and colour and go for a solid wood option if you can as this will last and age much better than any man-made materials.
Again, invest in a good mattress protector and look after your mattress well to make sure it lasts a long time and stays nice and fresh.
Additionally you can check Civilized Health for a more detailed guide on waterproof mattress pads and beds.
Contains a sponsored link.