Vegamour Review – Vegan Hair Wellness Products
|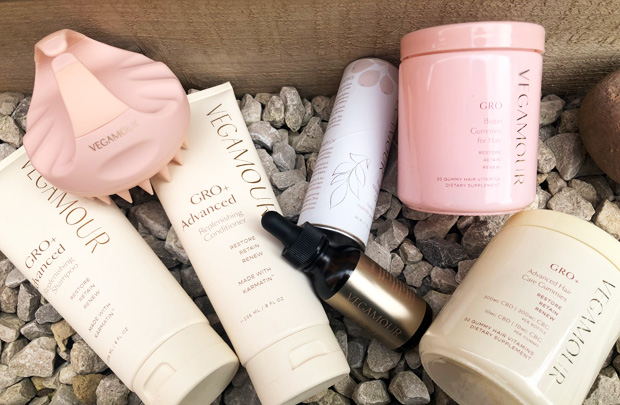 Vegamour Review – Vegan Hair Wellness Products
Vegamour makes a range of 100% vegan wellness products for hair, brows and lashes and their plant-based formulas have been developed with scientifically proven ingredients for visible results.
The Vegamour product range is cruelty free and safe. The products are free from sulfates, parabens, silicones, gluten and artificial fragrances and wonderful options for consumers who want natural products that work and do not have any unwanted side effects.
There are lots of products to choose from to suit your needs. I have tried the following:
GRO+ Advanced Replenishing Shampoo & Conditioner Kit
GRO+ Advanced Gummies
GRO Biotin Gummies for Hair
GRO Revitalizing Scalp Massager
Pure Marula Oil
I have quite thick hair and don't suffer from hair loss but after having my third baby a couple of years ago, my hair is still not quite back to normal and I still have some post-partum hair regrowth happening at the front and top of my head which is a common side effect after pregnancy. Hopefully my new hair wellness regimen with Vegamour will help. Let's have a closer look at the products that I'm currently using.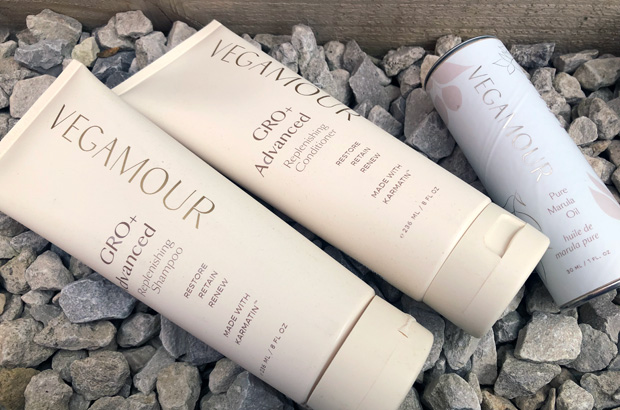 GRO+ Advanced Replenishing Shampoo & Conditioner Kit
This shampoo and conditioner set is a powerful duo with botanicals, including full-spectrum hemp. The shampoo has been formulated to lift away impurities, calm irritation and give the hair follicles what they need to function properly for healthy hair growth. The conditioner contains a unique vegan protein called b-SILK which wraps every strand in a protective sheath until the next wash. The protein bonds with the strand to protect it from breakage and makes the hair stronger.
Both products are a pleasure to use and my hair feels soft and healthy afterwards – there's no residue from the conditioner and it's easy to detangle.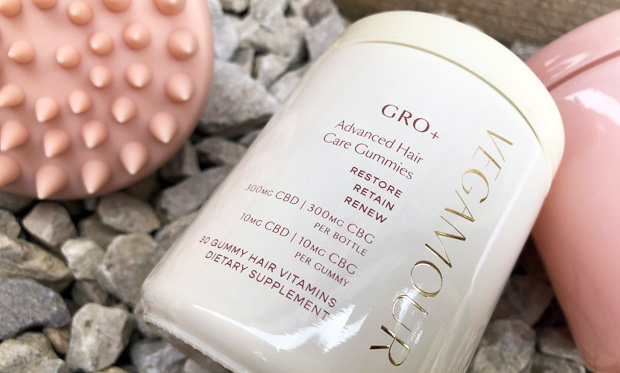 The GRO+ Advanced Gummies are hair vitamins that harness the therapeutic power of broad-spectrum hemp for thicker and fuller hair – the first vitamin of this kind.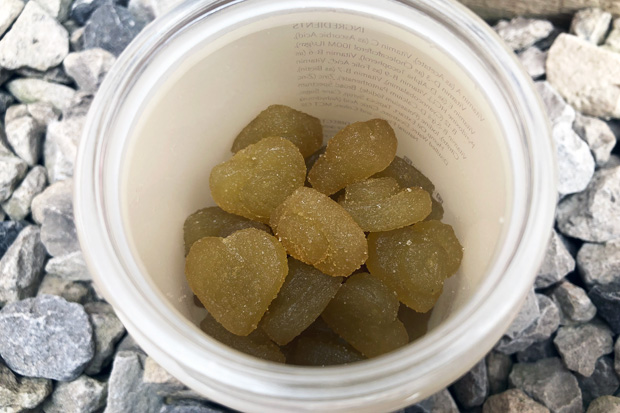 The vegan CBD vitamins contain 10mg CBD and 10mg CBG per gummy and biotin, folic acid, zinc, and other beneficial vitamins and minerals that are great for your hair's wellness. The gummies do not contain any artificial flavours and are non-psychoactive.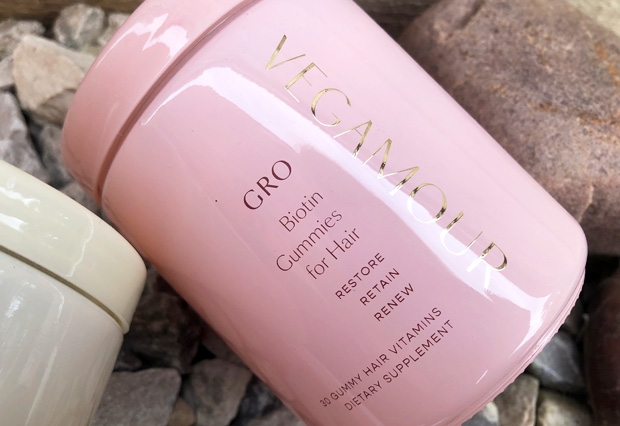 GRO Biotin Gummies for Hair
These are also a vitamin hair supplement but without hemp. They contain a combination of vitamins and minerals to help nourish the scalp and promote healthy looking hair.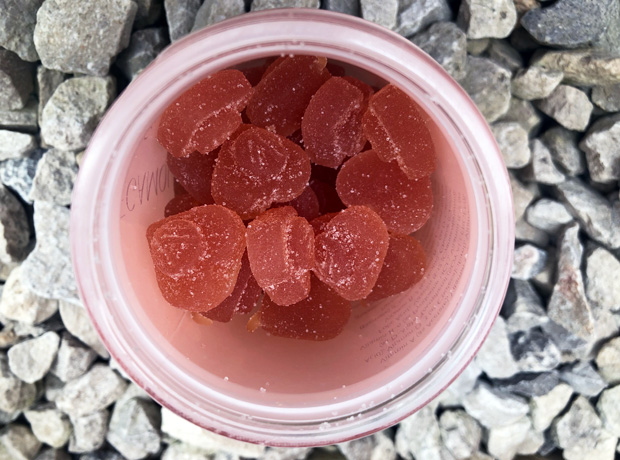 They are packed with goodness from biotin, folic acid, zinc and vitamins B5, B6, B12,  A, C and E – a powerful combination to support the production of keratin and collagen, neutralize free radicals and promote scalp and hair health. The GRO Biotin Gummies for Hair are very tasty too with their natural strawberry flavour.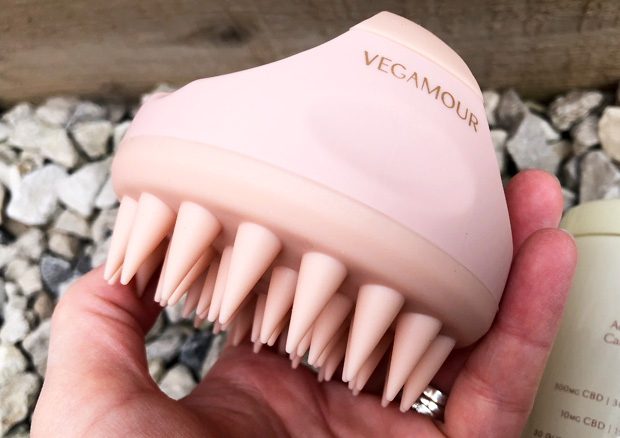 GRO Revitalizing Scalp Massager
This is a handy product! The GRO Scalp Revitalizing Massager is a tool that stimulates the scalp with its flexible bristles. The scalp massage boosts scalp health and feels great! The massager is ergonomic to hold and easy to use. It can be used on a dry scalp or together with hair growth serums, foams or shampoo on wet hair. I personally prefer to use it on dry hair.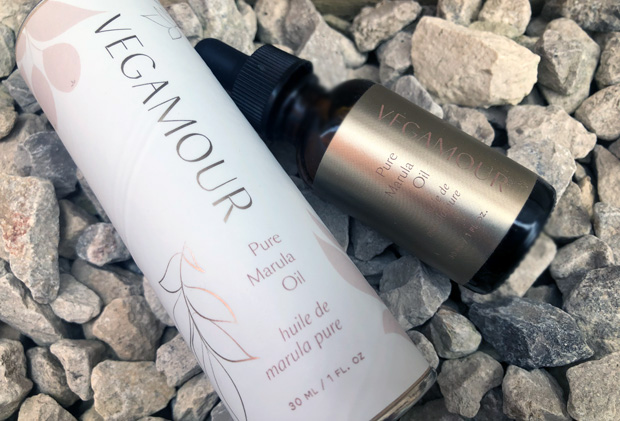 I hadn't heard of Marula oil until I came across this product but it's a wonderful multi-tasker that can help with lots of things. The oil is extracted from the kernels of the marula tree fruit and is a luxurious oil packed with antioxidants, omega fatty acids and oleic acid that deliver lots of benefits for hair, skin, and nails.
This Pure Marula Oil from Vegamour is raw and cold-pressed – as pure and concentrated as it can be. A sister company of Vegamour provide fair trade economic opportunities to over 5,000 women in Namibia who harvest the fruit which is great!
You can use the oil in your hair – just a few drops to tame flyaway or frizz or to add a glossy shine. You can also use it on your skin to achieve a healthy glow and reduce the appearance of fine lines and wrinkles. It sinks into the skin quickly. It's great for anywhere on the body that needs a hydrating treat. I love to use it on my cuticles now that the weather is getting colder and my hands need a bit of extra TLC.
These products were kindly provided to me for this review. As always, all my reviews are 100% honest and all thoughts and opinions are my own.