Weleda's Calendula Nappy Change Cream Review & 30 Year Anniversary
|
Weleda's Calendula Nappy Change Cream Review & 30 Year Anniversary
This year, it is the 30 year anniversary of Weleda's trusted Calendula Nappy Change Cream. It is Weleda's bestselling skincare product and it's very popular among parents and childcare professionals.
The cream is made from extracts of golden calendula — known for its skin healing properties — combined with nourishing plant oils — sweet almond and sesame, protective beeswax, the purest lanolin from Australia and zinc oxide which is comforting and protects your baby's sensitive and delicate skin.
Like the whole Weleda baby range, this nappy change cream is free from mineral oils and all artificial additives, preservatives and parabens. It is a nourishing barrier cream that can be used daily to help protect and prevent rashes and also soothe any existing irritation.
I received some facts about this lovely nappy cream. Did you know that:
a tube of Calendula Nappy Change Cream sells every 10 seconds
243 tonnes of nappy cream are made each year
that works out at over 225 million applications on happy little bottoms!
Weleda nappy cream has won 28 awards in the UK alone in the last 10 years
Weleda uses over 7 tonnes of fresh calendula flowers in the baby care range
Weleda has been making baby skincare products since 1959
Weleda has the widest range of natural baby care products on the market
every single Weleda baby product is NATRUE-certified genuinely all-natural
The cream was voted Best of the Best Nappy Cream in the highly respected TIPS midwife-tested awards. Sharon Trotter, midwife, author and founder of TIPS says:
 "This nappy cream is easy to use and smells gorgeous. The natural ingredients are of the highest quality. Testers were unanimous in their praise for this product. It has a silky smooth consistency that absorbs easily into the skin. This creates a perfect barrier to protect your baby's bottom. The effectiveness of this cream to treat nappy rashes proved exceptional."
I have to agree with Sharon and the testers. The cream is lovely and really works. It's a creamy, slightly oily, consistency that is easy to apply to your baby's bottom. It's rich and pampering but not sticky and thick like many other brands of nappy creams. The scent is mild and natural and the product is a pleasure to use. I use it on my toddler to treat irritation as soon as I see it and to prevent further rashes. If the rash is mild, it goes away overnight after using this cream. A more inflamed rash took a couple of applications.
I really love the texture of the cream which means you can also use it for other areas of the body without it being messy. Just like all Weleda products, this one too is packaged beautifully in a metal tube that makes sure no air gets into the tube and also makes it really easy to get every last bit of product out of the tube.
Another post all about nappy rash is coming soon, filled with information and tips from Sharon Trotter.
Calendula Nappy Change Cream is available from Waitrose, Boots, Ocado, Whole Foods Market, and leading health stores and pharmacies nationwide, Amazon.co.uk and, of course, Weleda.co.uk. It costs around £7-£8 for a large 50ml tube.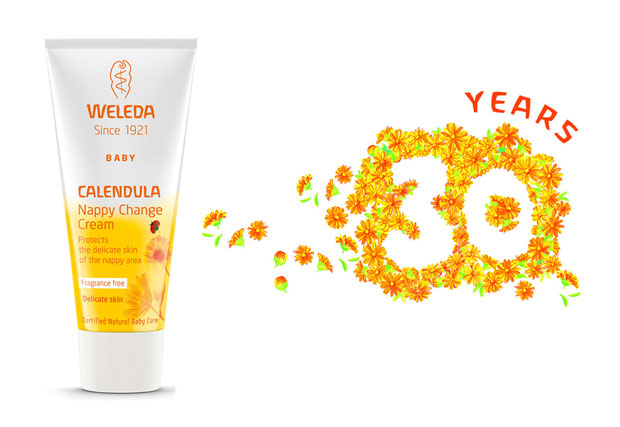 We were sent one of these tubes for this review. We've been Weleda fans for many years. As always, all my reviews are 100% honest and all thoughts and opinions are my own.