Yale Sync Smart Home Alarm Review
|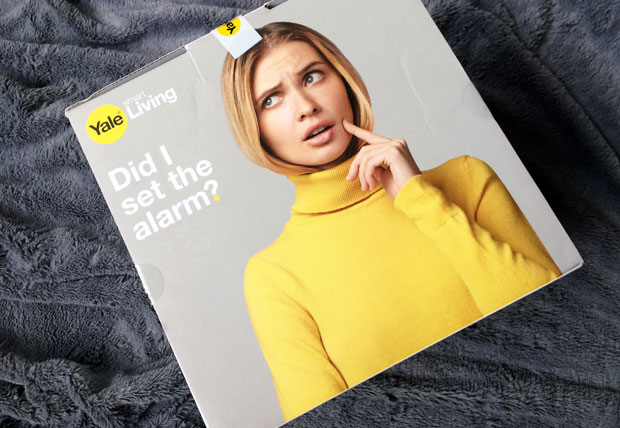 Yale Sync Smart Home Alarm Review
A good home alarm system should be part of every house. Here in the UK, where so many people live in houses, it's an essential to help keep your home and your family safe.
We had an alarm installed in our house but with it was definitely a bit outdated. It was already installed when we moved in over a decade ago and technology has moved forward a lot since then!
Yale UK, is a leading security expert that I'm sure you know of and they've recently launched a new smart burglar alarm with lots of options for customisation — the Yale Sync Smart Home Alarm.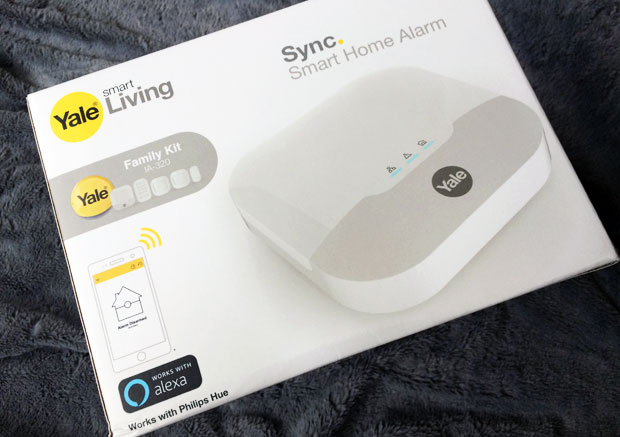 This new alarm from Yale UK combines all the features of a regular Yale security alarm with added smart technology to make life easier and more convenient too. One of the big bonuses of having a smart alarm is that you can check in on your house from anywhere in the world and receive alerts and notifications if your alarm is triggered.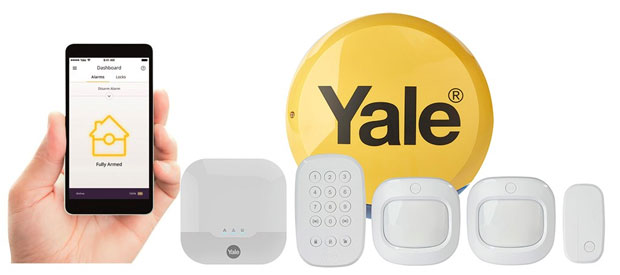 You also never need to worry about forgetting to put your alarm on as you can check in the app to make sure it's on and turn it on from far away if you had forgotten!
Other modern and smart special features include that you can use the alarm with Philips Hue and Amazon Alexa. We don't have either of these but I'm sure people who do will love to combine the technologies for even more convenience.
The new Yale Sync Smart Home Alarm also triggers red flashing lights when the alarm is set off which adds another element of security to the home as it helps alert neighbours and passers-by of the disturbance meaning it's doubling the deterrent for burglars.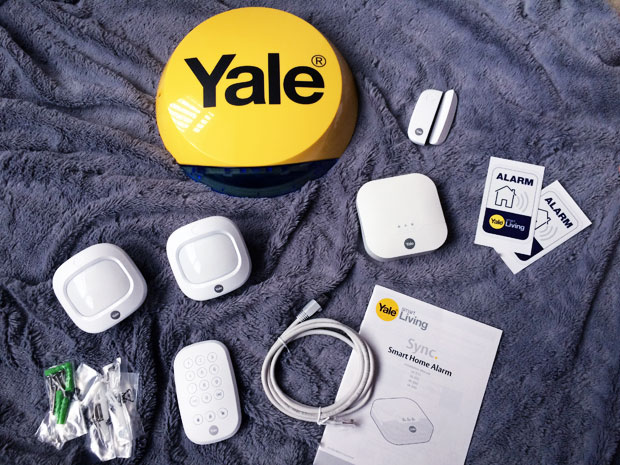 What's included in the Yale Sync Smart Home Alarm?
In the box, you get everything you need to get started and to install your alarm. Included are the following items:
1x Smart Hub
1x Siren
2x Motion Detectors
1x Door/ Window Contact
1x Keypad
Instruction Manual
Cable and plug for the Smart Hub
Window Stickers
Plugs, screws and sticky pads for attaching parts to your walls and doors/windows.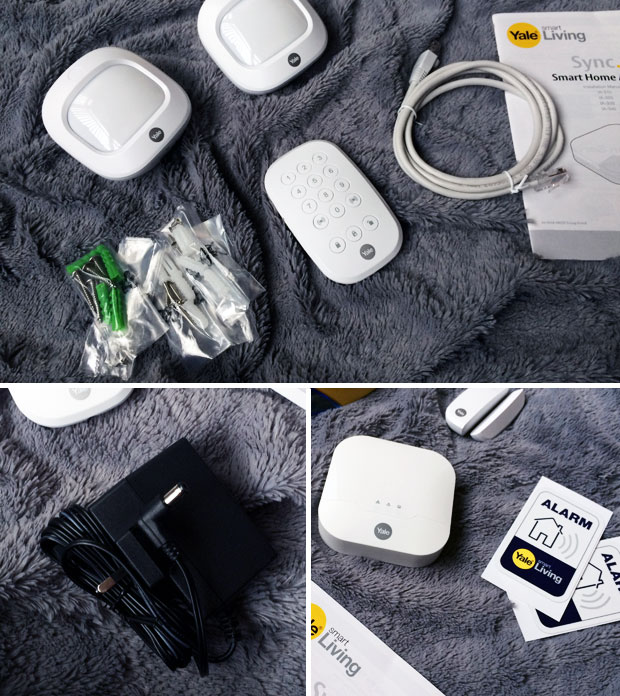 I think that it's brilliant that you get all the bits to actually put the items on the wall too!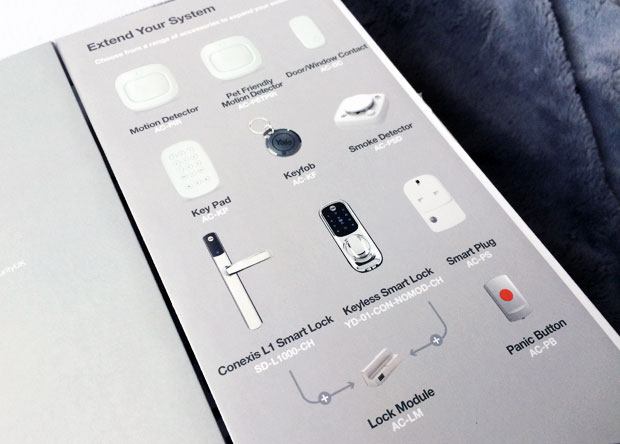 Which extras can you add?
If you have a larger house, you might want to add more motion detectors and door/window contacts. There are lots of other items that you can add to extend your security system, like pet-friendly motion detectors, key pads, keyfobs, smoke detectors, Connexcis L1 Smart Locks, Keyless Smart Locks, Smart Plugs, Lock Modules and Panic Buttons. With the add-ons you can customise the alarm system to suit your personal needs and your home. I also believe that you can connect your system to security cameras.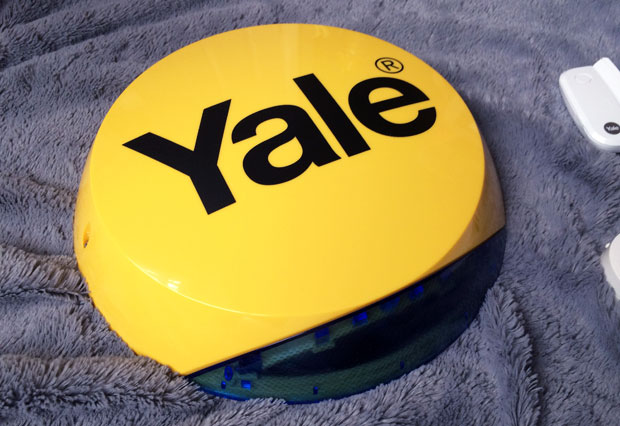 Is it difficult to install?
No, not really. The first thing you need to do, is to go to the App store and download the Yale Home app. We found the Installation Wizard withing the app very helpful in the setup process as it takes you through each step quite well. I also recommend watching the video below.
The fact that everything except for the Smart Hub is wireless makes the installation process easier too as you don't need to work around any cables when you decide the locations for your devices. All the other devices are battery operated and the Smart Hub has a built-in back-up battery too in case it loses power.
The siren is the most difficult bit to install but only because you need to climb on a ladder outside your house! The actual process is not difficult at all.
The Yale Home app lets you use your smartphone to arm, disarm, configure and control your Smart Home Alarm system from wherever you are. You can set the alarm to Part Arm too which is great for when you're going to bed for example.
The app is quite simple but it's not very intuitive so you'll need to read the instruction manual first to understand what the different icons and settings actually mean.
The items that are included in this alarm are already showing in the app and are already linked to the Smart Hub which makes it easier as you just need to remove the battery tabs to activate the batteries and then test them to ensure they work.
The app shows your devices' signal strengths (they should work in a range up to 200m which is impressive!) and their battery levels too which is handy as it makes it easy to keep track of when you might need to change the batteries.
I would suggest a redesign of the app — to make it a bit more user-friendly. Once you've played around with the settings a few times, you'll learn where everything is but it could be better laid out. There's house icon that looks like a "Home button" but it's just an image, for example, which is a bit confusing. It's also a bit slow to load and log in sometimes which can be annoying if you're in a rush!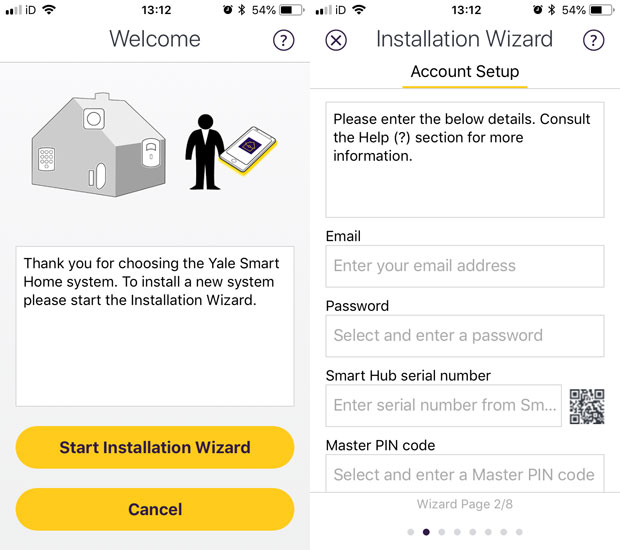 There are pros and cons to Smart alarms and regular, old fashioned alarms. One of our concerns was that anything connected to the Internet can be hacked but I was happy to hear that the Yale Sync Home Alarm has advanced encrypted technology to negate issues around hacking.
Still, always make sure you choose a secure password and that you keep your smartphone secure too as that controls the alarm.
The app actually sends you the password back in plain text to confirm your details which is a bit silly. This information should always be encrypted and there's no need to show the password that has just been entered.
I would suggest downloading the app to a few devices in the household as a safety net in case one of the phones fails or runs out of battery inconveniently when you're.
If you have trouble with your WiFi, that can also cause an issue but I think that you can use the keypad in those situations.
There are some things that we really love about this alarm system — how it's straightforward to install in your house and that you can customise it to your needs — and some things that could be improved — mainly the app's layout, speed and the password security issue.
For the price, it's a decent smart home alarm from the leading expert on the scene and hopefully the app can be updated a bit soon.
Starting at £299, the new Sync Family Alarm kit is available exclusively from Amazon.
For more information on Yale's Sync Alarm or the rest of the Smart Living products, please visit www.yale.co.uk/smartliving. For more information on Philip Hue please visit: www.meethue.com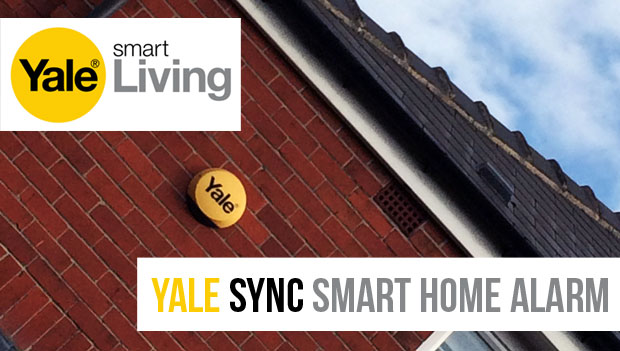 This product was provided to me for this review and I was compensated for my time. As always, all my reviews are 100% honest and all thoughts and opinions are my own.