4 Benefits of a Modern Electric Fireplace
|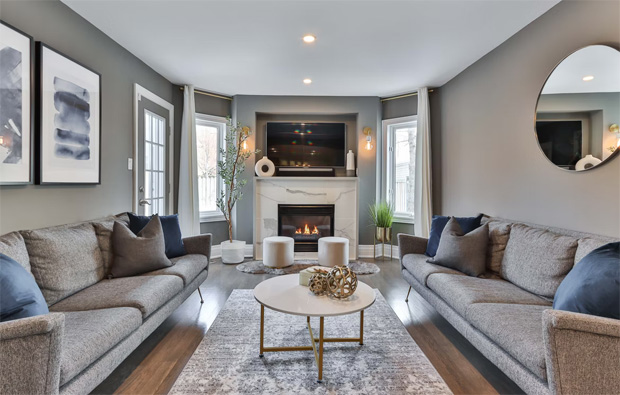 4 Benefits of a Modern Electric Fireplace
A modern electric fireplace is an electric heater that imitates a fireplace that burns wood, coal, or natural gas. They are often placed in conventional fireplaces which are no longer used and can either be used as a heater or set to run on a family-only setting.
Fireplaces have been popular in homes for hundreds of years, offering warmth, ambiance, and esthetics. In this blog post, we will highlight 4 of the main benefits of modern electric fireplaces. This includes easy installation, reduced energy costs, low maintenance, and a range of design options.
1. Easy to Install
Installing an electric fireplace is quick and easy. All that is required for installation is wall studs or wood framing. The specifics will depend on whether the electric fireplace is in a wall-mounted style or a built-in model.
There is no need for gas lines, venting, or exterior vent caps. Regardless of the type of property and the amount of available space, installing an electric fireplace is straightforward and cost-effective.
2. Range of Design Options
With modern electric fireplaces, there are design options to fit every taste. From wall-mount electric fireplaces to fireplace inserts and electric fireplace mantels, homeowners can choose an option that fits their personal style tastes.
They are also available at different price points with higher-end models having a range of interesting features.
3. Reduced Energy Costs
Modern electric fireplaces are one of the most cost-efficient ways to heat a home. They also heat rooms faster than traditional wood-burning fireplaces.
With a traditional chimney fireplace, heat is lost through the chimney given that hot air rises. An electric fireplace converts electricity directly into heat and all of the heat stays in the home.
4. Low Maintenance
With a modern electric fireplace, all that is required to turn it on is the flick of a switch. With a coal or wood-burning fireplace, there is ongoing maintenance required as well as preparation/cleaning. If you are looking for a convenient heating option in your home, an electric fireplace is highly recommended.
For a traditional fireplace, it would be necessary to keep firewood/coals close by, which can be messy and inconvenient. There is no need to clean out the chimney and homeowners won't have to deal with soot.
If you are considering purchasing a modern electric fireplace for your home, we recommend that you click here to learn more about electric fires.
Benefits of a Modern Electric Fireplace
There is something special about sitting around a cozy fireplace, for the warmth it provides as well as the ambiance. Today, more and more homeowners are choosing to install an electric fireplace over a traditional fireplace. As this blog post has highlighted, there is a wide range of benefits to this.
Like this blog post on the benefits of a modern electric fireplace? Be sure to check out our other informative articles on a wide range of interesting topics.
Author: Allen Brown.