Yummy Family Recipe: Vegan Stuffed Pizza Mushrooms
|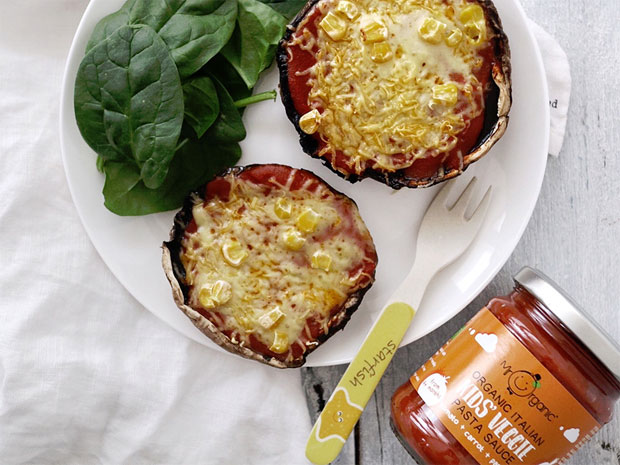 Yummy Family Recipe: Vegan Stuffed Pizza Mushrooms
Get the best of both worlds of healthy vegetables and pizza with these healthy stuffed pizza mushrooms! They're a great way of re-inventing pizza and for sneaking in more veggies with Mr Organic's kids' pasta sauce.
Ingredients:
2 large Portobello Mushrooms
1/2 cup grated Vegan Mozzarella Cheese
Handful of Spinach
4 Tbsp of Sweet Corn
Method:
Place 2 tablespoons of the kids' pasta sauce on the inner side of each Portobello mushroom.
Then place 1 tablespoon of sweet corn on the mushrooms.
With the 1/2 cup of grated vegan mozzarella, evenly distribute over each mushroom.
Then place the mushroom on a baking tray and place in the oven on at 130°C for 10mins and then at 180°C for 5 mins to ensure the cheese is nice and golden.
Serve up on plates with some spinach to pack in the greens!
About Mr Organic Kids' Veggie Pasta sauces:
"Mr Organic has just released two delicious new Kids' Veggie Pasta Sauces (RRP: £1.99, Ocado), to help parents create quick, nutritious and tasty meals for little ones – and they count as one of your five a day! 
The latest additions to Mr Organic's all-vegan product line, kids can choose between two tasty flavours: Tomato, Carrot & Parsnip or Carrot, Sweet Potato & Courgette. Simply stir into hot pasta for a delicious and easy veggie dish.
These scrummy new sauces have no added salt or sugar and are also packed with veggie goodness and suitable from nine months old and over.
Plus, just like all of Mr Organic products, the Kids' Veggie Pasta Sauces are also free from palm oil, additives, pesticides, harmful hormones and artificial flavours, colours and preservatives."
Thank you to Mr Organic for providing this recipe for me to share.