BabyBjörn Baby Carrier One Review
|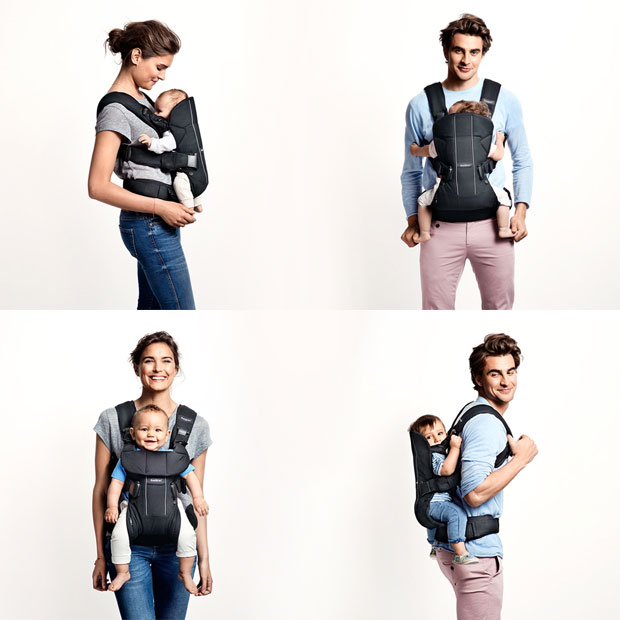 BabyBjörn Baby Carrier One Review
We have a new baby carrier and it's one that will last us a long time — the BabyBjörn Baby Carrier One. The baby product experts at BabyBjörn have designed this clever baby carrier that can be used in four different ways from newborn (without the need for an insert) up to three years. We're using it with our 2-year-old daughter now and will be using it with our second baby who's due in May too. Since the carrier is so flexible, we'll easily be able to use it with either child depending on what we're doing.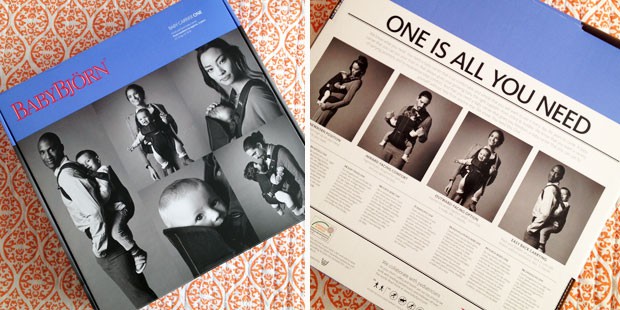 The BabyBjörn Baby Carrier One is an ergonomic baby carrier for both the child and the parent. The seat is 32 cm wide for the ideal leg position when inward facing and the carrier has been acknowledged as a hip-healthy baby carrier by International Hip Dysplasia Institute. The position encourages the good hip joint development that is so important during the first months of a baby's life.
The extra padded shoulder straps have luxuriously thick padding to make carrying as comfortable as possible and the sturdy waist belt offers great stability, pressure relief and ensures good carrying ergonomics. The belt allows the weight of your child to be carried by your hips to avoid back and shoulder discomfort.
The BabyBjörn Baby Carrier One offers four different, ergonomic carrying positions with your child sitting in either the normal or wide leg position.
The four positions include:
Inward-facing for newborns

—

A special inward-facing position for newborns allow you to carry your baby higher up on your chest, close to your heart. This is the optimal height position for newborns and provides you with eye contact and closeness and also allows you to easily monitor your baby's breathing. There's no need for an infant insert

—

all the support your baby needs in the early days is built-in.
Inward-facing, lower height position for older babies

—

This position can be used from about four months. You can adjust the width of the leg openings in the inward-facing position, for added comfort. You can fold down the head support when your baby is ready for it to allow more movement and visibility.
Outward-facing option

—

This position can be used from five months onwards. You fold the head support down and carry your child facing outwards. At this age, your child's neck, hips and spine are developed enough to be carried in this position and babies love being able to look around and discover the world like this, while still being close to mum or dad's chest. You can easily swap between the inward and outward-facing position for sleeping and exploring, for example.
Back carrying position

—

This option can be used from 12 months onwards. You move your child to your back from the inward-facing position by swivelling the whole baby carrier from the front to your back. The shoulder straps remain on your body like a closed loop and this ensures your child is secure during the process. It's simple, safe and comfortable and this clever movement means you don't need any extra hands to help you move your child to your back.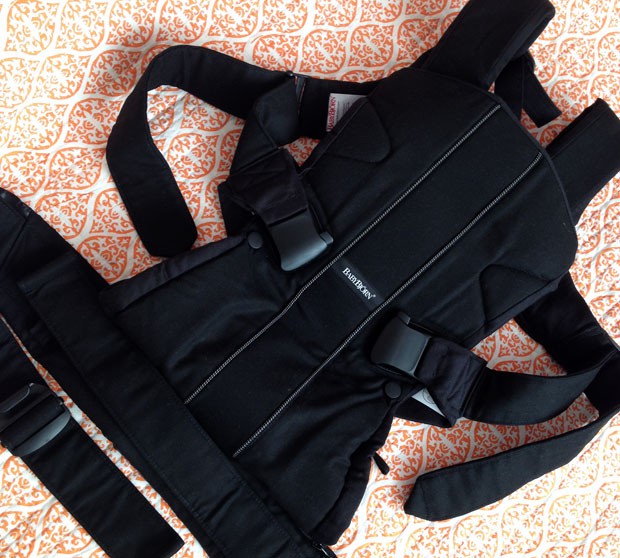 This clever, award-winning baby carrier (Best Baby Carrier in the Junior Awards and Little London Awards) has been developed in close collaboration with paediatricians, midwives and child psychologists and their expertise and invaluable input is a natural part of BabyBjörn product development.
The ergonomic Baby Carrier One is anatomically designed to adapt to the changing needs of your growing baby. The upright position is ideal as it keeps your baby's airways free and allows you to monitor breathing. Your baby's legs and arms can move freely, allowing for muscle, motor skill and balance development.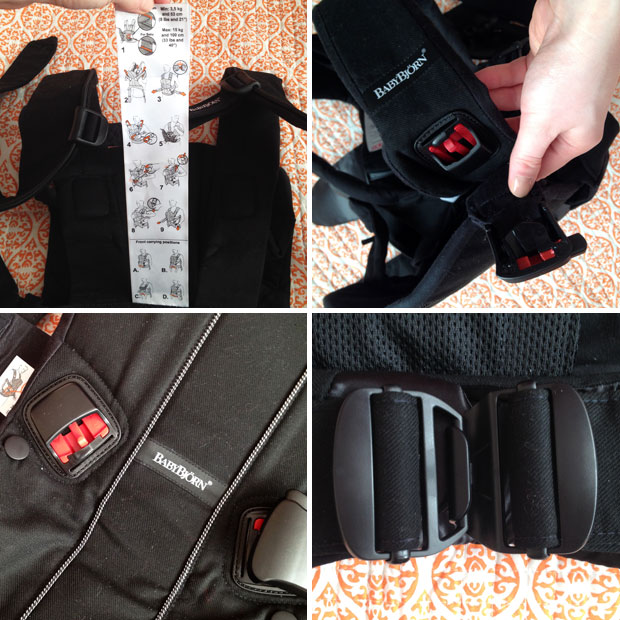 The minimum weight and height for using the BabyBjörn Baby Carrier One is 3.5 kg/53 cm and the maximum weight and height limit is 15 kg/100 cm. All the fabrics used are gentle against your child's skin and even safe to chew and suck on. They have been tested and approved to be free from health-hazardous substances and allergens. The black fabric is a bit prone to fluff sticking to it but a lint roller quickly fixes this.
You can wash the baby carrier in your washing at 40°C. Use a gentle, bleach free detergent, wash it separately and do not tumble dry. Just hang it up to dry.
In the photos above you can see the different buckles and the handy instructions for using the carrier that are built into the inside of the carrier. This is perfect for when grandparents or childminders use the carrier (or when baby brain kicks in!) and so handy to always have with you.
BabyBjörn is a brand that's been around for a long time. Being Swedish myself, I have grown up with BabyBjörn products around me and have used many myself as a baby and child. It's an iconic brand that I really trust. The products are innovative, stylish and designed with parents and babies/children in mind. I'm very happy to use their products with my own children now and happy to see the brand doing really well all over the world.

BabyBjörn started developing baby carriers over 40 years ago so they have more experience in the field than most other brands. The main goal for the new Baby Carrier One was to meet the demand of parents who wish to carry their children for a longer time. When a child gets older, his or her weight naturally increases but the carrier still needs to be comfortable for the parent. The back position is ideal for older children as it's very ergonomic for the parent and allows the child to see well.
Challenges that came from the development of this carrier were figuring out a safe way to move the child to the back unassisted, ensuring the carrier was just suitable for newborns as well as older children and making sure the carrier can fit parents with different body types.
After testing several hundred prototypes with hundreds of test families, the result is the versatile and clever Baby Carrier One. We're so happy with this baby carrier — it's really comfortable to wear and my toddler really likes it too. The padded, fitted shoulder straps are brilliant and the waistband is strong and generously padded too. It's also lined with a silky fabric for extra comfort. The carrier is easy to put on and adjust to your body and putting your baby in is very simple and quick too.

The baby carrier can be neatly rolled up to fit into your baby bag or under the pram when not in use. This saves so much space!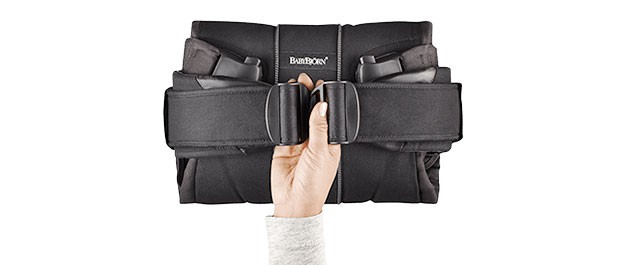 I'm 26 weeks pregnant now and can still comfortably carry my daughter on the front. I carry her inward-facing as this fits my bump better and I mainly carry her in the carrier when she needs to sleep on the go. It's perfect for travelling and helped us out so much on our last trip. When my toddler gets bigger or when my bump gets too big, I'll move her onto my back instead.
I love how easy it to use — you only need to pull the waist strap and the shoulder straps to fit you, put your baby in and then you're ready to go. The buckles at the top and in the middle hold your child securely and don't need adjusting at all — they just fit perfectly. The buckles are developed in-house at BabyBjörn to be intuitive and safe and their positions have been carefully chosen. They can all be operated one-handed which is amazing and something that other carriers that I've tried have missed.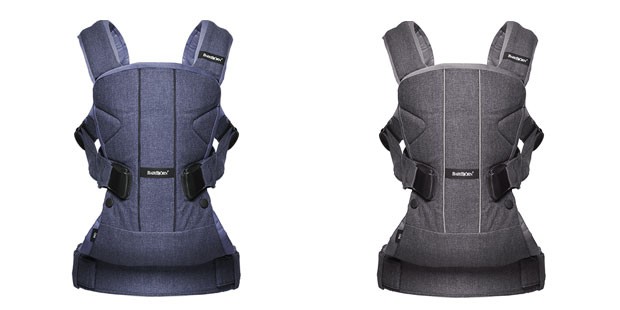 The BabyBjörn Baby Carrier One is a brilliant, high quality and ergonomic baby carrier that is comfortable for your baby/child and yourself. I've tried a few different baby carriers and this is easily the most comfortable one and it's also the easiest to use and the most long-lasting. I highly recommend it!
"One is all you need"
Visit BabyBjörn's website for more information. You can buy it in good shops that sell baby equipment and online from Amazon, for example. It's available in three stylish colour options — Black, Denim Blue and Denim Grey. RRP is £119.99 but Amazon is usually cheaper.
We were provided with this baby carrier for this review. As always, all my reviews are 100% honest and all thoughts and opinions are my own.