Baby's First Christmas Gift Guide | Christmas Gift Ideas for Babies 2019
|
Baby's First Christmas Gift Guide | Christmas Gift Ideas for Babies 2019
It's been a few years since my last Baby's First Christmas Gift Guide but it's back again this year as I now have a baby again so baby items are very much on my mind. Baby No. 3 was born in March and will be nearly 10 months by the time it's Christmas. In this guide, I've chosen items that would make lovely first Christmas gifts, whether your little one is a newborn or closer to toddling like my own. They grow up so fast!
Baby's First Christmas Gift Guide – My Top Picks for 2019
Below, are some items that I've already got for our baby or things I have my eye on for her this Christmas and beyond:
It's never too early to encourage an interest in books and reading. My littlest one has a pram book and a soft book that she loves (plus her sisters' collection of board books from when they were babies!). I love soft baby books as, at this age, things get thrown around a lot and something soft is safer (for everyone!). I've just spotted this gorgeous DONE BY DEER ACTIVITY BOOK (you get a nice discount with this affiliate link too!) with an elephant theme (who doesn't love elephants!) from The Kid Collective. It's filled with lovely features that will keep babies entertained. Inside you can find a little mirror, a tiny teether attached to a fun-to-touch pocket, and Ozzo who makes soothing crinkle sounds. This is all attached to a handy ring which can clip on to bags, pushchairs, cots, etc.
If you haven't discovered this already, I'm sure you will soon. Babies love phones and remote controls and they want to press all the buttons and chew these items… therefore, it's a good idea to give them their own that they can slobber on… Even better if you can pretend it's a real one and only give it to them where you would normally use your phone or remote. Some babies can't be fooled though! It's worth a try and this PlanToys My First Phone is gorgeous, safe and educational. The phone is made with sustainable rubber wood and non-toxic water based dyes and the beaded dial pad and magnifier screen makes this a fun little toy for babies and children to play with. It helps develop dexterity and cognitive skills. Buy yours from The Kid Collective, use the link here to enjoy my affiliate discount.
Best Years Rattles, Soft Toys and Wooden Toys
I love Best Years for gorgeous ethical toys. Their soft toys are beautiful and this Santa rattle is adorable and perfect for small hands to grab, hold and rattle. Best Years now also make wooden toys and their new Push Along Dinosaur Rollers are perfect for young children. There's this blue one that you can see in the collage above and a green T-Rex one too. The dinosaurs are recommended from 3 years+ but I'm sure my 9-month-old would love them too!
Baby stacking rings are a classic toy and these Wooden Caterpillar Stacking Stars has the same functionality but is so beautiful too! It's pretty enough to be on display all the time, in my opinion. The Wooden Caterpillar Stacking Stars are handmade in Russia and Wooden Caterpillar use only the following materials: ashwood, oak, organic linseed oil & non toxic paints. This is a great toy for developing fine motor skills, hand-eye coordination, and dexterity but will also be played with for many years. I can see my older daughters using the stars to decorate or to play different games. Available from The Kid Collective here.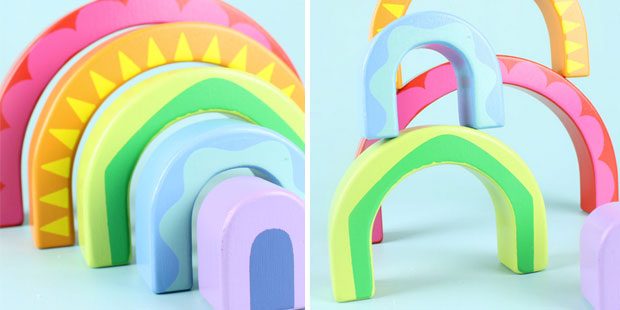 Stacking rainbows are great open ended toys that can be enjoyed from an early age. This Le Toy Van Rainbow Tunnel Toy is so pretty! I love the colours and the patterns, making it stand out from other wooden stacking rainbow designs. It's made from solid wood and ethically made and decorated with water based paints that are safe for children. It's definitely on our Christmas wish list this year!
It can sometimes feel like babies teethe for years… It's not usually years but definitely months and those months can be tough on both baby and parents. A good teether is a must and we love our Nibbling Pomegranate Superfoods Teething Toy (£14). It's lovely to look at and to chew on, according to my, very much constantly teething, baby!
It's suitable from 3 months onwards and has been designed to be held easily by small baby hands and ease teething pain as well being a friendly companion. It's got a textured silicone covering on a beech wood teething ring and a big pomegranate shape to get your teeth (or gums!) into. Nibbling teethers are completely safe for babies of course and in this new Superfood range, there's also a Strawberry teething toy and a Kale one too. Pick your favourite! For me, pomegranate is a Christmassy thing so I think it's great for this time of year, especially.
Want More Ideas?
Check out my Baby's First Christmas Gift Guides from previous years for more ideas:
Some products mentioned are PR samples, others are not. All items have been chosen by myself to be in this guide. Contains a sponsored link.