Making Advent Count with Educational Toys from 100 Toys
|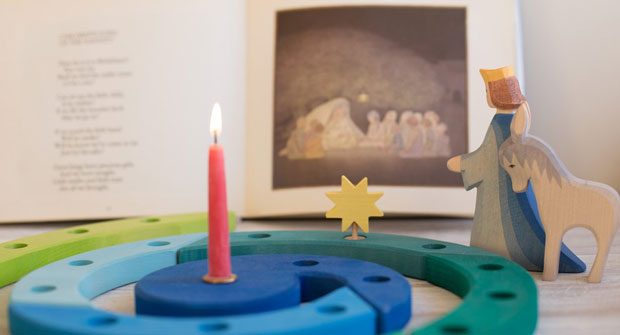 Making Advent Count with Educational Toys from 100 Toys
It's December and the advent countdown is officially on. For today's under-fives, this mostly means having a 100% parent-approved chocolate before breakfast – the stuff of pre-schooler dreams. The counting part, and the concept of time passing by, is still fairly nebulous to the average toddler. They just really like chocolate.
But while we are despairing about their teeth and complaining about how in our day all we got was a picture of a robin, we grown-ups can harness advent to help children understand some basic concepts around telling the time.
For pre-schoolers, telling the time is nothing to do with half pasts and o'clocks – they will learn all about them later on. First they need to understand the passing of time, the sequence of events, the idea of before and after. Only then can they hope to grasp the rather complicated business of reading a clock.
So much of their lives is about time: lunchtime, playtime, bedtime. We expect them to take all this in their stride and yet many toddlers don't really understand if it's morning or afternoon – why would they? A clear understanding of the passing of time and a grasp of the fundamentals like before and after, will help them feel confident in their daily routines, and lay a strong foundation for starting school.
There are lots of toys and games aimed at this idea: eeBoo's Tell Me a Story cards are some of the best, as they allow children to figure out their own sequence of events. One of the loveliest though, is the advent spiral from German toymaker, Grimm's.
Based on German advent tradition, the spiral has small holes around the spiral, each representing the days of December. You move a candle, or if you prefer, a figure, along the spiral each day. Some people use Mary and the donkey (Ostheimer wooden figures are ideal) but it could just as easily be something you have made, a treasured trinket or even a picture of your child – it's up to you.
The progress your figure or candle makes as it gets closer and closer to the centre of the spiral, gives a brilliant visual demonstration of the month slowly reaching its conclusion. As you move your candle along, you can talk to your child about time-related concepts such as yesterday, and tomorrow, last night and this morning, earlier and later.
You can also use the advent calendar at different times of the year and over smaller lengths of time, for example a week until a birthday, or two weeks until a holiday.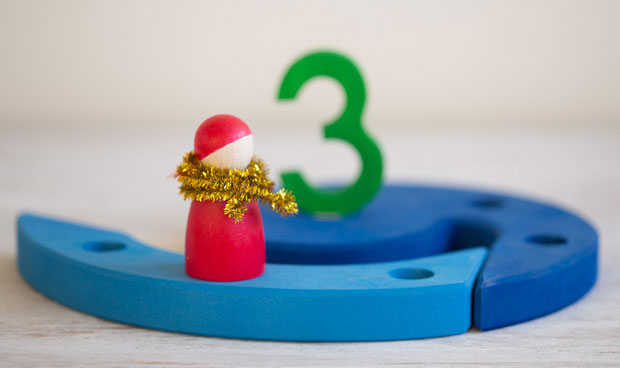 A simple countdown of a few days to a birthday or other special occasion, especially useful for very young children who will find it difficult to follow the spiral's progress for an entire month.
If you want to really get behind the idea, Grimm's also make a brilliant annual ring that helps children get the full picture of how a year breaks down. 12 wooden segments represent the months of the year, and in each segment there are indentations representing weeks. You move a marble, or a figure or whatever you choose, to show the passing of the weeks. It's especially helpful for showing when important days such as birthdays are, in relation to each other and  other special events like Christmas. If your child has a July birthday, you can put a marble or a symbol for them in the July segment, and they can see how many months and weeks away it is. It's a great way to help the impatient child understand how long they have to wait for something.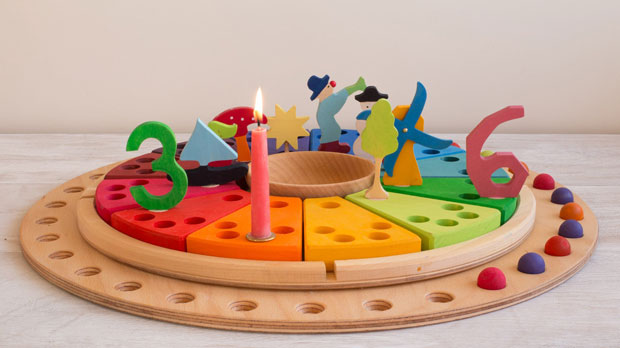 Here you can see a 6th birthday in the third week of April, and a third birthday in the fourth week of August. The candle tells us that we are in the second week of July. The circular disc (sold separately) enables you to track the days of the month. The wooden marbles in the disc have reached the 14th hole meaning it's the 14th of July.

Orbiting the annual ring is a larger circle, with 365 indentations representing the days. In this way it's almost like a watch, that children drive by moving the marbles or figures. If it sounds a little complicated, don't worry – you get the hang of it very quickly and will soon find it becomes a family ritual, especially if given a special place at the centre of a kitchen table, for example.
Both the spiral and ring make brilliant gifts for the whole family or a gift for a new baby, as it's something the family does together (a pre-schooler presented with this as a gift isn't likely to go wild at first – it's something that will come to have meaning to them over time.)  You can buy candle holders and figures for both the ring and the spiral, which also make nice add-ons and stocking fillers as they grow.
This is an article from 100 Toys.