Baby's First Christmas Gift Ideas – A Christmas Gift Guide
|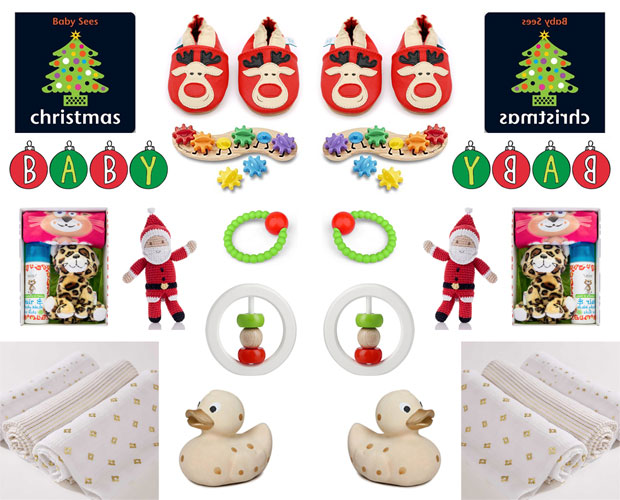 Baby's First Christmas Gift Ideas – A Christmas Gift Guide
A couple of years ago, it was our firstborn's very first Christmas and it's a bit special, isn't it? This year, it's our second baby's first Christmas! Time flies. Babies don't really care what they get for Christmas and don't even know that it's Christmas but it's still fun to treat them and get them something that they will enjoy!
Here are some things that we really love and that I think would make lovely Christmas presents for a baby: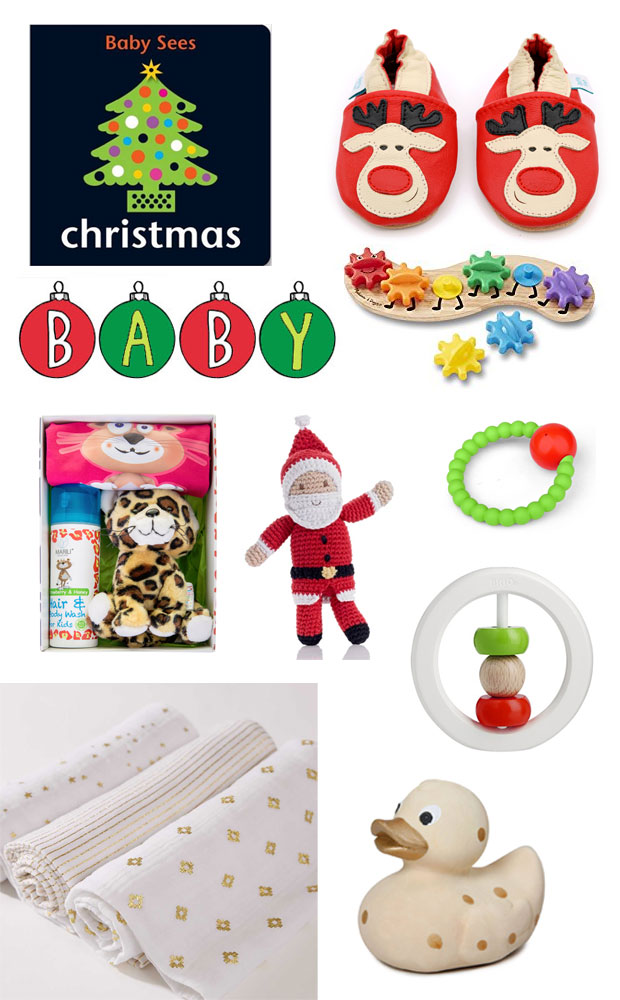 We love Baby Sees books and have two bath books by them that I bought when my eldest was a few months old. They are so good! They're high contrast to be appealing to babies and the bath books that we have are still going strong though they've been through a lot. This book is not a bath book but it has lovely images and a Christmas theme! You can buy it online from Amazon.co.uk but I've also seen it in my local Asda. Prices vary, but currently it costs £5.99.
These soft leather Rudolph the Reindeer shoes by Dotty Fish are so adorable and the quality is amazing! We have these for our baby and we're using them already because I want to get as much use out of them as possible before she grows out of them. My toddler has these panda bear ones and we use them all the time, too. They're so soft and comfortable and easy to get on wriggly baby feet. They cost £7.99 and come in a gift bag.
I bought this Melissa & Doug Rainbow Caterpillar for my toddler over a year ago (review here) and she's played with it lots and still does. She's really into rainbow things! Now my 6-month-old has discovered it too and plays with it for ages at a time, every day. It keeps her occupied for long periods of time as she sits and spins the cogs, chews the cogs (no bite marks yet

—

great quality!) and investigates the caterpillar. It's one of the best toys I've ever bought and it's so affordable too with an RRP of £9.99. Currently it costs £8.00 from Amazon.co.uk.
Marili Skincare make natural and organic skincare products for kids. The award-winning products are gentle and loved by babies, children and adults. They make lovely luxury gift sets that are perfect for Christmas

—

for babies or toddlers. The gift packs include a high quality soft plush toy, a soft 100% cotton t-shirt or baby grow and a full sized bottle of scent free body wash. You can choose between a Giraffe, a Zebra or a Leopard themed box and choose the size you need for your child's t-shirt or baby grow. They cost £35.99 each.
 This Pebble Fair Trade Cotton Crochet Christmas Santa Rattle is so cute and I'm sure babies would love it! It's definitely got a Christmassy feel! It's lovely and soft and suitable from birth. It costs £9.99 which is very affordable too.
Teethers! Babies love chewing on things and teethers are the best way to go as they are safe to chew on as much as they want. Two of our favourites include the Nibbling Rattle Ring teether (review here) and the BRIO Teething Ring (more here). My baby loves both of these and plays with and chews them daily! They're both a bit Christmassy too with their green and red colours. The Nibbling one costs £10.00 from the Nibbling website and the Brio one is currently available for £5.49 from Amazon.co.uk.
Muslins are a baby essential and can be used for so many things like swaddling or as a burp cloth, blanket, play mat, changing mat or a sunshade. Aden + Anais make gorgeous muslins that are known for their softness, stylish patterns and high quality. We love our new Metallic Gold Classic Swaddle Muslin. They're available in beautiful gift sets for £38.95 (pack of three swaddles). Full review coming soon.
A Cuddleduck makes a great present for a baby! This cute little duck has been handmade in Spain using natural rubber and doesn't contain any nasties so it's 100% safe to use as a bath toy or a teether. It's squashy and soft and the perfect size for small hands. Its clever design means no water can get into it so it can't go mouldy like many other bath toys do eventually. The polka dot design is simple and stylish to suit any bathroom and the duck comes presented in a cute gift box too. It costs £7.99 and is also available in Pink or Blue. Read my review here.
Check out my Baby's First Christmas Gift Guide from last year for more ideas.
Some products mentioned are PR samples, others are not. All items have been chosen by myself to be in this guide.