Baby's First Christmas Gift Guide
|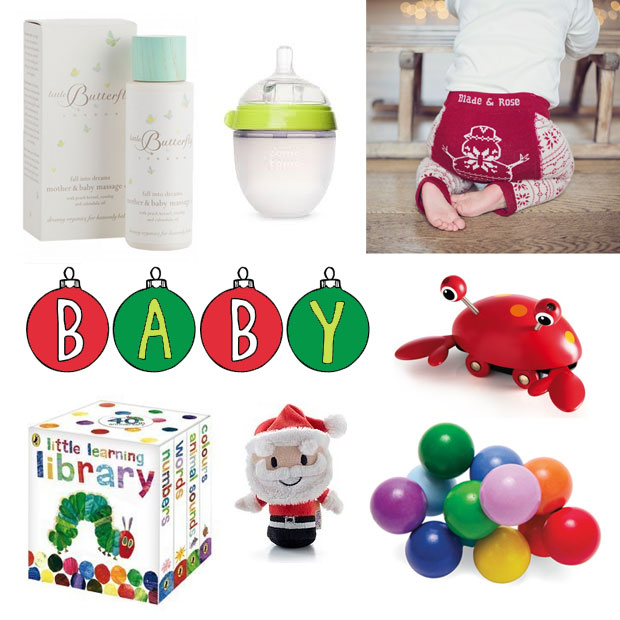 Baby's First Christmas Gift Guide
Your baby's first Christmas is a special event whether your baby is a newborn or almost a toddler when it happens. The products in my Baby's First Christmas Gift Guide are great for new babies as well as older ones who are more active and toddlers too. All the items that are included in this guide are products that we love and use ourselves. I only recommend things that have been tested and approved by us and that we would recommend to family and friends.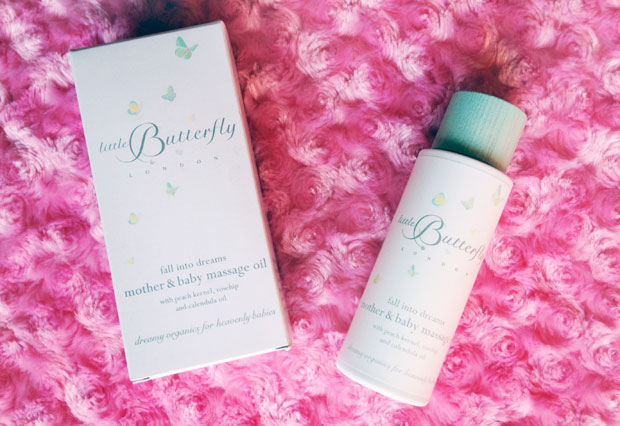 Little Butterfly London Fall Into Dreams Mother & Baby Massage Oil / £29.00
This brand specialises in organic luxury skincare products for babies. It was created by mum Gudrun Wurm whose son suffered with eczema and she was struggling to find more luxurious and organic products that were suitable for the delicate skin of newborn babies. We've previously used their bath milk and their nappy cream and they're both brilliant products. You can see my review of them here.
This 100% organic oil is warming and soothing and makes a great mother and baby massage oil. It helps protect and deeply nourish delicate skin and is even suitable for newborns. The oil is made from a blend of organic oils including nourishing peach kernel oil, protective rosehip oil, healing calendula, nutritious argan oil, jojoba and hydrating grape seed oil. It's lightly infused with mandarin and orange pure essential oils which make a beautiful, subtle and sweet fragrance that's calming. It's a perfect addition to your baby's bath and bedtime routine. We massage it into the skin on my daughter's belly and legs where she tends to get dry and she loves it. Any leftover oil I massage into my hands as the lovely oil makes a great moisturiser for mums too. Buy here.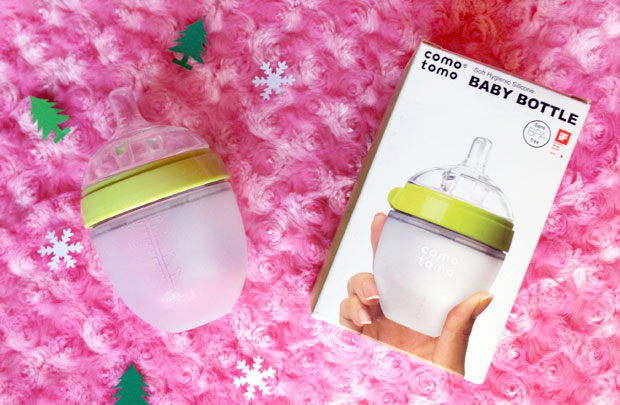 Comotomo Baby Bottle / £12.99
A baby bottle might sound like an odd Christmas gift but this bottle from Comotomo is not like any other bottle and your baby is very likely to absolutely love it thanks to its innovative and sensible design that closely mimics natural breastfeeding. The soft, naturally shaped teat made from silicone is ideal for breastfed babies as they avoid any confusion. The best bit is the soft and squeezable body that has a skin-like, velvety texture that babies love. It's so nice to hold as it shapes after your hands and you can squeeze it to adjust the flow. Comotomo bottles have wide necks too, to make them easy to clean without the need for a brush. They don't leak either which makes me a very happy mum!
The Comotomo bottles are available in two sizes. The smaller one is this 150ml one that comes with a truly slow flow nipple designed for newborns up to 3 months. The larger one is 250ml and comes with a medium flow nipple ideal for 3-6 months. You can read my full review of that one here.
My daughter has the larger one and she's used it for a long time now and at 22 months is still very happy with the flow. It's our go to bottle for her morning drink of milk and she has no problem getting the liquid out. You can also get Comotomo teats in Fast Flow 6+ months and
Variable Flow (Y-Cut) 6+ months for thicker fluids. The bottles are available in Pink or Green. Buy here.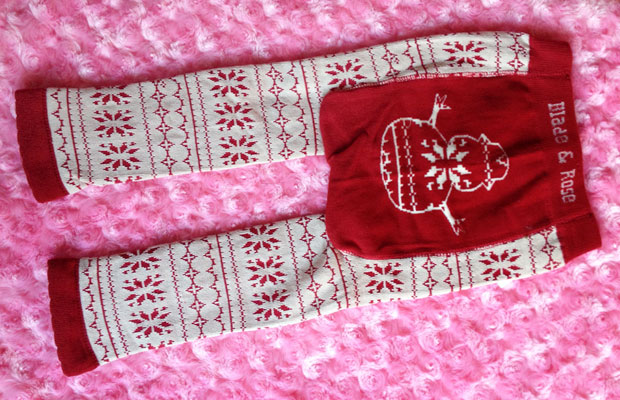 Blade & Rose Snowman Leggings  / £10.00

Blade & Rose is Britain's leading children's clothing brand specialising in trendsetting leggings featuring stylish and quirky designs on the bottom plus matching accessories. Their products are fun, of great quality and really cute, too! I've reviewed them previously here.
The knitted leggings are especially suitable for the colder half of the year and make great Christmas presents. There are even a few Christmassy designs available, including Christmas Pudding leggings and these new Snowman ones. The cute Nordic Fairisle design is ideal for winter. The legs are mainly oatmeal coloured and the trims and the bum is a festive dark red. On the bottom there's a snowman! The leggings are available in sizes 0-6 months to 3-4 years. Buy from here or Amazon.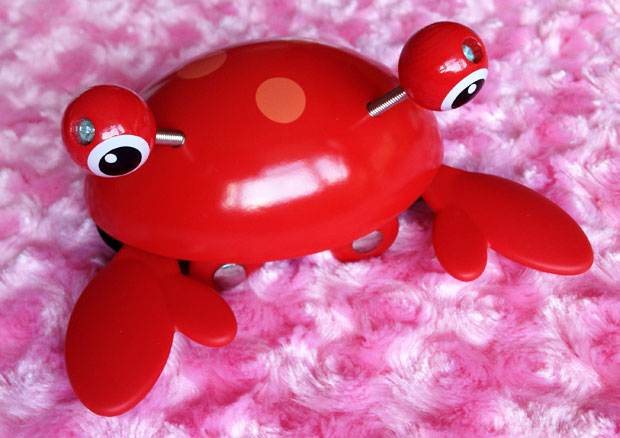 Brio Push Along Crab / £11.99
Brio is one of my favourite toy brands. It's a brand that I've grown up with being Swedish and I'm so happy to see it available in the UK and the rest of the world too as wooden toys are very popular again and the Scandinavian style is too. Brio make toys that contribute to children's development and stimulate their minds through play. They also make toys that are of amazing quality that can be passed on from generation to generation plus they're amazingly beautiful to look at too.
We bought the quirky Brio Push Along Crab for our daughter's first birthday and we all love it. She plays with it a lot and refers to it as Crabby Crabby Crabby. It moves sideways and its claws grab as it does and the eyes wobble, too. It's lots of fun and I think that it's also compatible with the Brio train tracks. It's suitable from 12 months. You can see how good the quality is by looking at the photo above. Here it is nearly 1 year old and looks just as nice as when we first got it out of the box. Buy from Amazon.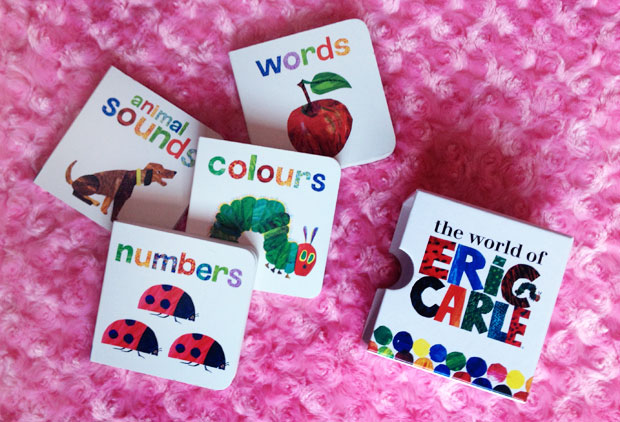 The World of Eric Carle Little Learning Library / £4.99

Books are one of the best gifts that you can give children. They get so much pleasure from discovering books and learning and it's a passion that will stay with them as they grow up. Boxed sets of chunky, small books like this Eric Carle one are perfect for small hands. I love Eric Carle's artwork and ideas and this little set is absolutely lovely. The books and their box are chunkier and of better quality than other little library books that we have, so I would definitely recommend this particular set.
My daughter is obsessed with books and will play with these for ages. Sometimes she reads them and says the words that she knows, sometimes she lines them up and sometimes she just takes them out of the book and puts them back in again — over and over! Lots of entertainment from one small set of books. Buy from Amazon.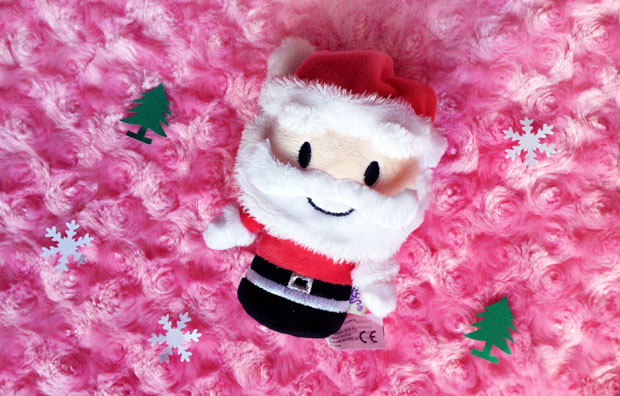 Itty Bitty Santa / £5.99

Itty Bitty is the name of the new very cute Hallmark toys. They are small, high quality plush toys based around famous characters from films and TV. Read my full review here. There are lots of different characters to choose from and the Santa one is of course perfect for Christmas. There's also a Rudolph one that would make a lovely friend for the Santa Itty Bitty. The collectible Itty Bittys are perfect for small hands and they're so cute too! We've got ours out now before Christmas to get our toddler used to Santa so she knows who he is when it's Christmas. Buy from Amazon.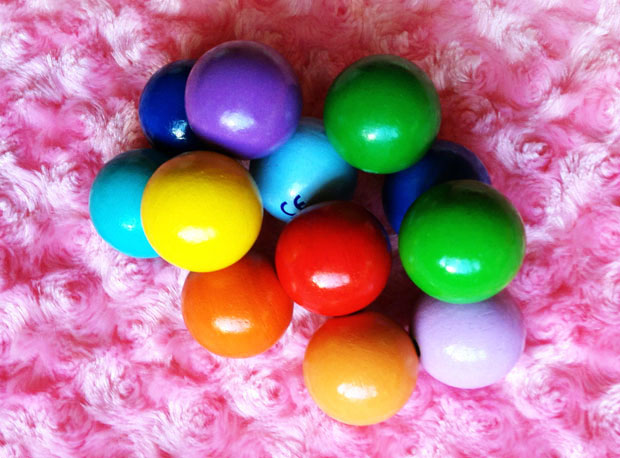 Manhattan Toy Classic Baby Beads / £9.17

I actually bought this for my daughter before she was born as a sort of Christmas present (she was born a few weeks later). I love wooden toys and colourful items and this ticks both those boxes. These beads are nice and large (about 5 cm in diameter is my estimation) and the colours are bright and fun. The beads are strung together with an elastic cord and can be moved around into different configurations. This keeps little ones entertained and encourages early tactile play. The toy is suitable from 3 months onwards but can of course be looked at by younger babies too for stimulation. My daughter still plays with these beads on a daily basis two years later and they still look new as you can see in the photo above. The beads are made from replenishable rubberwood and painted with non-toxic, water based paint. Buy from Amazon.
What are you getting your little ones for Christmas this year?
The massage oil, the leggings, the baby bottle and the Itty Bitty Santa are samples that I've been sent for review but still brands that I absolutely love and have chosen myself to include and recommend to you in this Christmas gift guide.