Fun Gift Ideas for Toddlers | A Christmas Gift Guide 2017
|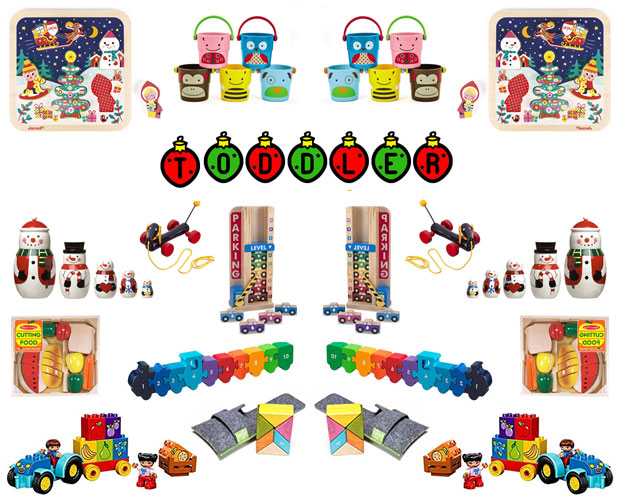 Fun Gift Ideas for Toddlers | A Christmas Gift Guide 2017
A lot of the time, my toddler (18 months old) plays with the same toys as her older sister who is nearly four years old. I recently put together a Christmas gift guide for siblings with ideas for toys that they would both play with together or apart. I am giving the girls some gifts to share but will also give them each a few gifts that are their own and more intended for their own age group. In this post, I'll share some ideas for toys that I think most toddlers would love!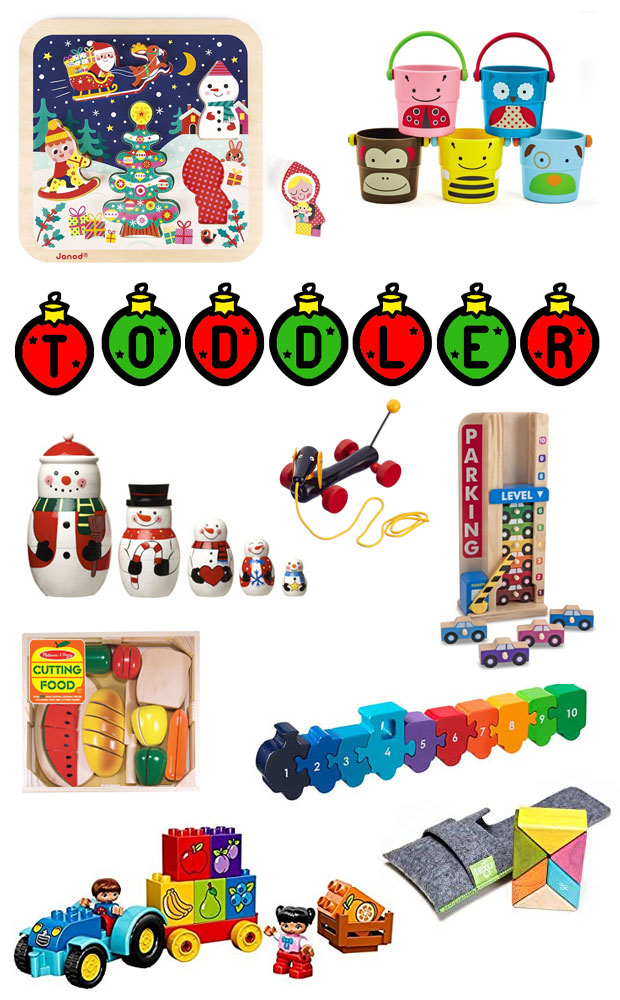 The Magic of Christmas Chunky Wooden Puzzle by Janod (£12.99) | My youngest has really shown an interest in simple wooden puzzles lately and this Christmas themed one is perfect for her age and very cute too!
Skip Hop Zoo Stack and Pour Buckets (£10.00) | We really need some new bath toys and these look like a lot of fun with their different adorable animal designs and different sprinkles. Plus, they will not go mouldy like many bath toys and can be washed in the dishwasher when needed.

Wooden Nesting Dolls Snowman Set (£19.99) | Kids love hiding things in other things and nesting dolls are perfect for this! I love the look of these sweet snowmen. They're ideal for Christmas but can of course be played with all year round.
BRIO Pull-along Dachshund Dog (£8.99) | We have one of these that my eldest got for a first birthday present from my sister and both kids play with it so much! I highly recommend it to other parents of toddlers. BRIO toys are amazing quality and look great too!


Melissa & Doug Stack & Count Wooden Parking Garage With 10 Cars

(£14.06) | We love Melissa & Doug's wooden toys and cars are very popular in this household at the moment. This set is educational and a great tool for practising things like counting, colours and fine motor skills.
Melissa & Doug Cutting Food Play Set (£14.99) | You can never have too many wooden foods, I say! These ones can be cut too and the pieces are held together with Velcro. Lots of fun and again, educational too.

Lanka Kade Fair Trade Wooden Train 1 to 10 Jigsaw Puzzle (£9.99) | Puzzles, colours and numbers in one! This chunky wooden jigsaw looks amazing and can be used in different ways to play and learn. It's never to early to introduce numbers and letters 

—

my eldest is teaching her baby sister lots!
LEGO DUPLO My First Tractor (£15.97) | In our house, it's rare that there's not any Lego or Duplo if it's Christmas or someone's birthday. We're a Lego loving family and Duplo is a brilliant toy for toddlers. I would love to add this set to our collection!

6 Piece Tegu Pocket Pouch Magnetic Wooden Block Set (£14.91) | Tegu blocks are a relatively new discovery for us. We have the Tegu 14 Siece Set in the Jungle colours and it's a lovely set that gets played with a lot. This smaller set with a pouch would be the ideal toy to take with us when travelling or going out for a meal.